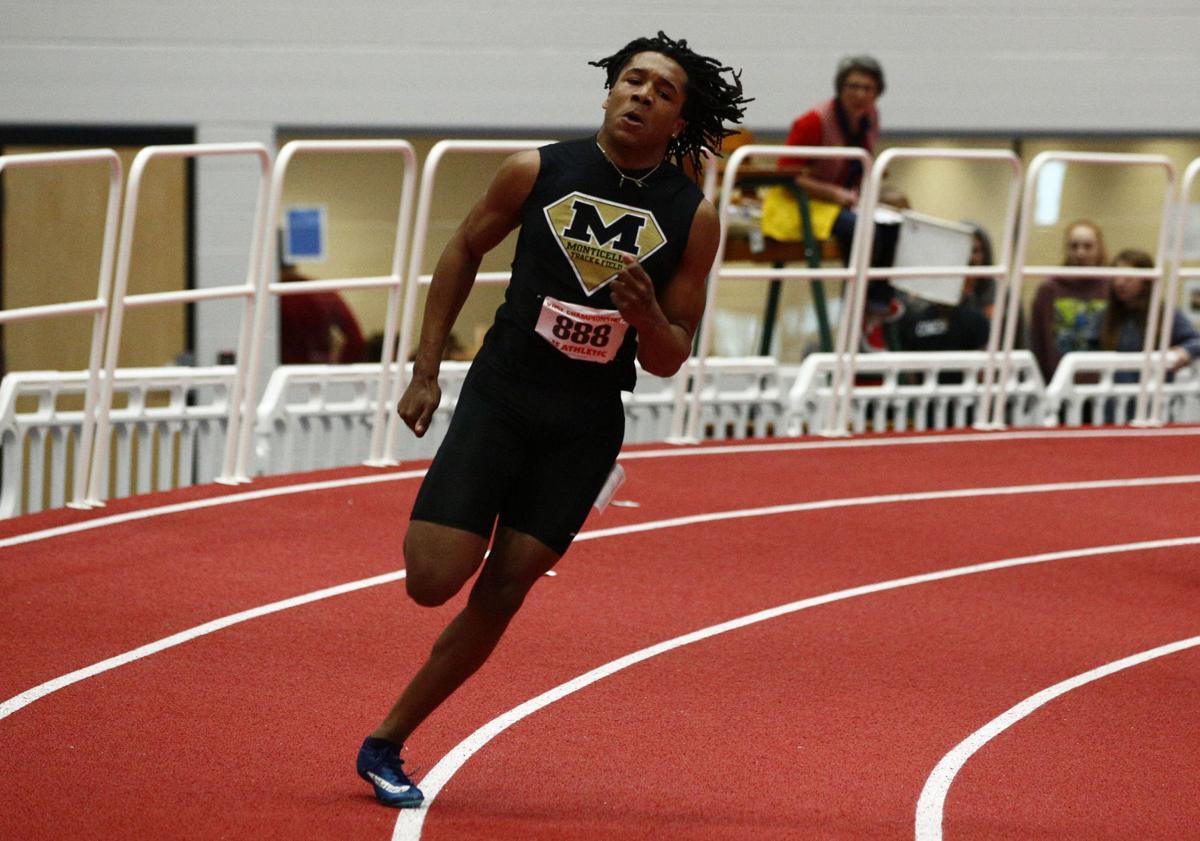 William Trent Jr. has made many trips to Lannigan Field, both as a spectator and participant.
He will be seeing a lot more of the University of Virginia's track and field facility in the coming years. The Monticello High School senior has verbally committed to join the Cavaliers' men's track and field program.
"During these times of craziness [with COVID-19], UVa has been one of the few consistent things," Trent said. "One of my earliest memories date back to waking up early in the morning to go sit at the Dogwood track meet all day as my entire family went to volunteer, coach or both. It only feels right to continue what they started way before I was born."
Trent's familial ties to track and field date back generations.
His grandfather, Curtis Elder, was a legendary track and field coach at Charlottesville High School and the school's track complex bears his name.
His mother, Erica Elder Trent, was a hurdler and sprinter at Albemarle High School. Will Trent Sr. threw the shot put and discus and ran the 4x100-meter relay during his time at Heritage High School in Lynchburg.
The Monticello senior has carried on the family's tradition of track and field success.
As a sophomore, Trent won the VHSL Class 3 state outdoor title in the 400 meters (49.35) with a diving finish. He also finished seventh in the 200 (23.87).
Last March, Trent followed that up with a pair of indoor state titles in the 300 (34.75) and 500 (1:05.47) at the VHSL Class 3 championships at Liberty University.
UVa director of track and field Vin Lananna was in attendance at last March's state meet and the staff quickly identified Trent as a candidate to join the Cavaliers program.
"Since Day 1, they have shown me why I should want to be a part of the team," Trent said. "[Assistant coach Mario] Wilson has been a huge influence on my decision. He has been straight up and honest with me from the beginning and has proved more and more why I would fit in perfectly with the team."
Trent said he had opportunities to compete at a number of schools, including Appalachian State, Northeastern, Bucknell and Army, but noted the relationship with the coaches at Virginia was unmatched.
"One of the biggest factors that set UVa apart from the others is the future the school has," he said. "After hiring the legendary Coach Lananna, I knew something special was in the works. Coach Lananna is known for greatness, working with top-tier athletes and making all those around him better. After a Zoom meeting with him and other coaches, I knew it was the place for me."
Outstanding coaching wasn't the lone draw to Virginia.
"I have always liked UVa's athletic programs, but more importantly, the school's academic programs are amazing," Trent said. "UVa is a great school to get an education from and I believe that it will open many doors for me in the future."
Trent has been a multievent performer for Monticello during his high school career and hopes to continue that trend at the collegiate level.
"We have not really discussed any exact plans yet," Trent said. "I do know that I don't have to specialize in one event and I can continue to go up and down in ranges or races. UVa already has a top-tier middle-distance and sprints group. My personal plan is to learn from them and grow as a person and athlete so that I can work to compete in the best environment with the best competition."
Trent plans to major in kinesiology and pursue a career in physical therapy.
"I want to go into the field of rehabilitation or something that involves helping athletes get back to the sport they love," Trent said.
On the track, his goals are simple — work hard and earn his place.
"I'm not used to being the little guy on the track, so I'm excited to work and prove that I belong here," Trent said. "My main goal is to prove myself that all the work that I have put in for years in advance is now paying off and the results were worth the wait."
After a grueling recruiting process that limited school visits and in-person meetings with coaches, Trent is excited to have his decision finalized and not have to answer awkward questions about where he was going to school next year. In addition, hopefully it will solve those restless nights worrying about his college decision.
In the end, UVa, was the perfect fit for Trent.
"It honestly means everything to be able to reach this point and continue my career at UVa," Trent said. "I have always wanted to go to the next level, regardless of what sport or route I take. I am well aware that the job is not done, but it feels absolutely amazing to have reached one of my biggest goals that was set long before high school. This opportunity is going to lead to many great experiences, but in order to reach them, I can't settle."