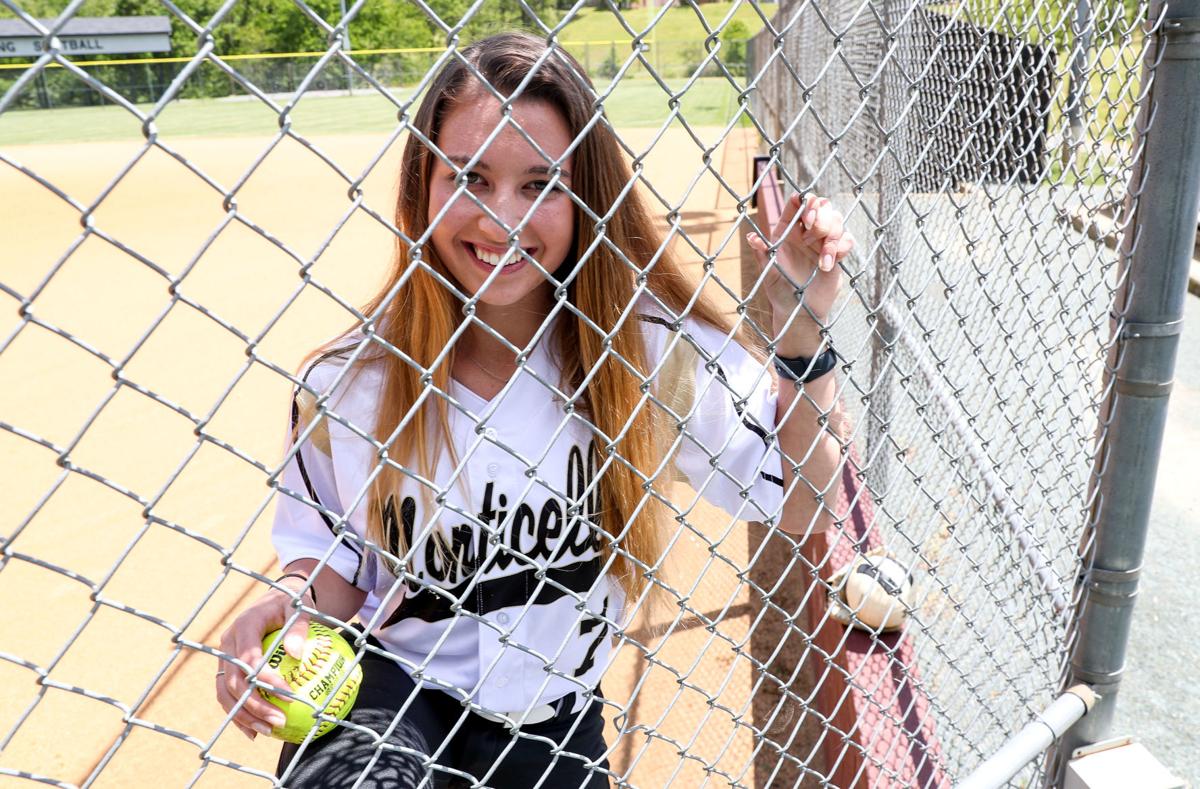 Hayley Shifflett wears several different hats for the Monticello High School softball team.
Offensively, the rising senior is a power bat and run producer in the middle of the Mustangs' lineup. Defensively, Shifflett is another coach on the field behind the plate with a great command for the game and a cannon for an arm.
Those attributes should serve her well at the next level as a Division I softball player at George Mason University. Shifflett recently committed to join the Patriots' program.
"It's an awesome opportunity and I've always dreamed of it," Shifflett said. "I am very lucky to have the opportunity to play ball at the next level, let alone D1."
A standout athlete in both volleyball and softball, Shifflett has put in the work in both sports to make herself better
During volleyball season, she would wake up at 5:30 a.m. to get in her morning lift before school.
After a full day of school, she spent two hours at volleyball practice with her Monticello teammates. Shifflett followed volleyball practice with a trip to the softball field to work on hitting and field drills for another two hours.
As a sophomore, Shifflett led the Mustangs' softball team to a Region 3C playoff berth and hit a team-high .507 with four home runs and 31 RBI.
She also registered nine stolen bases and turned in a .983 fielding percentage at catcher to garner All-Central Virginia and second team Region 3C honors.
Shifflett did not have a chance to build off those numbers last spring due to the COVID-19 pandemic. Fortunately for Shifflett, the lost season didn't have a major impact on her recruiting opportunities. Shifflett had interest from a number of schools before ultimately finding a home at George Mason.
"Mason has the academic area, size, environment, softball program and everything that I was looking for in a college," Shifflett said.
The Monticello standout found an instant connection with interim coach Justin Walker and assistant coach Megan Walker, which made the decision a no-brainer.
"I really liked the coaches, as well as the facilities," Shifflett said. "They like that I'm versatile. I'm an overall good athlete. I have a good worth ethic and that I hit left-handed."
College softball will be a new challenge for Shifflett in more ways than one. Not only will she test her abilities in the always competitive Atlantic 10 Conference, she will do so at a different position.
"They recruited me as primarily an outfielder and to hit," Shifflett said. "It's a huge honor and it's something I've worked for since I was seven years old."
The work won't stop there.
In the classroom, Shifflett plans to major in forensic science and pursue a career in that field after college. Shifflett is excited about the new challenge and has high standards for herself heading to college.
"[I want] to be a successful collegiate athlete as well as a student," she said. "I'm excited to be a part and I want to contribute to the success of the Mason softball program. It's an awesome opportunity and I've always dreamed of. I am very lucky to have the opportunity to play ball at the next level, let alone D1."
Be the first to know
Get local news delivered to your inbox!