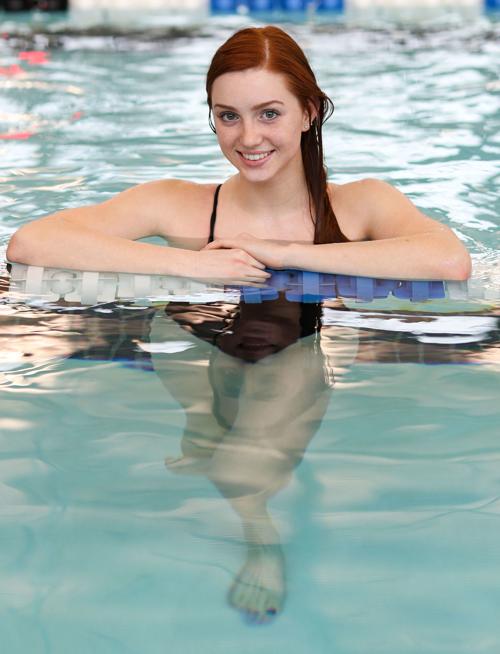 Swimming and academics are two high priorities for Athena Vanyo.
It's a big reason why the Monticello High School senior has decided to commit to the University of Virginia women's swimming and diving program.
"UVa is one of the top swim teams in the country, and that was the main reason I chose to swim there," she said. "I love that I will be able to challenge myself in the pool by training alongside the fastest swimmers in the nation. The other draw to the school is that it has one of the best medical schools in the country, and I have always wanted to work in health care. I'm also excited that I'll get to stay in Charlottesville and be so close to friends and family."
Earlier this year, Vanyo announced her commitment to join the Virginia Tech swimming program. But nine months later, the senior swimmer elected to switch courses and join Coach Todd DeSorbo's program.
"Even though I verbally committed to swim at Virginia Tech, there was a part of me that wondered if Virginia would have been a better fit for me," Vanyo said. "This weighed on me for some time, so I decided to reach out to Coach DeSorbo to see if he really thought I had what it takes to swim with the best. After our discussion, I was really excited about my potential as a swimmer and immediately knew in my heart that I wanted to be a Cavalier."
Vanyo's resume backs that up.
The senior swimmer is the two-time defending state champion in the 100-yard butterfly, including a 54.51-second performance in February at the VHSL Class 3 state swimming and diving championships. She also garnered runner-up honors in the 200 IM (2:04.52) and took home a pair of relay state titles for the Mustangs.
Vanyo is very familiar with DeSorbo. She has worked with him through her club swimming program with Cavalier Aquatics/Piedmont Family YMCA. Earlier this summer, DeSorbo took over the program as the director of high performance swimmers.
Vanyo is a two-time USA Swimming Scholastic All-American with her club team. In 2019 she was a B finalist in the 100 fly at the Winter Juniors East event, where she posted personal bests in the 50 freestyle and the 100 fly. Varno said the relationship with DeSorbo impacted her decision.
"I have known Coach DeSorbo since he first moved to Charlottesville because I attended three different swim camps that he ran at UVa," she said. "I really liked his coaching style, and when I learned that my club team would merge with Cavalier Aquatics, I was thrilled. Coach DeSorbo brings a lot of energy and enthusiasm to every practice he coaches. In addition to the corrections and tips he gives me at practice, he has taught me that there is always room for improvement. Our team is excited about our future because we believe Coach DeSorbo can take us to the next level at regional and national meets."
Vanyo was grateful for the opportunity offered to her at Virginia Tech, but believes UVa is the perfect fit for her.
"I was sad to inform the coaches and future swimmers at Virginia Tech since they were all so kind to me," Vanyo said.
Academically, Vanyo hopes to pursue a career in medicine. A member of the Health and Medical Services Academy at her high school, she wants to major in biology with an eye on eventually becoming a doctor.
Vanyo becomes the second Monticello swimmer to commit to swim at UVa. In September, junior Izzy Bradley verbally committed to join the Cavaliers.
"It will be exciting for me to swim in college in my hometown in front of friends and family," Vanyo said. "My friends and I have always enjoyed cheering for the UVa swimmers from the stands at their home meets, and I can't wait to be on the deck as my friends and family cheer me on just the same. I'm also excited that my teammate, Izzy Bradley, will be joining me at UVa. She is strong swimmer, we share the same drive to continually improve, and it will be fun to have a familiar face on the team."
Vanyo also has big plans for her final season at Monticello.
"High school swimming has always been the highlight of every school year for me," Vanyo said. "We placed third at states in my sophomore year, second last year, and I hope to lead the team to its first state championship this year. A personal goal of mine going into my final high school season is to set a state record in the 100 butterfly."
Collegiately, Vanyo hopes to compete in the 100 fly, 50 and 100 free as well as the 200 IM and is excited about the next chapter of her career.
"My goals at UVa are to continue to drop time in my events to become a consistent scorer for the team at meets and contribute to a national championship," she said. "I think the butterfly will be my power stroke going into college. While I need to still drop time before I can make the kind of impact for the team that I desire, I'm eager to put in the work this year to make that happen."
Be the first to know
Get local news delivered to your inbox!