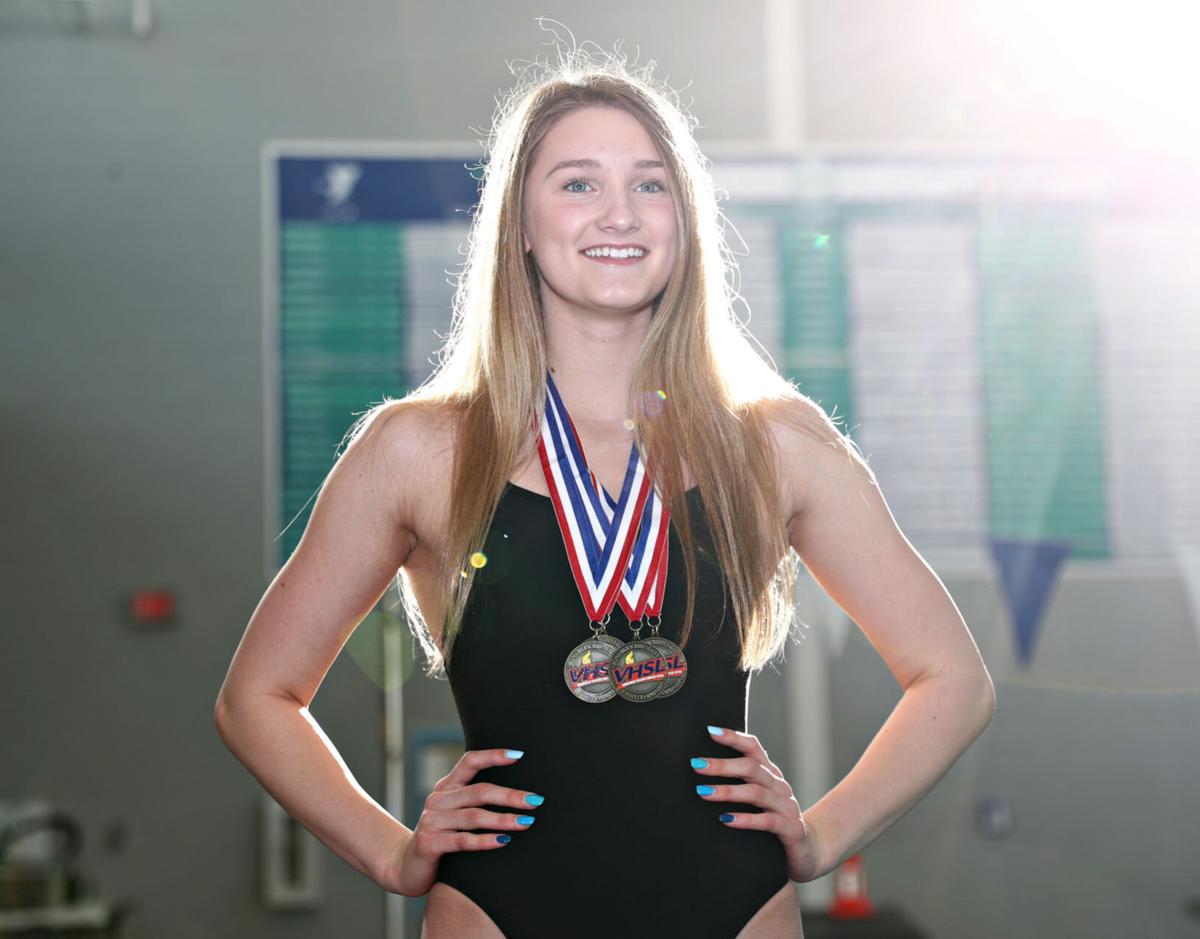 Izzy Bradley has accomplished quite a lot during her first two years as a member of the Monticello High School swim team.
The junior has captured four individual state championships and two state relay titles while helping the Mustangs earn back to-back runner-up finishes at the VHSL Class 3 state swimming and diving championships.
Bradley hopes to bring more championship hardware back to Central Virginia in the coming years after committing to the University of Virginia swimming program.
"Going into the recruiting process, I had a general checklist of what I was looking for in a school," Bradley said. "I wanted a rigorous education. I wanted to compete at the highest level and the last box was that X-factor. This X-factor was different at every school I talked to. For some, it was the facilities or the geographical location, but for UVa, it was something far more important."
Bradley has been nothing short of sensational in her first two high school seasons. As a freshman, she captured state gold in the 50-yard freestyle (23.37) and the 100-yard backstroke (56.21) She also was part of a 200-yard medley relay team (1:48.42) that finished second.
Last winter, Bradley was unstoppable in the pool, collecting four state championships, including a pair of relay titles. She successfully defended her two state titles from the year before and set new Class 3 state records in the 50 free (23.23) and the 100 backstroke (54.44). In addition, she teamed with Elisabeth Bendall, Athena Vanyo, and Kayleigh Stebbins to set a new record in the 200 medley relay (1:45.10). Bendall, Stebbins, Eloise Weary and Bradley also set a new state mark in the 200 free relay (1:37.00).
With accolades like that, college coaches took notice, even in the midst of a pandemic. Bradley said she had interest from a number of the elite college swimming programs in the country.
"Charlottesville is awesome, of course, but originally I wanted to go somewhere else to experience something different," she said. "I love adventure and travel, so I was talking to Cal, UCLA, Northwestern, Michigan, N.C. State, Florida and Georgia, among others. In the end, nothing compared to Virginia with its combination of top-ranked academics, top-ranked swimming program and awesome team dynamic."
The two-time Central Virginia Swimmer of the Year credits UVa coach Todd Desorbo and his staff for generating a competitive and welcoming environment for athletes.
"UVa's coaching staff has fostered such a supportive, fun atmosphere that creates an energy that is unmatched," Bradley said. "Throughout the recruiting process, I got to know some of the team members and every single one of them emphasized how much of a family the team was."
"The atmosphere stood out," Bradley continued. "The coaches and support staff are all in. The team is determined, hard-working and purposeful, but also has fun on deck and gets hype at meets. I knew that it was special and that I wanted to be a part of it."
Bradley said swimming is unique because, unlike other sports, there are no positions, which means training is very specialized to meet the athlete's needs. She expects to compete in the 50 free and the 100 back at the next level.
"As of right now, I will continue training those events and work on banking fast times in some others," Bradley said. "When I get to UVa, we will use the resources that the program provides and the coaches' expertise to develop my skills and work towards the end goal, which is scoring points at NCAAs."
In the classroom, Bradley is interested in UVa's Global Public Health program, which she said encompasses many of her primary interests, including health, problem solving, travel, policy, communications and helping others.
"Academically, I want to set myself up to get into a great grad school or med school," she said.
In the pool, Bradley has ambitious goals.
"I am hoping to make the Olympic Trials next summer," Bradley said, "and once I get to UVa, the main goal is going to be NCAAs where I want to score points and help contribute to a national title run."
Bradley understands that she didn't reach the level of championship swimmer alone and credits her teammates and a bevy of coaches for helping her along the way. Cavalier Aquatics coach Mike Wenert, Monticello coaches Jennifer Casapo, Caroline Colgan and Sito Arroyo, as well as her private coach, Svetlana Vanyo, have all played an important role in Bradley's development.
"It means everything," she said. "It feels incredibly rewarding and very exciting. Knowing that the 5:30 a.m. workouts before school, the countless hours spent at the gym after school and the three-hour practices on Saturdays paid off in this way makes it all worth it. I can't wait to be a part of such an elite team and hype environment."
Bradley admits she didn't think she was going to commit as a junior, but given the circumstances of recruiting during a pandemic as well as an opportunity to swim for a prestigious school, everything just fell into place.
"The timing felt right and I just didn't feel the need to wait any longer," she said. "In short, next year, when my peers are applying to colleges, I know I will feel a sense of security and relief already knowing where I will be attending."