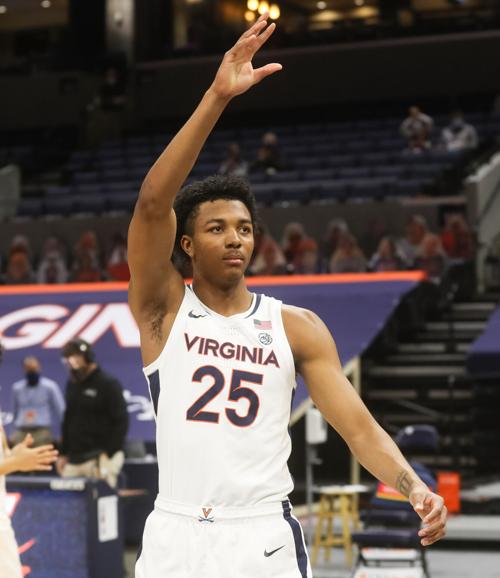 After their son's basketball games, Kenny Murphy criticizes while Albeda Murphy defends.
Trey Murphy III's play is never good enough to satisfy dad, but mom always points out the things he did well, a counterbalance to the critique.
But after Virginia's home loss to North Carolina State two weeks ago, the UVa junior guard got an earful from his mother.
"There were a few choice words that I will not repeat, but I lit into him," said Albeda. "He was a little surprised. I told him, 'You didn't even give me anything to argue with your dad about. Here I go but I have to agree with your dad that you sucked. You were horrible.'"
Murphy scored 2 points on a 1-for-5 shooting effort and committed a pair of turnovers before fouling out late in the Cavaliers' 68-61 loss to the Wolfpack on Feb. 24, Virginia's third straight defeat.
"The N.C. State game, I don't even know who I was looking at out there," said Kenny Murphy. "It looked like he was on some sort of medication. He just wasn't himself."
Apparently hearing about it from his mother, a North Carolina graduate who had found a way to remain positive after the team's previous loss to Duke, helped Murphy turn things around.
He's scored 29 points and grabbed 12 rebounds in his past two outings, wins over Miami and Louisville, the latter victory allowing UVa (17-6) to clinch the ACC regular-season title and the top seed in this week's conference tournament in Greensboro.
The No. 16 Cavaliers open play Thursday in the quarterfinals against the winner of Wednesday's North Carolina State-Syracuse game.
After the Louisville game, Murphy said getting put in his place by his mother was a wake-up call.
"She's one of those mom's that's like super biased, and she's like, 'You played well,' even when I know I didn't play well," said Murphy. "But after the N.C. State game, she said to me, 'You sucked.'"
"That was a clean version of what I said," said Albeda.
However colorful, her comments helped spur a player who figures to be a major factor for the Cavaliers this postseason.
Murphy, a transfer from Rice who originally expected to sit out this season, has emerged as a third scoring option behind UVa's two all-conference senior forwards, Sam Hauser and Jay Huff. He's averaging 11.1 points and 3.4 rebounds, third on the team in both categories.
The Cavaliers haven't lost an ACC game when a UVa player other than Hauser or Huff scores 16 points or more. And more often than not, that player has been Murphy.
When Murphy scores the most points of any UVa player other than Hauser or Huff, the Cavaliers are 9-1.
Huff, also a Durham native, was intrigued by Murphy's mother's trash talk.
"I suppose different parenting strategies work with different guys," said Huff. "I'll have to get my mom and his mom to compare notes."
Huff recounted that when his sister was younger and competing in swim meets, his mother did try the negative tact, though it was transparently in jest.
"She would always say the ultra-positive stuff doesn't work," said Huff. "So my mom would just jokingly say, 'Oh, you stink.' It was kind of a funny tradition they had going into the meets."
Albeda doesn't know if she'll continue using the tough-love approach with Murphy. For now, the way her son's playing, she doesn't need to.