One year ago, De'Andre Hunter hit a clutch 3-pointer in the corner to tie the national championship game at 68. One year ago, the Cavaliers went a perfect 12-for-12 from the free-throw line in overtime. One year ago, the Virginia men's basketball team won the national championship, 85-77 over Texas Tech.
Some UVa fans waited decades for their favorite team to win a national championship. Other supporters were born into Wahoo fandom just hours before the national championship game tipped off.
The event impacted the Charlottesville community in ways beyond basketball. Families celebrated together. Former managers watched from their homes, crying.
Some were so anxious they couldn't bear to watch and checked the score in the morning, waking up to good news.
Virginia fans handled the national championship differently.
Some celebrated on The Corner. Others called their sons and asked if they could believe what they just witnessed. It was a game and an NCAA Tournament run that lives on in UVa and Charlottesville lore.
With Wednesday, April 8, marking the one-year anniversary of Virginia's national championship victory, we spoke to 10 fans to hear their stories of how they took in last year's historic triumph.
---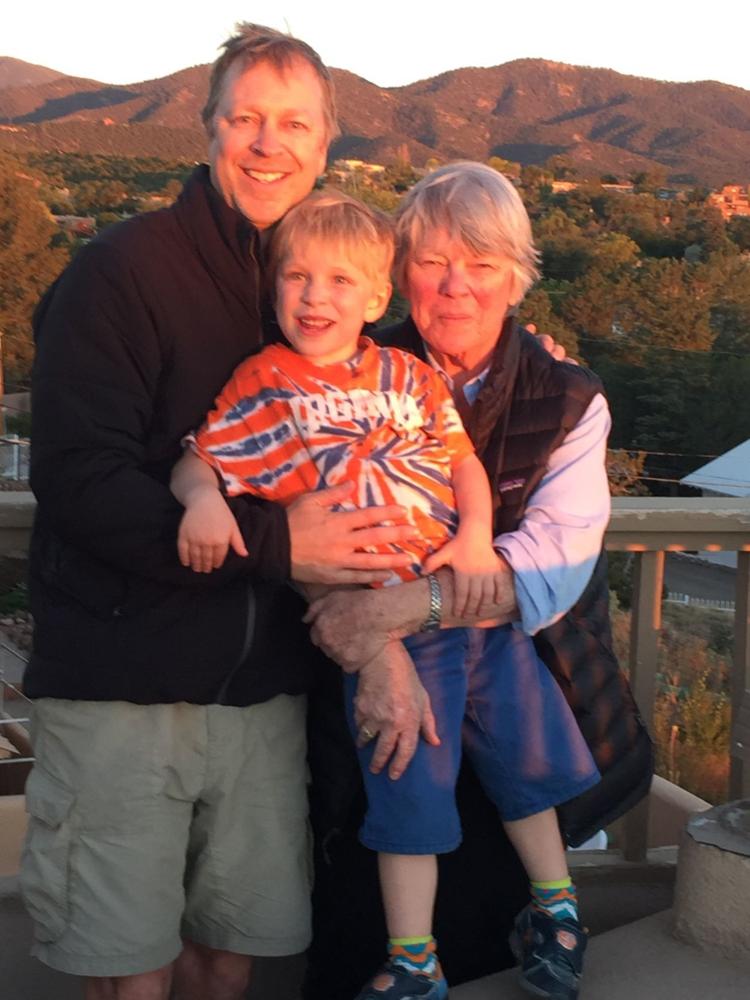 1. A FaceTime call with mom
Carter Bundy's mom, Judy, was diagnosed with pancreatic cancer in March of 2019. The woman who encouraged Carter, a 1990 UVa alumnus, to apply to the university out of high school would pass away in June of 2019.
Judy loved sports, and the mother and son shared a bond over UVa athletics. He attended the national championship game with seven of his friends, many of whom knew his mother well. After Virginia pulled out the overtime win over Texas Tech, he and his friends FaceTimed Judy.
"It might be the most emotional thing I think I've ever been through," Bundy said.
Between the team finally breaking through to win the national championship and his mom sharing the moment with him from afar, it was an unforgettable moment.
"I was gonna call her anyhow and then I realized, like, I should have my friends say hi to her as well," Bundy said. "They all did, and some of them said stuff like, 'We love you, Judy.'"
Tears flowed for Bundy and many of his friends as they watched the Cavaliers reach the pinnacle of college basketball and then spent a moment chatting with Judy.
"It was just super powerful," Bundy said.
---
After watching the Auburn win, 1988 UVa graduate Doug Garrou wanted to watch the Monday night championship game by himself to manage the anxiety of watching another heart-racing finish. As he geared up to watch the title game, Garrou — who also graduated from UVa's law school in 1991 — realized he couldn't bear to watch.
"I just turned everything off, drank some bourbon and went to bed," Garrou said.
It's the first time he was so anxious for a game he was unable to watch. He had been keeping his inability to watch the game a secret.
"I stayed very close with a bunch of my college friends over the years to this day," Garrou said, "and none of them realize that I was actually unable to watch the title game, it's like my shame."
When Garrou woke up in the morning, he mustered the courage to check the score.
"It was truly glorious," Garrou said of finding out UVa won. "It was like that scene from 'The Blues Brothers' when they're in the church and the light comes shining in. Was it as good as watching it and being that excited in the moment? Almost certainly not, but I didn't die of a heart attack either, so there you go."
---
3. A whirlwind of emotions
Braxton Key slammed home a fast-break dunk, and the game was effectively over. Virginia was going to win the national championship.
Alone at home, Greg Furlich broke down in tears.
It had been a challenging few weeks for the 1998 UVa graduate. His father passed away on April 1, 2019 after his cancer returned a few weeks prior. He was given 1-3 months to live. The last game the father and son watched together was UVa-Purdue at the Charlottesville home of Furlich's parents.
When Virginia won the national championship, the emotions flowed for Furlich, who bonded with his father over a shared love for Virginia athletics. His wife and daughter, whose flights home were delayed earlier in the day, walked into the home to find Furlich sobbing.
"The only person I wanted to share it with more than anything was my dad because we would call each other after big wins or crazy comebacks or stuff like that, that's just the way my dad and I connected," Furlich said.
Furlich says the game and the victory will forever remind him of his father.
"It was the first time since dad's passing that the emotions just flowed," Furlich said. "It was a complete catharsis."
---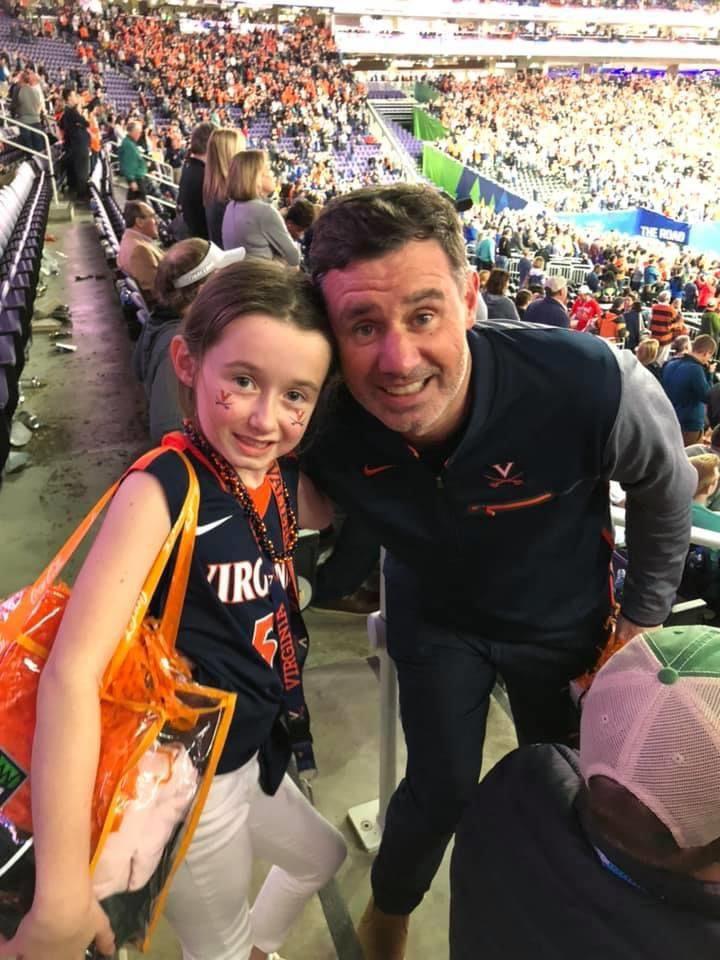 4. A special birthday present
UVa fan Kendall Leitch turned nine years old on April 8, 2019. Her birthday present was a a trip to the Final Four with her family.
Her parents had been considering a surprise trip to Disney, but Kendall had other ideas as she considered her father's love of the Cavaliers. Steven Leitch graduated from UVa in 1992.
"At some point during the week, she came to me and said, 'Mommy said that this doesn't happen very often," Steven Leitch said.
Leitch laughed and explained that the Cavaliers were not frequent Final Four visitors, and the two agreed they should celebrate Kendall's birthday in Minneapolis as a family. The Cavaliers ultimately won the national championship on her birthday.
A connection to an Aramark employee made the night even more special. Aramark delivered Kendall a small birthday cake to her seat as a special surprise before tipoff of the national title game.
"It was just really a cute gesture," Steven said.
---
Craig Disselkamp, a 2010 UVa alumnus, spent April 8, 2019, living out a sports fantasy. The Virginia basketball fan had tickets to a practice round for The Masters, arguably the most famous golf tournament in the world.
Disselkamp spent the day watching players like Tiger Woods and Justin Thomas all while taking in the scenery at one of golf's most historic venues.
Later that night, Disselkamp watched the UVa game with his dad and two friends at a bar in the Columbia, South Carolina, area.
The perfect day of sports ended with his favorite team cutting down the nets as national champions.
"I don't envision anything ever really topping that," Disselkamp said.
---
6. A special basketball memory with dad
The Meeks family loves Virginia basketball. David Meeks grew up watching UVa basketball with his dad, who worked as a car salesman and frequently received tickets through work. David went to games as a kid and fell in love with the program.
In the year leading up to the championship, David's father dealt with a number of issues, including a blood clot in his leg and a heart attack in February. Issues in his kidneys made a bypass surgery risky, and David's father made the decision to go home and watch basketball.
David has a ritual of texting his father during games and discussing what's happening on the floor as they both watch on TV. His dad calls once the game ends.
After Kyle Guy knocked down all three free throws in the waning minutes to beat Auburn a game after the Cavaliers beat Purdue in dramatic fashion, David's father called and they chatted over the phone.
"I said, man, you shouldn't be watching these games with your heart the way it is, but he couldn't care less," David laughed. "He was so excited and he was so happy."
Two days later, as the overtime period wound down with Virginia leading, David's father called. David quickly swiped decline with time still remaining. He had seen enough in his career as a fan to know that no lead was safe.
"Too soon," David texted.
When the horn sounded, David texted his dad back.
"Do you believe it??!!" his father responded.
It was a memory the two will cherish forever.
"I felt so good for him, having seen that," Meeks said. "He's sure seen the bottom, too. It just meant so much to him, and it still does."
---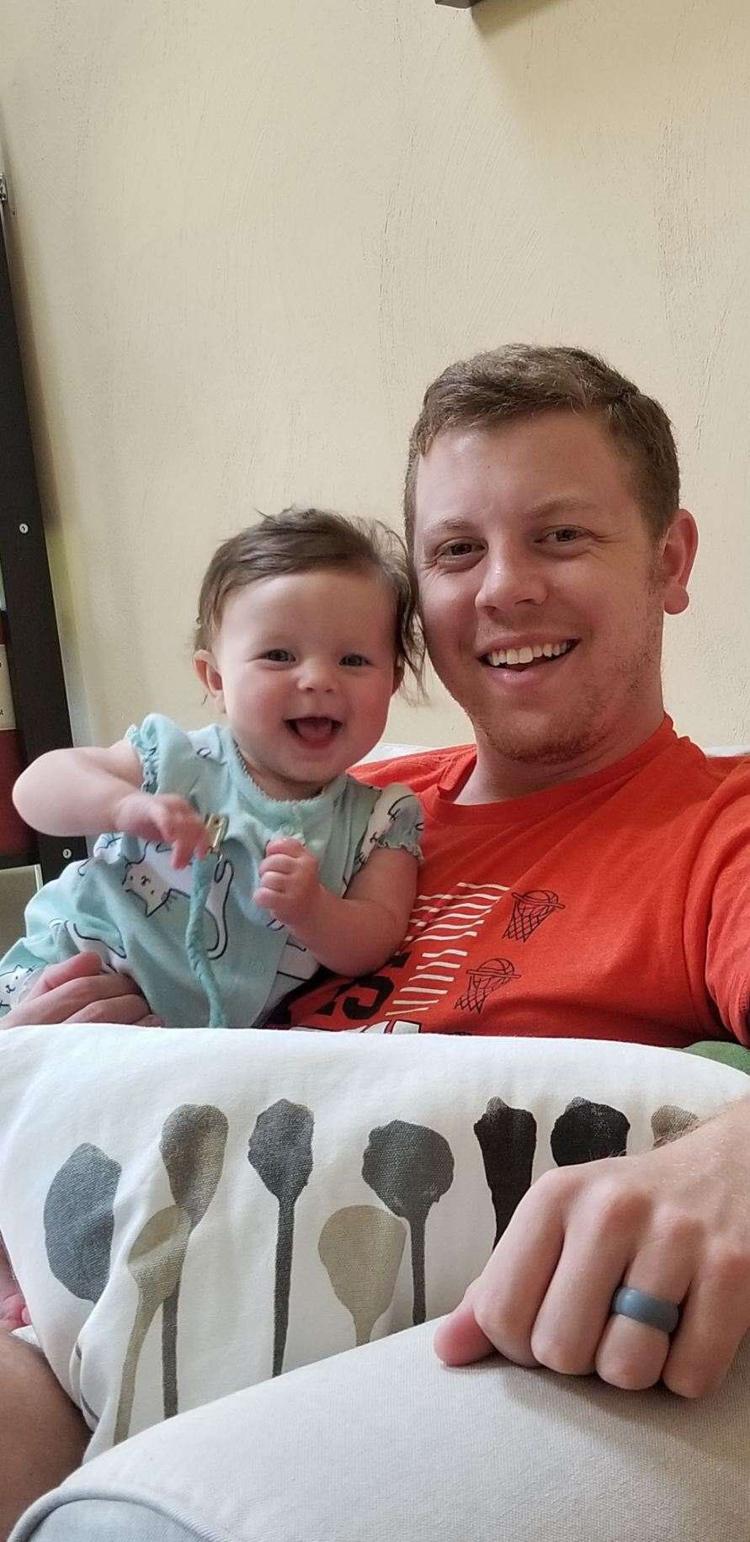 7. A newborn's first game
Jack Winthrop's daughter Carter was born the same evening Virginia beat Auburn to advance to the national championship game. Two days later, the 2013 UVa alumnus gave his wife some much-needed rest on their first day back from the hospital as he held Carter during the national championship game.
Winthrop's daughter slept peacefully until De'Andre Hunter knocked down the game-tying shot in the final minute of the game. He shouted, waking up both his newborn and his wife.
He joked that the newborn was more forgiving.
Despite the disruptive scream, the memory of holding his newborn daughter as his favorite team won the national championship is something he'll always cherish.
"It was just like euphoria after euphoria after euphoria," Winthrop said. "It was just unreal. It's a memory I'll always have and treasure with my daughter even though she won't have a concept of what that was like or what that meant."
Sometimes, Winthrop happily remembers back to that wild 48 hours that included bringing a child into the world and watching UVa cut down the nets.
"I still think about it," Winthrop said. "It just makes my day better every time I think about it."
---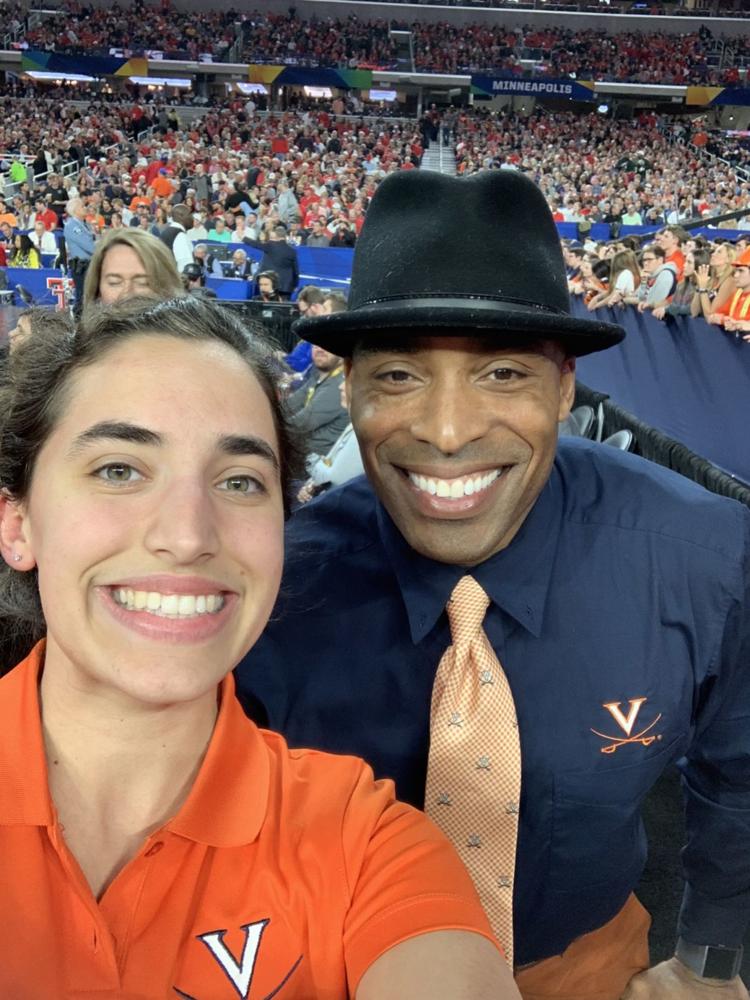 An often unrecognized part of UVa's game day experience is the Cavalier Marching Band. Twenty-nine members, per NCAA guidelines, made the trip to the Final Four, and they enjoyed the experience of a lifetime in Minneapolis.
Ruby Garofalo, a 2019 alumna, was one band member fortunate enough to make the trip. With where the band was situated below the raised floor, it was tough to see exactly what was going on at times, so she was worried during a long timeout in the final seconds.
Hunter threw the ball out of bounds when Kyle Guy looked away to call a timeout, and the refs went to the monitor to double check time on the clock, but Garofalo wasn't sure.
"I didn't know if it was a foul and it was a very long timeout and I was like, 'Oh my gosh, if that was a foul, that's it. They're shooting free throws and we're done,'" Garofalo said.
Fortunately for Garofalo and UVa, the Cavaliers didn't commit a foul and the game went to overtime with UVa eventually winning.
After the team and band returned to Charlottesville, the band was waiting on its plane as the team finished up a few things. Tony Bennett came onto the plane and shared a message for the band and cheerleaders.
He wanted to say thank you for their support.
"That was probably the best moment, just being recognized and appreciated by Tony because we appreciate them so much, we love supporting them, but just him saying, like, 'We see you and thank you' to us was huge," Garofalo said.
---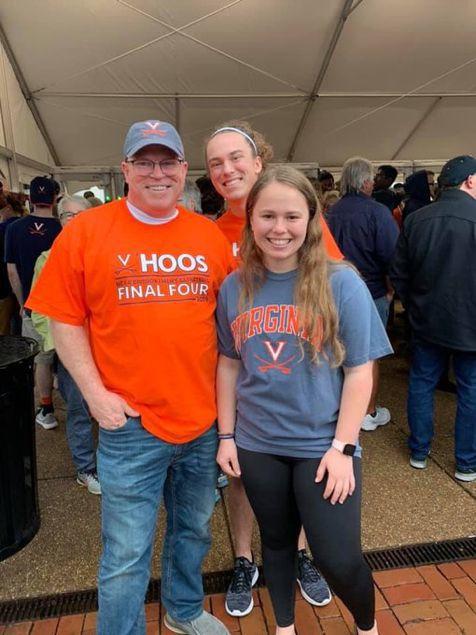 Growing up in Fluvanna, Andy Riddler supported UVa basketball with his family. Even as a current VCU student, Riddler's experience rooting for the Wahoos with his father kept a strong love of UVa sports alive.
When Virginia made the national championship and it was announced that the game was going to be shown at John Paul Jones Arena, Riddler knew he wanted to make the trip up to watch with his dad and sister. Unfortunately, his bus trip to Charlottesville proved to be an adventure.
Riddler was supposed to arrive into town at about 2 p.m. for a tipoff around 9 p.m. Instead, he arrived into Charlottesville closer to 6 p.m. after being delayed for hours with no update as to where the bus even was. Riddler and his family wanted to arrive at the arena with time to spare, so instead of grabbing UVa gear at home, he made a stop at Mincer's.
He snagged a Final Four shirt and headed to JPJ Arena. Once inside, the atmosphere before and during the game was electric.
"A championship environment," Riddler said of JPJ Arena that night. "The game could've been on the floor, and that's what it felt like. Empty, concrete floor, but you could've closed your eyes and thought the game was right there on that court. That's how insane the building was."
UVa finally won, and Riddler says he hugged both his dad and his sister. He then even shared some hugs with UVa fans he never met previously. Riddler called the atmosphere and moment so special he might never get to experience something like it again.
Before heading back to Richmond, Riddler stopped at Mincer's again, this time purchasing a national championship shirt.
---
10. A former manager's delight
Being a manager for the men's basketball program creates a strong bond with the UVa program. Charles Lorber's connection has gone on strong for decades.
Lorber served as a manager for the UVa men's team in the early 1960s and graduated in 1966. Throughout the years, he's remained a die-hard fan. He travels frequently to watch the team play and adores the Cavaliers.
In 2018, Lorber's heart was broken as he watched UMBC take down UVa in person. With about eight minutes left in the game, Lorber had enough. He walked out, distraught.
"There were scalpers looking to buy our tickets for Sunday, I said, 'No!'" Lorber said. "I tore the ticket up right in front of the scalper and threw it in the trash."
He took convincing to attend the game against No. 16 seed Gardner-Webb the next season, but he attended. UVa trailed early and Lorber started to worry, but the Cavaliers turned it on and won convincingly.
That win led to a few more wins, as the Cavaliers advanced deep into the Big Dance.
With the Cavaliers slated to play in the national title, Lorber passed on the chance to attend in person, saying he couldn't stand to see a heartbreaking loss. He opted to watch from home.
"I watched on TV with my kid," Lorber said. "And I'll tell you something, I was in tears."
Lorber waited for decades for UVa to reach the apex of college basketball, and it finally did.
Be the first to know
Get local news delivered to your inbox!