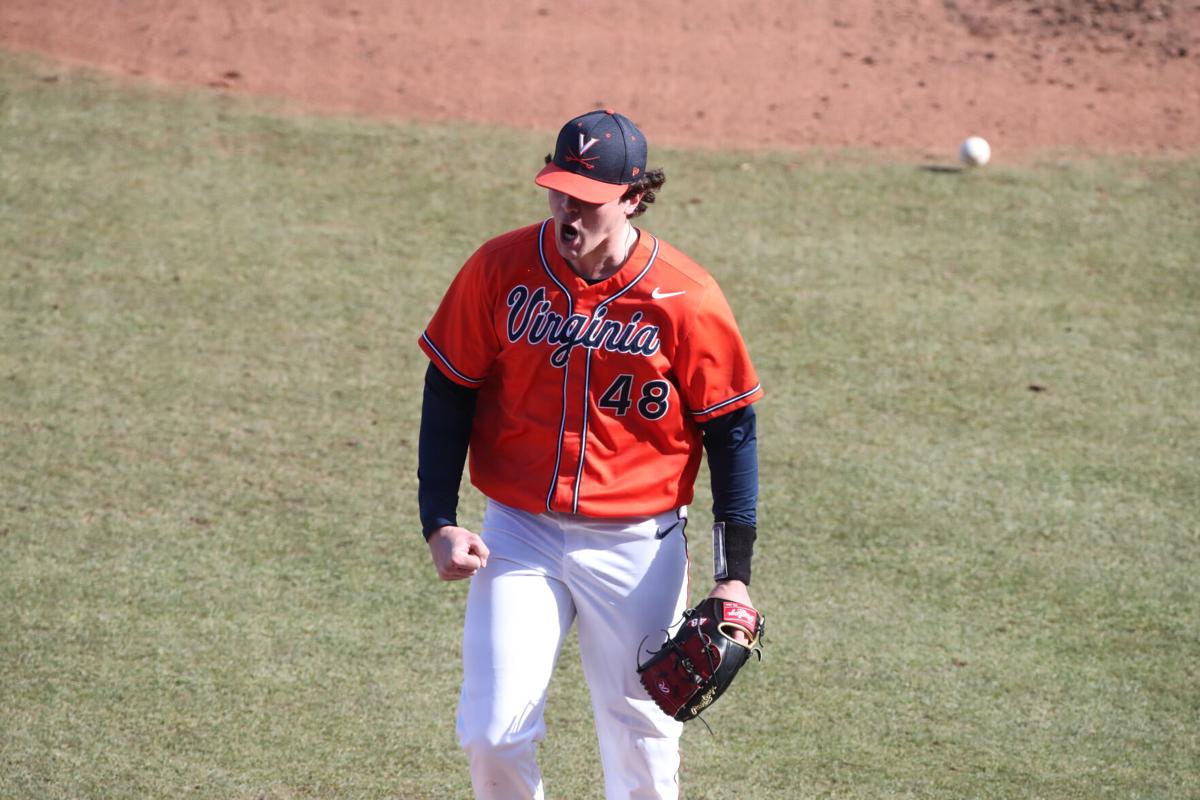 Mike Vasil came to Virginia as one of the best pitching prospects in the country, but an ERA approaching 6.00 in his freshman season rattled the 6-foot-5 right-hander's confidence and left him worrying about his mechanics.
When Drew Dickinson arrived as Virginia's pitching coach before the 2020 season, he suggested a more simple change.
"Hey man, you were a dude coming out of high school," Dickinson told Vasil. "Why are you acting like you're not a dude?"
In his most recent starts, Vasil — rated a top 10 pitching prospect by Perfect Game coming out of Boston College High School in Massachusetts — fits Dickinson's description of a "dude."
The hard-throwing pitcher is locked in as the team's Sunday starter, and Vasil looks every part of a star in 2021. Through two starts, the junior is 2-0 and has yet to allow an earned run in 12 innings. He's struck out 11 batters without walking anyone.
Vasil picked up a win in the team's opening series over UConn, giving the program a series win over the Huskies. Last weekend, Vasil earned a Sunday victory to ensure the Cavaliers weren't swept by North Carolina.
"I really love being in that position," Vasil said. "I love being in that role."
The Massachusetts native calls being the Sunday starter "an ideal position." A fiery competitor, Vasil likes the pressure that comes with taking the mound on Sundays. A Sunday victory can mean a series win. It can also mean a tough loss to wrap up a weekend against an ACC foe.
It's a pressure-packed day, but Vasil feels confident in his stuff and his role. He knows he doesn't need to be perfect in his Sunday starts; he just needs to compete and give his team a chance to win.
Through two games this season, Vasil has been close to perfect, though. He's allowing few base runners and keeping his pitch count low, which allowed him to throw six innings in each start this season. Dating back to last season, Vasil has thrown five consecutive quality starts, meaning he goes at least six innings and allows three or fewer earned runs.
"I love what he's doing," Virginia head coach Brian O'Connor said. "He's aggressive. He's having fun out there. His competitive spirit is at a really, really high level. I'll tell you, if he can continue to give us a chance to win on Sunday, that makes a big difference."
From his physical well being to his mental health and game preparation, Vasil feels great. The pitcher is confident, and he's living up to his billing coming out of high school.
"I think this is some of the best I've felt in my life and personally," Vasil said. "It's definitely the best I've felt at UVa."
The MLB prospect knows the focus moving forward is consistency. Vasil wants to keep stacking quality starts on top of each other, giving his team chances to win.
Dickinson pushes Vasil to reach his peak, knowing the pitcher's potential is extremely high.
"I say to him, 'Do it again,'" Dickinson said. "He'll do something great and he'll be really excited about it, and so am I, but I'm like, "OK, great. Go do it again.' That's what a true dude on the mound does. He does it week in and week out."
UVa's pitching coach clarified that Vasil doesn't need to win every week, but he needs to compete. Dickinson views a "dude" on the mound as someone who gives full attention and effort to every pitch, regardless of what happened on the prior pitch.
Dickinson says he views Vasil as a No. 1-caliber pitcher who just happens to pitch Sunday instead of Friday. He also says Vasil is a character off the field, often providing the team with a laugh.
On Sundays, Vasil is a heated competitor. When he's not pitching, he's screaming loudly from the dugout in support of his teammates.
After a learning curve upon entering the college ranks, Vasil is everything UVa hoped for and more.
"I'll miss him when he's gone," Dickinson said. "That's why I just want to cherish the time that we have this year and ride this thing to the end of June."