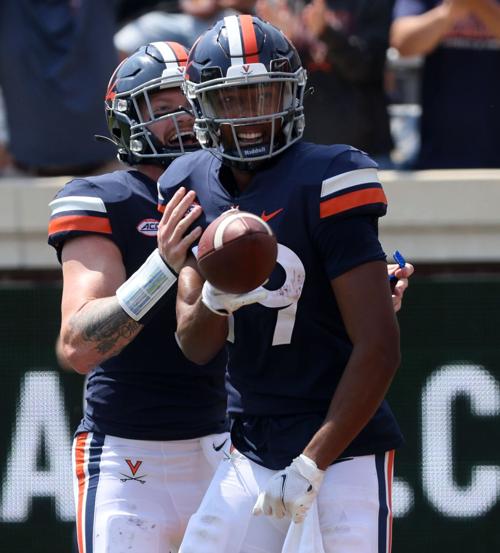 A look at who has the edge in Friday night's ACC clash between Wake Forest and Virginia.
Brennan Armstrong leads the ACC in passing, averaging more than 400 yards per game. He's been exceptional. Sam Hartman knows the Wake Forest offense well, and he improves each season. Hartman is completing nearly 70% of his passes, and he's only thrown one interception. It's a solid quarterback matchup. Edge, Virginia.
Wayne Taulapapa's status for Friday is uncertain as he deals with a concussion. UVa rarely uses its running backs, so Wake Forest earns the edge. Christian Beal-Smith is the top option for Wake Forest, and he leads the team with 229 yards and four touchdowns. Edge, Wake Forest.
UVa's receivers and tight ends have looked great this season. Billy Kemp IV, Dontayvion Wicks and Keytaon Thompson are tough matchups for any secondary, and all three players are averaging more than 65 receiving yards per game. Wake Forest counters with All-ACC player Jaquarii Roberson and a few other impressive skill guys, such as A.T. Perry. Edge, Virginia.
Both teams have solid offensive lines, which helps explain why the offenses rank in the top half of the ACC in points per game. UVa's overall experience and play through three weeks gives the Cavaliers an edge, but Wake Forest's line is solid. Center Michael Jurgens, a redshirt sophomore, is a standout. Edge, Virginia.
Virginia's defensive front leaves plenty to be desired. It's hard to praise a defensive line of a team that just allowed almost 400 rushing yards to a conference foe. Mandy Alonso is a leader up front, and the Cavaliers need him and other veterans to step up. Luiji Vilain has been disruptive up front for Wake Forest, as has defensive tackle Miles Fox. Edge, Wake Forest.
Each team boasts linebackers who can tackle. UVa's tackling was shaky last week, but Nick Jackson and Noah Taylor are typically solid. Jackson leads UVa with 29 tackles. Luke Masterson and DJ Taylor are among the top tacklers on Wake Forest's defense. Edge, Push.
UVa's group looked overmatched against North Carolina. Wake Forest hasn't faced a dynamic passing attack yet this fall, but the group made plays each of the first three weeks. Defensive backs Nasir Greer and Ja'Sir Taylor are players to watch. Caelen Carson and Traveon Redd have also been extremely productive in the secondary. Edge, Wake Forest.
Wake Forest kicker Nick Sciba is one of the best kickers in college football. The Demon Deacons are solid at punter, and they've had four players return a punt for at least 20 yards this fall. Oh, and Ja'Sir Taylor returned a kickoff for a touchdown against Old Dominion. Edge, Wake Forest.