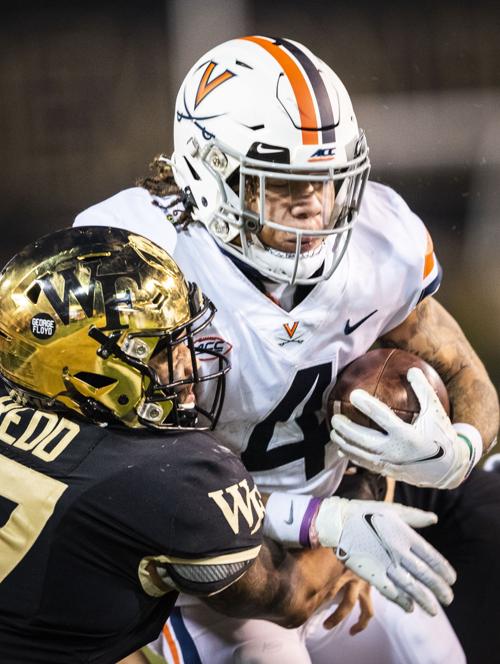 A look at who has the edge in Saturday's ACC clash between Virginia and Miami.
---
D'Eriq King's Heisman campaign all but ended in a loss to Clemson, but he's still one of the best quarterbacks in the country. He's supremely athletic, returning a kickoff for a touchdown when he played at Houston. UVa played three guys last week with Brennan Armstrong out with a concussion. Edge, Miami.
---
Even though he was eligible, Ronnie Walker Jr. didn't play last week for the Wahoos because of an illness. It's unclear if he'll go this week, but Miami holds a slim positional edge regardless due to Cam'Ron Harris. He averages 5.8 yards per carry and has scored five rushing touchdowns despite a dip in production the past few weeks. He holds more game-breaking potential than UVa's backs. Edge, Miami.
---
With Miami tight end Brevin Jordan banged up, UVa earns the edge. Billy Kemp IV remains a reliable target, and Terrell Jana and Lavel Davis Jr. should help stretch the field. UVa's subpar passing attack stems from inconsistent quarterback play, not a lack of talent on the outside. Edge, Virginia.
---
Both teams possess decent offensive line groups. UVa earns a small edge due to experience along the starting five. The unit should be confident after helping pave the way for more than 200 rushing yards last week even with Brennan Armstrong hurt. Edge, Virginia.
---
UVa coaches like the way the front seven plays the run. The pass rush, however, lacks at times. Jowon Briggs added a pair of sacks last week, but the Cavaliers don't have a defensive lineman who can rush the quarterback quite like Miami's Quincy Roche. The defensive tackles are just as special as Roche, giving the Hurricanes an advantage. Edge, Miami.
---
Charles Snowden enters this weekend coming off his best game of the season, according to Mendenhall's assessment. Zane Zandier and Nick Jackson both have 37 tackles this fall and Noah Taylor plays well as a rusher and in coverage. The linebackers need to play well Saturday for the Wahoos to win. Edge, Virginia.
---
Three UVa defensive backs are dealing with injuries ahead of Saturday's game, and the secondary struggled mightily against Wake Forest. Bubba Bolden is an elite safety for the Hurricanes, and Al Blades Jr. is a ball hawk at corner. Edge, Virginia.
---
Miami hasn't missed a field goal and it leads the ACC in net punting. Virginia fumbled two kickoffs and allowed a blocked punt through its first four weeks. Edge, Miami.