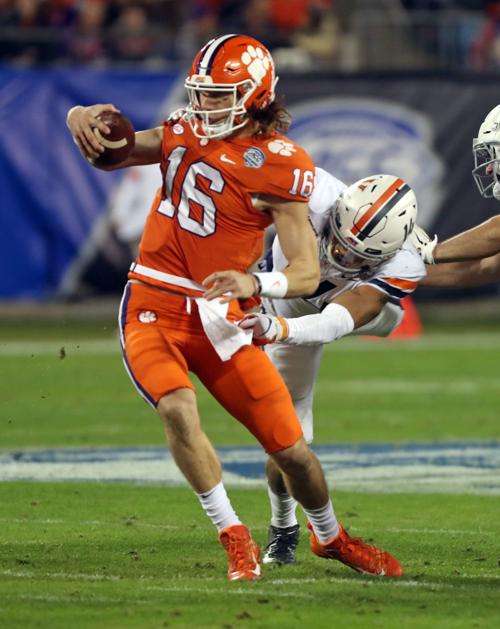 A look at who has the edge in Saturday's ACC matchup between Virginia and No. 1 Clemson.
---
Quarterbacks
Brennan Armstrong showed promise in his first collegiate start, finishing with over 300 total yards and three touchdowns. He's not Trevor Lawrence, though. Lawrence is one of the best college quarterbacks in recent memory and the likely No. 1 overall pick in next year's NFL Draft. Edge, Clemson.
---
Virginia leaned on Wayne Taulapapa and Shane Simpson last week. The duo performed well, with Taulapapa reaching a career-high 95 yards against Duke. That's fine and dandy, but Clemson running back Travis Etienne is the two-time reigning ACC Player of the Year. Edge, Clemson.
---
Freshman Lavel Davis Jr. announced his presence to the ACC last weekend, scoring two touchdowns for UVa. Also standing at 6-foot-7, Tony Poljan caught four passes for 44 yards. Clemson counters UVa's dynamic receivers with stud senior Amari Rodgers. Edge, Push.
---
Left tackle Jackson Carman is a top-tier talent for the Tigers at left tackle. They also have experience at center and left guard. Virginia's group controlled the line of scrimmage against Duke, and it starts three juniors and two seniors. It's a narrow edge for Clemson. Edge, Clemson.
---
UVa's defensive line isn't dominant, but it's solid. Mandy Alonso, Jowon Briggs and Richard Burney eat up blocks, allowing linebackers to come free into the backfield. Clemson's Tyler Davis is a future pro at defensive tackle, and Justin Foster brings a strong pass rush off the edge. Edge, Clemson.
---
James Skalski headlines a good Clemson group, but it's hard not to take Virginia in this matchup. Zane Zandier and Nick Jackson were all over the field last weekend, while Noah Taylor and Charles Snowden used their length to disrupt Duke. Virginia's linebackers might be the best in the ACC. Edge, Virginia.
---
The margin between many position groups is thin. Virginia's secondary looked strong last weekend as the Cavaliers forced five interceptions. Brenton Nelson, who missed the Clemson game last season, intercepted a pair of passes against Duke. Clemson earns a narrow edge due to the NFL prospects in the secondary. Cornerback Derion Kendrick should make an NFL team happy in future seasons. Edge, Clemson.
---
The Cavaliers should improve on special teams throughout the season, but a fumbled kickoff return led an uninspired opening game effort in the third phase of the game. ESPN's efficiency metric ranks Virginia's special teams at No. 60 nationally of the 72 teams currently eligible. Clemson slides in at No. 7. Edge, Clemson.
Be the first to know
Get local news delivered to your inbox!