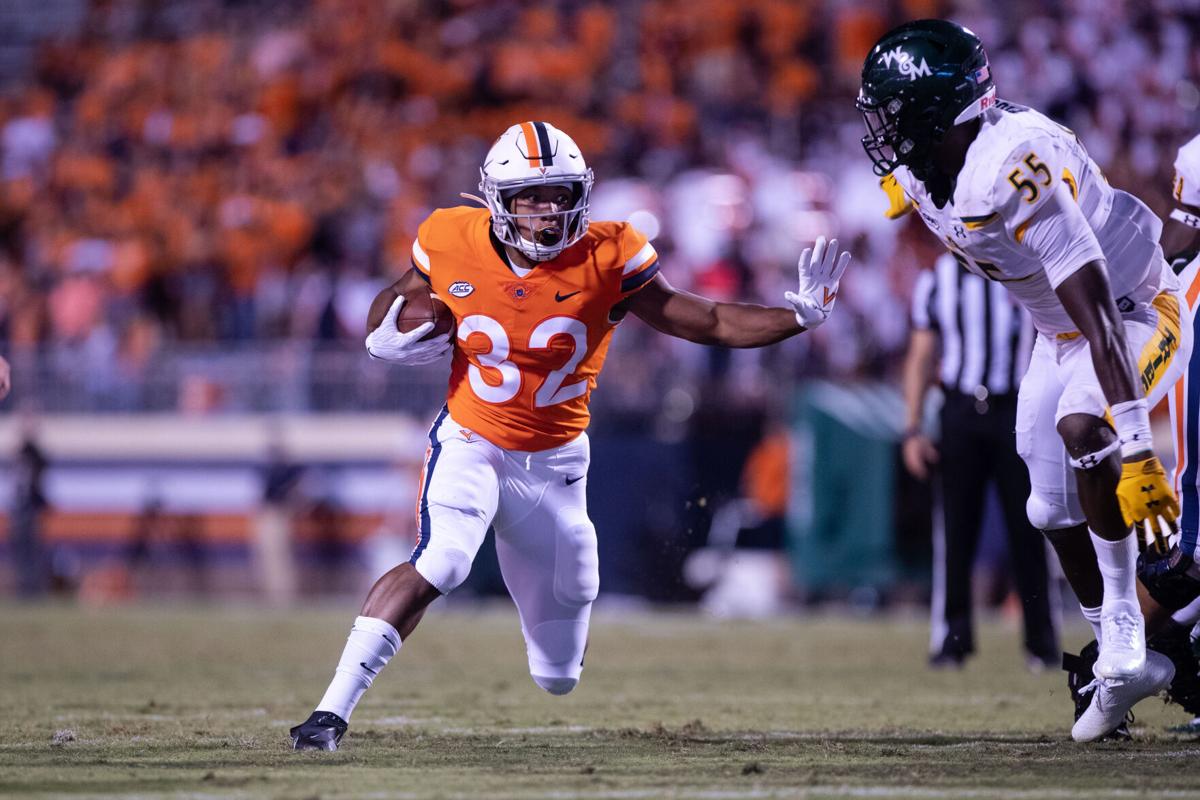 A look at who has the edge in Saturday's nonconference game between Virginia and Illinois.
THE MATCHUPS
Brennan Armstrong seems to gain confidence with every snap. The second-year starter had Virginia's offense humming by the end of its Week 1 win. Brandon Peters' status for the game is up in the air, leaving former Rutgers quarterback Artur Sitkowski as the likely starter. He's experienced, but not nearly as dynamic as Armstrong. Edge, UVa.
Mike Epstein is out for Illinois, a tough blow to the team's running back room. Reggie Love III, Jakari Norwood and Chase Brown give the team a few solid options, though. Virginia's Wayne Taulapapa, Mike Hollins, Devin Darrington and Ronnie Walker Jr. ran well in Week 1 when given chances. They just weren't given many chances, with the Cavaliers often choosing to rush backup quarterbacks instead. Edge, Push.
Isaiah Williams gives Illinois a dangerous playmaker. The team also uses tight ends well, and Daniel Barker caught a pair of touchdowns last week at the position. Virginia's strength at these positions might be depth, with Keytaon Thompson, Billy Kemp IV, Dontayvion Wicks, Ra'Shaun Henry and Jelani Woods all commanding attention from opposing defenses. Edge, UVa.
Illinois has averaged 3.8 yards per carry this season in a limited sample size. As Bret Bielema's time at Illinois progresses, the offensive line should improve. This weekend, Virginia's veteran group that helped pave the way for 206 rushing yards holds an advantage. Edge, UVa.
Illinois essentially lists two defensive linemen in its starting group, using an outside linebacker as an edge defender. The Fighting Illini are without Keith Randolph, one of the team's top defensive linemen. UVa's group fared well against an overmatched FCS foe in Week 1. Edge, UVa.
Jake Hansen is one of the best tacklers in the Big Ten, while Noah Taylor and Nick Jackson are top-tier talents for the Wahoos. Each team has a solid group of linebackers. Edge, Push.
Illinois' secondary contains some veterans, but the group hasn't been dynamic early this season. Virginia's group grabs the edge due to experience and depth. The group looked fantastic in Week 1, although William & Mary didn't stretch the field vertically. Edge, UVa.
Virginia showed tremendous special teams progress in Week 1, returning a punt 55 yards and blocking a field goal. Illinois possesses a strong group of its own, though. Punter Blake Hayes is one of the best in the country, and James McCourt is 2-3 on field goals beyond 50 yards this season. Edge, Illinois.