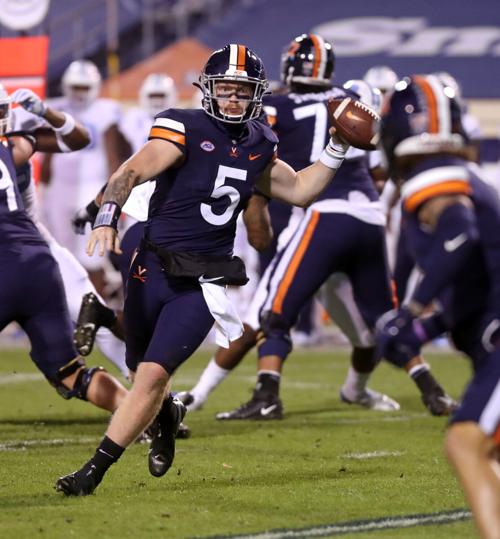 A look at who has the edge in Saturday's nonconference tilt between Abilene Christian and Virginia.
---
Peyton Mansell gives Abilene Christian a reliable option at quarterback, and he hasn't thrown in an interception in his two most recent games. Brennan Armstrong, however, earns the edge after a string of solid performances for Virginia. As Armstrong improves, the Cavaliers rack up victories. Edge, Virginia.
---
Abilene Christian fans should be excited about freshman Jermiah Dobbins. He's effective when he earns touches, and he could develop into a top FCS running back in future years. Virginia earns the edge in part due to FCS transfer Shane Simpson, who added 50 rushing yards against Louisville on 12 carries. Indiana transfer Ronnie Walker Jr. also joined the mix last weekend, rushing for 20 yards on his first five carries as a Cavalier. Edge, Virginia.
---
Lionell McConnell is a game-changing player at wide receiver for the Wildcats, but depth at the position gives UVa the clear edge. Lavel Davis Jr. looked good against Louisville, and his 6-foot-7 frame will be a major mismatch against Abilene Christian's small secondary. Edge, Virginia.
---
Losing Dillon Reinkensmeyer for the season hurts UVa's offense line, but it's still a veteran group and Joe Bissinger should fill in admirably. The Cavaliers hold a major size advantage in the trenches this week. Edge, Virginia.
---
Richard Burney and Jowon Briggs won't play for UVa the rest of the season. Burney is out for health reasons, while Briggs made the surprising decision to transfer. That leaves the Cavaliers thin at the defensive line position. The addition of JMU transfer Adeeb Atariwa this offseason helps, and he'll need to play well the rest of the way. Abilene Christian lacks size along the defensive front. Edge, Virginia.
---
Keep an eye on Abilene Christian's No. 47. Jack Gibbens tallied 14 tackles, a sack, an interception, a forced fumble and a fumble recovery in the Wildcats' last game. For UVa, look for strong showings from outside linebackers Noah Taylor and Charles Snowden. Inside linebackers Nick Jackson and Zane Zandier remain as reliable as they come. Edge, Virginia.
---
Injuries remain the issue for UVa's secondary. Joey Blount and Brenton Nelson are expected to miss Saturday's game. Even with injuries, the Cavaliers possess plenty of talent in the back end. Abilene Christian features decent experience in the secondary, but they struggle to generate takeaways. The team only has one interception this fall, and it came from Gibbens at linebacker. Edge, Virginia.
---
UVa holds the edge in athleticism in the return game and in coverage. Blair Zepeda has been reliable for the Wildcats at kicker, going a perfect 5-for-5 on kicks shorter than 40 yards. He's 1-for-3 when kicking from beyond 40. Edge, Virginia.
Be the first to know
Get local news delivered to your inbox!