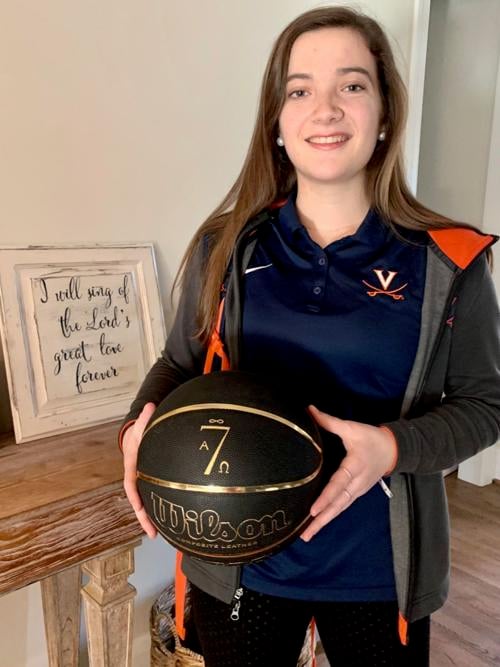 Anna Williamson was "the size of a can of Coke" in the words of her father, Jason, when she and her mother Susan underwent an open-womb operation at Vanderbilt University.
Unborn, Anna survived the surgery aimed to help reduce the effects of spina bifida, a neural tube birth defect. The surgery left Anna with some long-term effects, however.
She's paralyzed below the knee.
"When we first got Anna's diagnosis of spina bifida, I remember walking around the neighborhood, even when I was pregnant before doing fetal surgery for her, and I'm wondering if the kids that I saw on their bikes and jumping rope and walking and playing, if Anna would be able to do those same things," Susan said.
Fortunately, Anna can walk and remain active despite the paralysis. Physical activity isn't always easy, but she does it.
Anna, currently the lone female manager on the Virginia men's basketball team, does more than just walk.
She played basketball throughout middle school and high school, pushing through workouts despite her legs not always cooperating. While her body couldn't always perform at the same level of other players, Anna developed keen court awareness.
Jason coached many of Anna's teams, wishing other players grasped the game as well as his daughter.
"She was the kind of person who would play in a lot of pain, and it was pretty obvious when she was out there, so she couldn't start, but Anna actually had the best court awareness of anyone on the team," Williamson said. "She was ambidextrous with her dribbling. When she got playing time, it was, as a coach, really great to see because she could see the court in ways I wished other kids could, but they couldn't."
A love of basketball – and UVa – ultimately led Anna on a path to the defending national champions.
Early love of Wahoos
Susan Williamson earned her undergraduate degree from UVa. Jason Williamson earned a graduate degree from the university when Anna was in middle school. Eventually, Jason spent a handful of years teaching at the school.
Despite being born in Chapel Hill and raised in Raleigh, North Carolina, her family's love of Virginia passed down to Anna.
"I was like the black sheep in my class, cheering for my team," Anna said.
Williamson leaned into her love of the Wahoos, frequently sporting blue and orange throughout her childhood despite the strong regional ties to schools like Duke, North Carolina and North Carolina State.
"I remember clearly like we would go to Chapel Hill for a doctor's appointment, which was super regular, and she would like make sure to wear her UVa football shirt," Jason said.
She'd watch UVa-Duke games as her friends cheered on the Blue Devils. When Grayson Allen hit a controversial buzzer-beater to beat the Cavaliers in 2016 at Cameron Indoor Stadium, Anna was firmly in the camp that Allen traveled prior to hoisting the shot.
Those in the North Carolina triangle have different feelings on how the sequence played out.
"Mine is the minority opinion," Anna laughed.
Years later, when facing her college decision, the North Carolina-UVa rivalry came alive.
Anna knew she had three younger siblings, and her family wants to help support them financially through college as well. She understood that going to an in-state school might be the best decision for financial reasons.
Her heart, however, called her to Virginia.
As she awaited responses from schools, including UNC and UVa, she prayed for one door to open and another to close, leaving her with an easy decision. Both schools released their announcements the same day.
UNC rejected Anna, while UVa accepted her.
One door opened, and it was the one she wanted.
Joining the champs
A few family connections helped put Anna in touch with UVa's staff late in high school. She eventually found herself on an email chain with coaches about an offseason youth camp prior to her arrival at UVa.
She took a chance and fired off an email.
"I emailed and I was like, 'Hey, I am not super qualified to be at the camp,'" Williamson said. "'I just graduated high school. I have not been a coach ever, but I would love to come and volunteer and help out in any way. Selling skittles to the seven-year-olds, like, that would be fine.'"
To Anna's surprise, she was hired as a coach.
She became the first female coach at Tony Bennett's camp since he came to Charlottesville. The team she led went undefeated.
After an impressive showing at the camp, she connected with Ronnie Wideman, Virginia's associate athletic director for basketball administration and operations. The two discussed her being a manager on the team.
Anna went through a trial process to determine if she was up for the time commitment needed to become a men's basketball manager. The trial went well, and she accepted a position as a manager beginning in the 2019-20 season, her freshman year.
"It does mean a lot," Williamson said of becoming the one female manager on the team. "I think it's really amazing that they gave me this opportunity because I think looking back at the past couple years without females, they definitely did not need a woman on the bench last year to win a title."
First season
Anna carries with her the challenges of a physical disability and being a female in the sports industry, but she never lets those define her. The team doesn't use those to define her, either.
She feels like every other member of the team. She's a part of the UVa men's basketball operation, which values servant leadership. Nobody within the organization feels like a star, even if those watching from the outside view starters or coaches as the stars.
Within the program, everyone is equal.
Anna isn't a token female hire for publicity — she's proven her qualifications and many fans don't know much about her — nor is she viewed as just a manager. Whether it's on a road trip or at practice, she's a member of the team.
Feeling equal brought Anna her favorite memory of her first season as a manager. She loves the thrill of game day, but her most memorable moment didn't come after a dramatic victory or in a crowded arena.
It came at the team hotel during a road trip to Wake Forest, her first road trip as a manager.
She started to make tea, when guard Tomas Woldetensae came over and stopped her.
"That's not how you make tea," the Italian said.
Woldetensae proceeded to give Anna a master class in correctly making a good cup of tea.
A jar of fresh honey — Woldetensae checked with hotel staff to ensure it was real — sat near the tea pot. He showed Anna that first, the honey goes into the cup. Then, add the hot water. Finally, steep the tea bag for about five minutes.
When it's done steeping, stir the tea. Don't add sugar, and drink the tea as it is.
"It was a really special moment to me because it was a business trip but it was my first one with 'the Virginia Cavaliers,'" Williamson said. "I was processing that while I was still feeling kind of uncomfortable. I struggled this year with not feeling like I deserved the position I was in and so being able to stand next to him while he made my tea was really cool, just because he was so kind."
Virginia went on to win the road contest 65-63 in overtime, but Anna's best memory from the trip was a fun moment with a top-tier ACC shooting guard.
Despite the occasional self-doubt, Anna worked hard in her first season. She became more comfortable as the season went along and grew into her role on the team. It was a special season for the manager and her family.
"We never get tired of it," Jason said of seeing Anna on the bench. "We didn't miss many homes games this year in Charlottesville. The joy when you see your kid on the sideline, working hard. There's just a lot of joy in that."
For the UVa-loving family, seeing Anna learn from Bennett and company is remarkable.
"I tell all of my friends that there's nothing like having one of your children — and Anna is our first to go to college — but there's nothing like having them go to your alma mater," Susan said. "It's just a really special thing to have that connection with them."
The road ahead
Anna doesn't know exactly what's next in her career. She knows she has three seasons left as a manager before jumping into graduate school or professional life, and she wants to make the most of those seasons.
Given her experience so far, she'd love to work in basketball years from now, but she's still ironing out the specifics.
As for her day-to-day work, Anna aims to stay humble while inspiring others.
Jason believes Anna's spirit makes her an inspiration for anyone lucky enough to meet her. When she played basketball growing up, players looked at her as she fought through pain to play. Despite not logging that many minutes, Anna put in the necessary work for a spot on the team and a chance to compete. Others knew they had no excuses to give up when Anna was giving it her all.
In 2014, Anna needed another surgery. The procedure went poorly, destroying her ankle. She faced a leg amputation while receiving consultations from different doctors. Anna inspired her parents with the way she handled the events.
"Jason had a conversation with her one time about the struggle in life, and he said, 'You know, your life has been kind of hard,' and she said, 'What are you talking about? My life is great,'" Susan explained.
The family found a procedure that removed what remained of her left ankle while fusing other bones together. It went well, but it was Anna's outlook on the experience that stuck with her parents.
Like many moments in Anna's life, she faced a challenge most people don't, but she pushed through it with impressive resilience.
"The cool thing about my disability, spina bifida, is that I was born with it, so I don't know what life would've been like otherwise," she said. "I think that's kind of been a blessing, and it was growing up."
A family grounded in faith the Williamson's believe Anna is exactly as God intended her to be.
Her constant perseverance leaves an impact on those she interacts with. While spina bifida made her life harder in many ways, her impact might be greater because of the challenges in her way.
"Some really neat things happened in her life because of the struggle," Jason said. "If not for the struggle, a lot of us around her would not have as much because of that."
Even Anna, known for her humility, occasionally looks back on the journey and savors what she's fought through to wind up on the bench of the reigning national champions.
"I would not have been able to write this story without just the endurance and perseverance my little body used to get to age 20," Anna said. "I do, every once in a while, look back and just think 'Wow. I actually cannot believe it. It's crazy.'"
Be the first to know
Get local news delivered to your inbox!