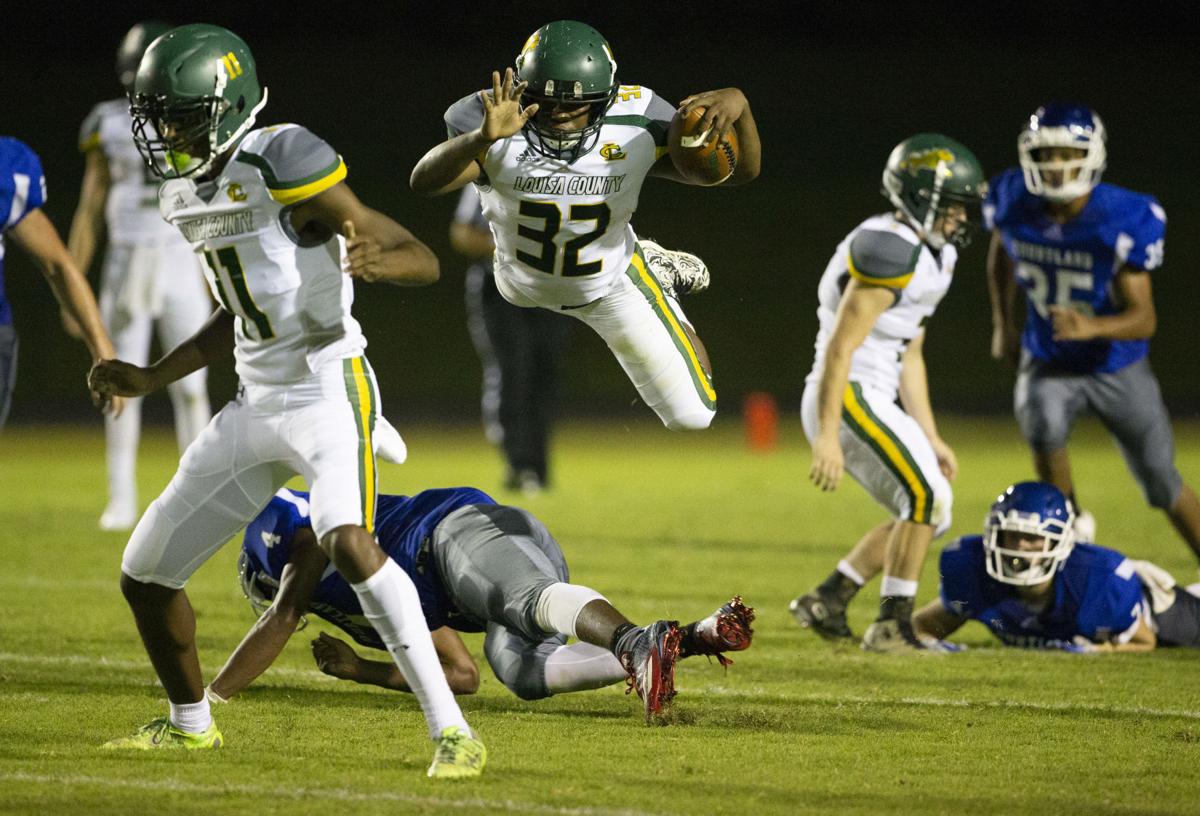 As usual, there are a lot of "nevers" related to Louisa County High School's football program.
None of the players on the Lions' spring 2021 roster has ever tasted defeat in a Jefferson District game. Louisa has not lost to a district opponent since 2016.
Their team has never missed the Region 4B playoffs during their high school experience, reaching the 2017 Class 4 state final. And as the biggest show in town, the Lions have never failed to play before big, enthusiastic crowds.
Add one less desirable "never" to this year's unique season that is scheduled to begin Tuesday night: most of coach Will Patrick's players have never worn a varsity uniform before.
"We had 23 seniors graduate [from a 2019 team that went 11–1]," Patrick said. "Ten of those kids are on college football rosters. I have literally seven kids who have started a game for me. ... We have a very, very young football team."
Every team has been playing things by ear after the Virginia High School League decided to push the 2020 fall seasons into the winter and spring and condense what's normally a 10-game schedule to six (plus an optional extra game for non-playoff teams).
Patrick said his challenges have been magnified not only by coronavirus restrictions, but the recent winter weather that prevented the Lions from practicing together. With a young team, basic aspects like where to line up and on-field communication need time to establish.
"When you only have four or five practices in pads, it's tough," Patrick said. "We had no summer workouts, no preseason camp. We've had to have Zoom practices because of the weather. It's going to be an education, but I'm excited."
One of Patrick's few eligible returning players, senior running back Robert Morgan IV, decided not to play this spring and enrolled early at Howard University to get a jump-start on his college career. He rushed for 601 yards and scored 13 touchdowns in 2019 before tearing his ACL.
Louisa won't get any pity from any of its district rivals that it has pounded on in recent years, and the Lions aren't seeking any. As usual, there's plenty of talent, even if it's inexperienced.
Quarterback Landon Wilson went 9–0 as a freshman in 2019 before suffering a season-ending broken ankle. The season delay gave him more time to heal, and he'll return to lead an offense that may be more versatile than the Lions' normal run-heavy attack.
"I'm happy to see his leadership get better as he gets older," Patrick said. "We want him to take care of the football, throw it and run with it."
Among the Lions' few seniors are running back Kalup Shelton; receiver/defensive back Logan McGhee (whose sister Olivia led the girls' basketball team to the Class 4 state championship); and tight end/linebacker A.J. Proffitt.
Jordan Smith, whose big brother Brandon was named 2019 Gatorade state player of the year and is a starting linebacker at Penn State, will anchor the defensive side of the ball.
Patrick, himself a former standout player at Louisa, knows how high the program's expectations are. He doesn't plan to lower them, even with a roster that's short on numbers (37), most of whom have only junior varsity experience.
"It's going to be one of those years," he said. "Even though we're young, we've still got standards. We've lost three games in three years. We have some very talented kids, and I'm excited to coach them. You just don't know how they'll respond, because most of them have never played on a Friday night. Fridays are a lot different than Wednesdays."