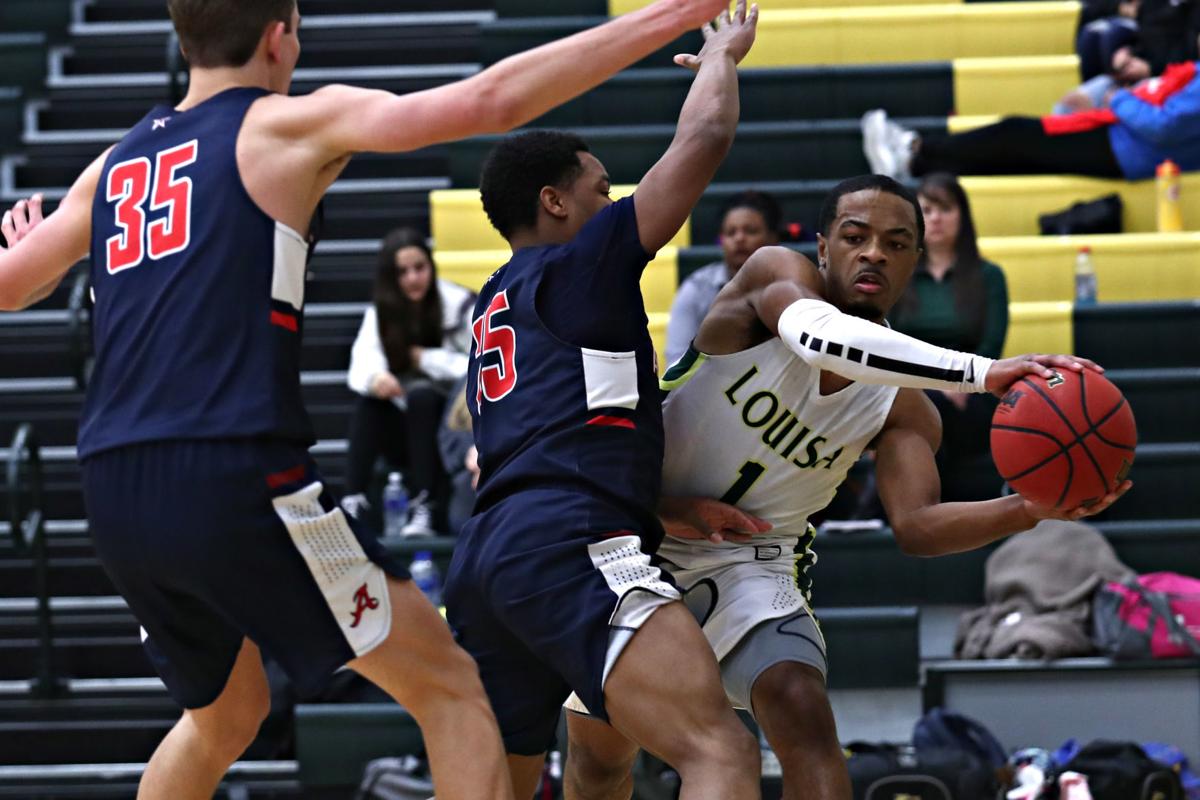 MINERAL — For coaches, there's no substitute for experience, especially when it comes to the point guard position.
Louisa County basketball coach Robert Shelton, who was a point guard during his playing days for the Lions, knows that all too well.
Shelton had to tip his cap Tuesday night to Jarett Hunter, who led the Lions to a 55-49 home victory over Albemarle.
The senior guard scored 12 of his game-high 20 points in the second quarter as Louisa County (8-2, 4-0 Jefferson District) maintained its place atop the district standings with a big win over the gritty Patriots (7-5, 1-3).
"It's always good to get a district win, especially against a quality opponent," Shelton said. "I believe this year the district is pretty even. On any given night, any team in the district can beat you, on your home floor or away. It's good to pull this out because it prepares you for later in the season and playoff time."
Xavien hunter had the hot hand early on as Louisa County built an early lead. The senior guard had two big finishes at the rim and chipped in a long 3-pointer as the Lions led 14-7 after one.
Albemarle answered in the second behind the play of its backcourt. Cam Johnson and Dasaun Taylor tallied five apiece and Christopher Woods buried a corner 3-pointer to tie game at 23-23 with 3:09 left in the half.
Jarett Hunter and Mahlik Munnerlyn responded with treys of their own to give Louisa a 29-24 halftime lead
"In past years, they are a team that gets out in the first quarter and they build a big lead and we're usually fighting back," Hunter said. "In the past few years, we've been able to build that lead only to have them fight back, so when they went on that run, it was more normal than anything, because that's what were used to when we play those guys. They always come to play."
The Patriots came out strong in the third quarter thanks to the play of Josh Morse, who scored eight straight points during a 10-2 AHS run. Johnson capped the spurt with a layup to give the Patriots a 34-31 lead.
Jarett Hunter then scored four straight points and Xavien Hunter added a layup in traffic to tie game at 39-39. One possession later, Jarett Hunter drained a 3-pointer at the buzzer to give Lions a 42-39 lead with one quarter to play.
"This is a game of runs," Shelton said. "We knew Albemarle was going to make a run and we had to match their runs and their intensity and make those runs on our own. It was good that we were able to take their punch and respond to it. Jarett hit some big shots and that calmed us down where as a coach, I didn't have to take a timeout."
Hunter took over in the fourth quarter.
He opened the final stanza with a trey and then delivered a beautiful no-look feed to Isaac Haywood for an uncontested layup to extend the lead to 49-44 with 5:19 left in the game.
Later in the quarter, the senior point guard drew up his own play to help put the game out of reach.
With Louisa leading 51-47, Albemarle tried to trap Hunter in the back court. He had other plans.
"I had seen how they were playing off screens and they were hedging and the man that was guarding me was trapping," Hunter said. "I went to a double screen so that my man could slip and Isaac got the slip and I saw him right there and the help wasn't there and he got an easy layup off it."
"He took it over," Shelton said. "He's a coach on the floor. I think at one point, he made a call on a play that surprised me. Then when we came back out after a timeout, I said, 'Good call' because I didn't' even think of that one. I think that's a testament to him being here on varsity four years and he's just solid. When he's playing like that, he's tough to defend."
The Patriots trimmed the lead to 53-49 with 3:16 left, but the Lions did a great job of draining the clock and limiting possessions in the final minutes. When Albemarle did get the ball, the Patriots were unable to capitalize, going 0-for-6 from the floor over the final two minutes.
Morse scored 20 points, including 13 in the second half, to lead Albemarle. Woods tallied 11 points, while Taylor and Johnson finished with seven points apiece.
For Louisa, Xavien Hunter poured in 18 points, including 12 in the first half. Munnerlyn added 10 more to give the Lions three players in double figures.
For Jarett Hunter, he's happy with the way his game has progressed.
"There years ago, I would've kept trying to do that same play over and over and probably turned it over every time," he said. "It's definitely come from experience."
Be the first to know
Get local news delivered to your inbox!