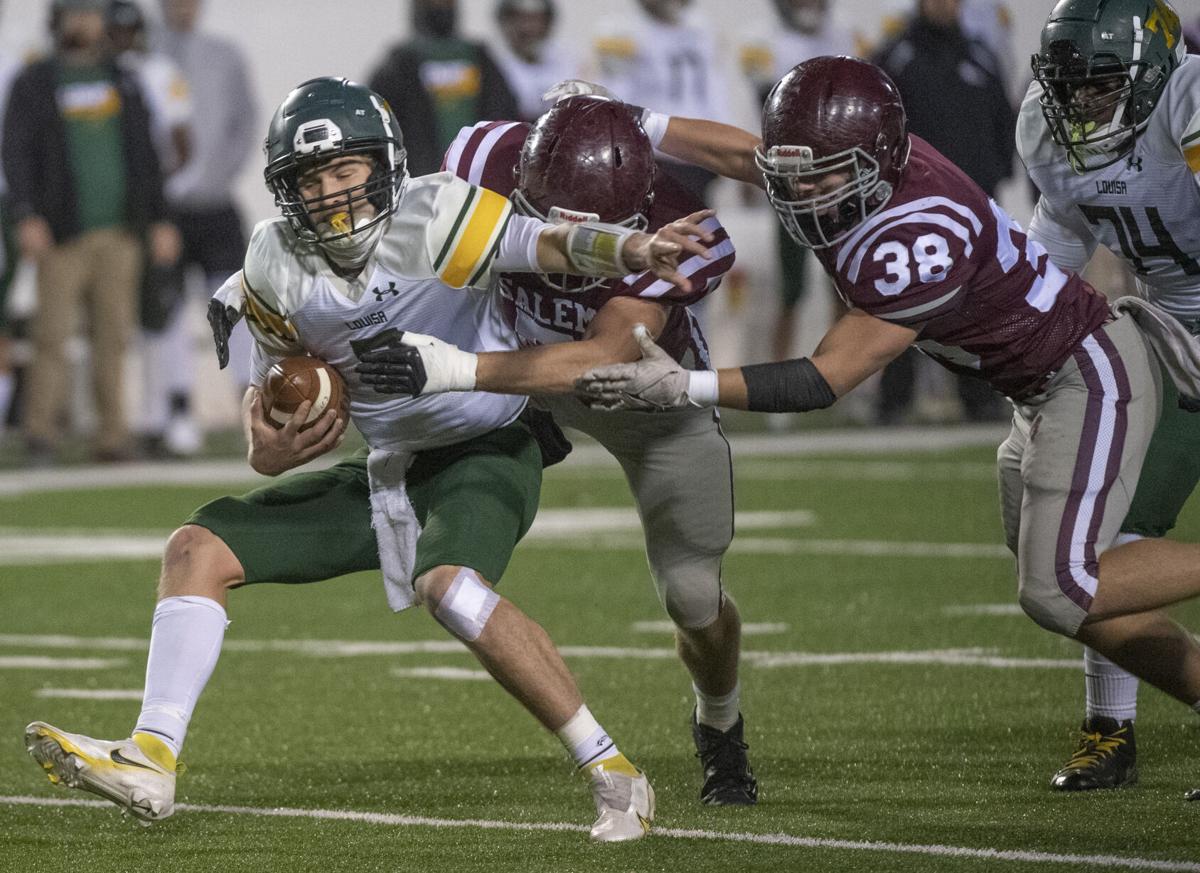 SALEM — Salem ran just 17 offensive plays in the first half of Friday's Region 4D semifinal game against Louisa County.
The Spartans scored touchdowns on five of those plays en route to a 55-7 victory over Lions at Salem Stadium.
Cameron Leftwich rushed 12 times for a game-high 195 yards and four rushing touchdowns to lead the defending VHSL Class 4 state champions. The 5-foot-11, 225-pound fullback also added a six-yard touchdown reception in the win.
"Hats off to Salem's defense and their offense," Louisa County football coach Will Patrick said.
This was the second matchup between the two programs and the first since they met in the 2017 VHSL Class 4 state championship game at Zable Stadium in Williamsburg.
Patrick pulled out all the stops on Louisa's first drive. Offensive lineman Qwenton Spellman gained nine yards on a fake punt to move the chains, but the momentum was short-lived as Salem's defense again stymied Louisa County's offense and forced a punt.
That's when Leftwich seized control of the game.
The senior fullback found daylight up the middle and raced 86 yards for a touchdown on Salem's first offensive play from scrimmage to give the Spartans a 7-0 lead with eight minutes left in the first quarter.
After another Louisa three-and-out, the Salem offense went back to work.
QB DaRon Wilson connected with Chauncey Logan Jr on a 37-yard touchdown strike off play action on the second play from scrimmage to give the Spartans a 14-0 lead.
Patrick said those two early touchdowns were tough to come back from.
"We just came out of the gates so slow," he said. "We got a first down on the fake punt, then we had to punt again and there first two offensive plays they scored touchdowns on. I really think their defensive line and their linebackers are outstanding. Their team speed, they really flew around and took away a lot of things we were trying to do."
The Spartans found the end zone again on the first play of the second quarter when Wilson faked a handoff to Leftwich, rolled to his right and then hit the fullback on a six-yard touchdown strike for a 21-0 lead with 11:56 left in the first half.
Leftwich found the end zone for the third time in the first half on another fullback trap play, this one from 38 yards out, to stretch the Salem led 28-0.
Louisa (9-3) broke through offensively with 3:26 left in the second quarter when Landon Wilson rumbled in from 12 yards out off the left side to cap a 12-play, 74-yard drive to cut lead to 28-7.
The Lions tried to get another score just before halftime, but a turnover on downs gave Salem the ball at the Louisa 25 with 55 seconds left. The Spartans cashed in on the extra possession when DaRon Wilson hit Logan for a 15-yard scoring strike and a 35-7 halftime lead.
Patrick said that last drive could've swayed the momentum.
"We had that one touchdown drive where I thought Landon really ran the ball hard, Jordan [Smith] and [Austin] Talley too," he said. "We missed a few opportunities in the passing game and just really never had a chance to get the offense going."
Salem went back to work in the third with a score on its opening drive. Leftwich rumbled 38 yards up the middle to give the Spartans a 42-7 lead with 8:55 left in quarter.
Leftwich punched in his fourth rushing touchdown of the night with five seconds left in the third quarter to give the Spartans a 48-7 lead. Isaiah Barlow added a 1-yard touchdown run in the fourth to provide the final margin.
Barlow finished with 12 carries for 101 yards and a touchdown. DaRon Wilson completed 3-of-6 passes for 58 yards and three touchdowns. Logan, a James Madison signee, finished with two receptions for 58 yards and a pair of scores.
Landon Wilson carried 24 times for 74 yards and a touchdown to lead Louisa County. He was also 3-of-9 passing for 27 yards and an interception.
Jordan Smith was limited to just 20 yards on 13 carries, while Troy Fischer added 16 yards on three carries for Louisa.
"We learned a lot tonight," Patrick said. "There are a lot of things we need to work on. Lot of things we need to get better on during the offseason. I've got 18 seniors that are graduating, hats off to them. Some of them will go on to play at the next level, some won't, but at the end of the night, I'm proud to be the Louisa Lions football coach."
After losing so many seniors to graduation last summer, Patrick said there were plenty of question marks headed into the season. He praised his team for rising to the occasion and continuing to build on the Lions' tradition of success.
"I'm really proud of my boys," Patrick said. "We lost a lot of seniors last year. This team, we really didn't know what to expect going into the season in July. We had a lot of holes to fill. We had a lot of guys step up, including our three seniors on the offensive line. Finishing 9-3 and getting a share of the district title and beating E.C. Glass last week and then coming down here to a storied place to play football."
Patrick said he will always have fond memories of this team.
"This group of guys, it was one of the best times that I've had coaching," he said. "It was fun. Obviously we didn't get what we wanted tonight, but this is one of the best group of kids I've been around in my 14 years of coaching, no doubt about it."