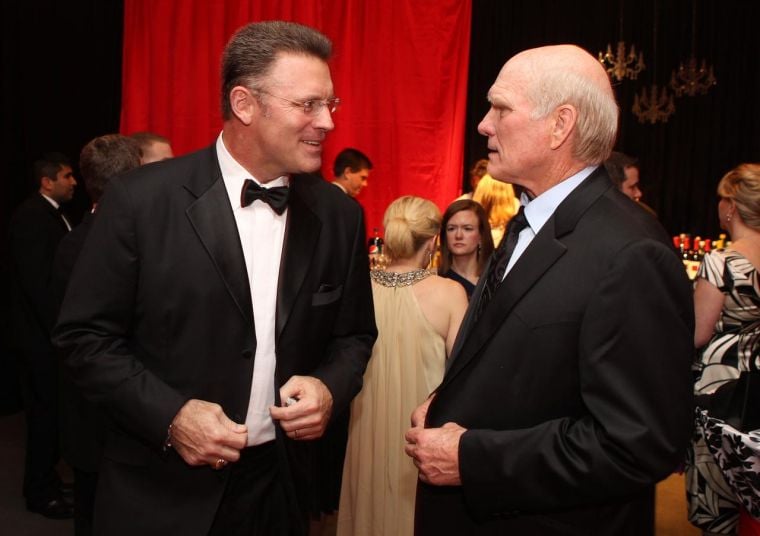 If timing really is everything, then Terry Bradshaw's timing for his arrival in Charlottesville on Saturday wasn't very good.
The Pro Football Hall of Fame quarterback and one of the top football analysts in the business was en route as part of four cities in a week whistle stop tour, ending at a gala for the new Boys and Girls Club facility on Cherry Avenue. Bradshaw and his longtime pal and Charlottesville resident, Howie Long, were headlining the event along with FOX NFL Sunday host Curt Menefee.
While Bradshaw is comfortable flying, as evidenced by his trips to D.C., Michigan and Utah earlier in the week, the bumpy ride to Central Virginia was more than he asked for.
With tornado watches everywhere, the 62-year-old former Steeler couldn't wait to land.
"Thank God that I know my Jesus," Bradshaw said once safely on the ground. "Today got to me. I was looking for my bourbon and I definitely wanted to kiss the ground."
As soon as his plane touched down in Charlottesville, the first thing Bradshaw spotted was Long, donned in saggy warm-up pants, a hat and a coffee for his friend.
"First thing Howie said to me was, 'I'm sorry man,'" Bradshaw said. "I said, 'shut up, I don't want to hear it.'"
When you're best of friends you can get away with talking to another Pro Hall of Famer like that.
Such is the relationship between Bradshaw and Long, a kinship that began nearly 18 years ago almost by chance and has developed to a bond as strong as brothers.
Long jokingly refers to Bradshaw as "the older brother I never wanted."
As much as they kid one another, Long said it's one of those deals that if you had to call someone at one o'clock in the morning in a snowstorm and you had a flat tire, who would it be. In each case, Long and Bradshaw would call one another.
"We started out as the odd couple," Bradshaw said. "We're like apples and oranges."
In fact, the two men couldn't have been much more different. They're 12 years apart in age. Long grew up in Boston, Bradshaw in Louisiana. Bradshaw is Baptist, Long is Catholic. One was a quarterback, the other a defensive lineman. One was a Steeler, the other a Raider.
They didn't even know one another until FOX gambled on a new concept to introducing the NFL on a unique one-hour, pre-game show (up until then such shows were only 30 minutes). FOX producer David Hill, an Australian who didn't know much about pro football, wanted to give viewers a show that would make them feel like they were sitting around in a living room listening to guys talk football.
Bradshaw, who had previously done work for CBS Sports, would be the drawing card with James Brown (later replaced by Menefee) as host. FOX wanted two more guys, retired Cowboys coach Jimmy Johnson and someone else.
That someone turned out to be Long. But it wasn't that easy.
"I auditioned Howie for FOX," said Bradshaw. "It wasn't a good audition."
Prior to that encounter, the two had only met in passing at a Super Bowl.
"FOX was looking for personalities I think, but they had signed me, so they had a big mouth personality," Bradshaw said. "Howie's audition didn't go so well. He came in with an encyclopedia of knowledge. He's always overprepared. I mean, we're at the Sugar Bowl and I'm downstairs having a beer with his wife (the charming Diane Long), and Howie's upstairs breaking stuff down. I don't think that's what [FOX] had in mind … they just wanted to see how we got along."
Long had just announced his retirement from the game and nobody knew about it, including as it turned out, Raiders owner Al Davis. Long was 34, had just been to the Pro Bowl and was coming off his ninth operation.
He and Diane had been thinking about him leaving the game. As he likes to say, his body was being held together by duct tape and glue.
"I don't know if I could have handled just being an average player," Long said. "In baseball, as your career winds down, your average drops 30 or 40 percentile. In football, you get your butt handed to you. The last year, was a challenge. It took everything I had and I was too proud to keep playing at a less than expected level."
At that point, no player had ever gone from the field straight to the studio. Rather, they usually were assigned the fourth- or fifth-best game of the weekend.
Well, not this time. Hill had something different in mind.
The FOX pre-game show is not rehearsed, but as Menefee pointed out Saturday, about 70 percent ad-libbed. There's a lot of natural reaction.
As Long remembered, the football purists thought this FOX production was going to turn the NFL Sunday into the Simpsons. However, the show revolutionized how pre-game shows were done and shows today oddly bare a strong resemblance to FOX's innovation.
"They sat me down next to Terry for my audition and said, 'You sit there and just react,'" Long recalled. "You never know what you're going to get. I was over-prepared, very methodical, point A to B to C. I had spoken to everyone in the league, including the commissioner. I was trying to be Bob Costas."
In fact, Long was everything Hill didn't want him to be.
"But you walk in there and nobody tells you what they want you to do," Long said. "They said, 'We're pretending it's week seven and here are the games, issues at hand, now go with it…"
It took some time. Bradshaw told Long to relax and at some point, John Madden gave Long a great piece of advice, telling him, "You're here because you're a football player … so, be a football player. Speak from what you know. You're not Bob Costas."
After that, everything was OK and even though the audition didn't go that well, Bradshaw told Hill to give Long another chance because, "I thought he was going to be really good."
While the two had some growing pains initially because they were so different, they adjusted to one another's styles and the timing, the little nuances, and developed the relationship to what it is today.
"I always liked Howie and I could see how good the show was going to be," Bradshaw said. "We kind of grew up together on that show. How in the world we got to be such good friends, I don't know."
Part of it, Bradshaw explained, was that through all his ups and downs during those 17 years, Long has always been there for him.
"I got divorced during all that and I know Howie's a strong family man and he saw me hurting," Bradshaw said. "I shared all my feelings with him, and he probably had never had anyone do that very much. Whatever it was, we really got close. There's a real trust factor there, never any jealousy."
In fact, Bradshaw said that he gets so much of a kick out of saying something — sometimes outlandish — just to get a reaction out of the more conservative Long during the telecast.
"Howie's always my ace in the hole," Bradshaw chuckled. "I'll say something and he'll get that head cocked and his eyes are squinted and he'll say, 'What?' … 'Are you kidding me?' … 'You don't really mean that?'"
Long, of course, loves the good-natured ribbing. He has so much trust and respect for Bradshaw, and that feeling is mutual.
"We care a great deal for one another," Long said. "He's like family for me and my boys. He's kind of like the crazy uncle. All my kids grew up with him."
Bradshaw has gotten a kick out of Howie's sons, Chris (now a starter for the St. Louis Rams), Kyle and "Little" Howie, who plays lacrosse for Virginia.
"Yeah, I'm uncle Terry," Bradshaw proclaimed. "Take 18 years off of Chris and he's eight years old. I got out of a car here in Charlottesville one night many years ago in a snowstorm and I'm getting pelted by snowballs by Little Howie and his gangsters of love. I can handle Little Howie, but not the other two, they're bigger than I am."
Those who have observed Bradshaw over the years, whether it's on the Fox show or one of his many appearances on the Tonight Show with Jay Leno, have probably noticed that Bradshaw seems to always have a good time.
He's just as fun, laid back and cool in person as he is on TV, but don't let that fool you. When he was leading the Steelers to Super Bowl titles, some people didn't give him credit for his intelligence. In fact, someone said that Bradshaw couldn't spell CAT if you spotted him the C and the T.
The guy is sharp. He likes history and he knows his way around. Those trips he made prior to Charlottesville? Speaking engagements. He's in high demand and he always delivers.
He has a cattle breeding business in Oklahoma and lives in Florida and is always on the move.
"I do have a good time but I'm usually the butt of most folks' jokes," Bradshaw said. "They beat me up pretty good. I guess that's my lot in life."
Long said that's often much more by design than people realize.
"Terry sometimes throws things up there for other people," Long said. "Throws things up there at his expense. He's very intelligent but for the sake of the show, he'll throw something up there like batting practice. It's like a home run derby. Yeah, Terry, I want it waist high, and a little outside. But he's redefined the way pre-games are done just like Madden redefined how a color analyst does his job.
"It can be fun, but it can be entertaining and informative," Long said.
Consider that Bradshaw and Long have been there at FOX since Day One, going into their 18th season. Others have come and gone, including Johnson, who started with them, left for a stint with Dolphins, but returned.
Long said that the same producer, director, camera men, makeup people, who were there when it started, are also still there.
Pretty good longevity in a business like television, where most people are one-hit wonders.
"To be able to work with someone for a number of years like this and to genuinely make the effort to become friends and pursue that to a lasting relationship that goes beyond television is so unusual," Bradshaw said. "I have a lot of friends in this world and to develop one especially when we're like apples and oranges, where we connect on a unique friendship like this is very special."
Long agreed. So did Menefee, who's been around these guys for six years.
"Not only are we friends on the set, but we're friends outside the business," Menefee said Saturday night. "Otherwise, the three of us wouldn't be here together in Charlottesville for this event. This is very uncommon in our business."
There's a lot uncommon about these guys, but it has turned into one of the great friendships in today's entertainment world and beyond.