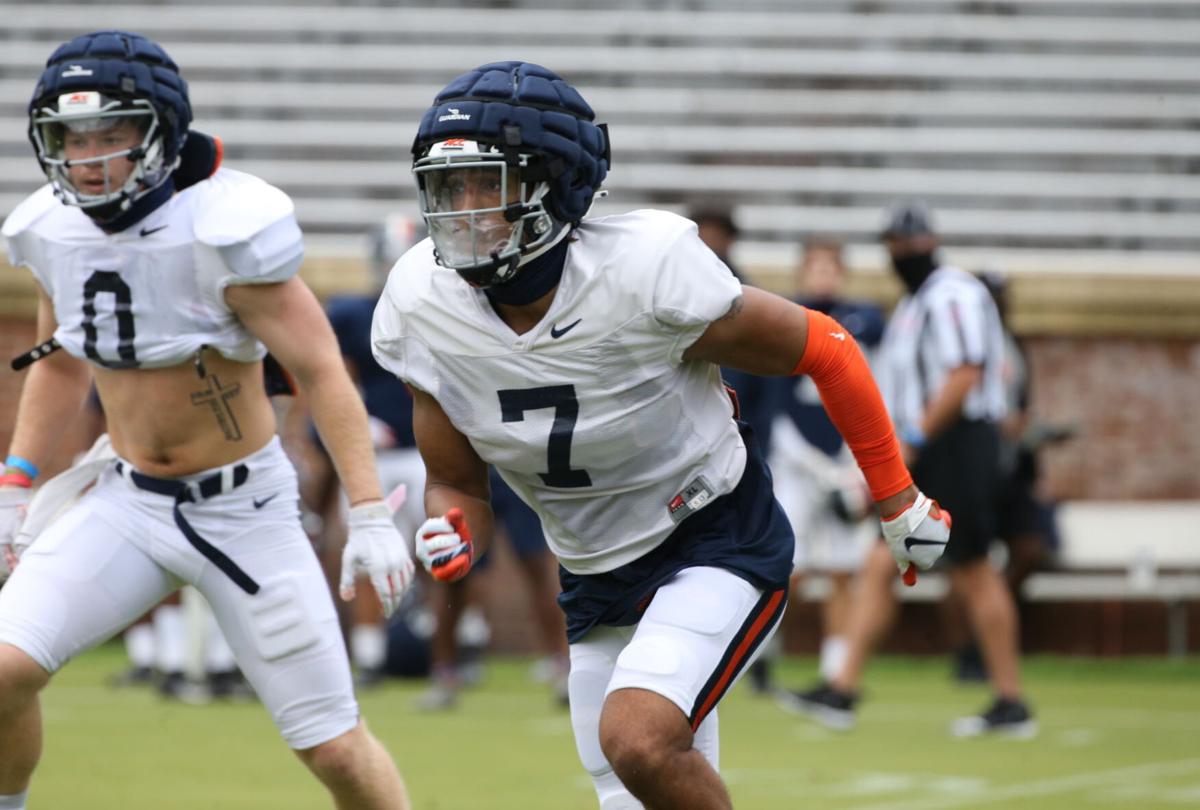 On paper, Bronco Mendenhall might have the best defense of his coaching tenure at Virginia.
The defensive line features experience and consistency. From Mandy Alonso to Jowon Briggs to Aaron Faumui to Richard Burney, the defensive linemen know what's expected from UVa's coaches.
In the secondary, Joey Blount, Nick Grant, Darrius Bratton, Brenton Nelson and De'Vante Cross logged meaningful snaps a season ago. Adding D'Angelo Amos from James Madison gives the team yet another defensive back with significant experience and play-making ability. The group lacks the star power of a season ago, when Bryce Hall played cornerback, but the overall depth and experience makes the group respectable.
The calling card of the defense, however, is the linebackers.
Charles Snowden, Noah Taylor and Zane Zandier may all land on NFL rosters in the next year or two. Rob Snyder returns from injury, and Nick Jackson is a budding star at the position. The position group is stacked, and it's also filled with leaders.
No Cavalier leads more than Snowden.
"You really want to look up to somebody like that," Taylor said of his teammate, "because there's a lot of guys that will talk a lot of stuff and then they don't go ahead and do it, but Charles will be dead tired and telling other people, 'Let's go' and then go ahead and be the first one on the next rep."
A vocal leader, Snowden backs up his words with action. He finished the 2019 season with 72 tackles, including 11 tackles for loss. He's a reliable and dynamic presence.
Taylor actually out-produced his comrade a season ago, at least in the tackles for loss category. He finished with 13.5, including seven sacks. Taylor does a little of everything for the Cavaliers.
The coaches consider him one of the team's best pass rushers, and he's athletic enough to drop into coverage. Taylor showcased those skills in a breakout coverage performance against Virginia Tech.
"Just the versatility he can provide for us from playing inside backer to an outside backer to defensive end to safety to corner," co-defensive coordinator Kelly Poppinga said. "You guys will see him lined up everywhere this year, honestly."
UVa excels at bringing in unheralded recruits and developing them into stars. While Taylor wasn't highly recruited, he possesses the athletic traits of a four- or five-star prospect.
He's long, fast and, thanks to UVa's strength program, a physical imposing linebacker entering his junior season.
"I mean, his ceiling is through the roof and to see a guy, like against Florida, to see a guy in the deep half, and then the next play he's rushing the quarterback, that's not common at 6-5," Snowden said of Taylor.
Often overlooked, Zandier brings yet another solid presence to the position. A more old-school linebacker compared to Taylor and Snowden, Zandier brings toughness.
He's not as long as his fellow linebackers, but he tends to put himself in the right spot and is a tackling machine. He led the squad with 108 tackles last season, while also tallying 12.5 tackles for loss.
Zandier, who some teammates and fans affectionately call "ZZ Stop," will rock No. 0 for the Wahoos this season. The linebacker has also taken on more of a leadership role this offseason.
"We all know ZZ Stop as being an aggressive, loud person of our defense but he's kind of grown into a role of taking charge of the younger guys," safety Joey Blount said.
UVa's 2020 squad will likely go as far as the defense can carry it. With offensive question marks and an early date with Virginia Tech, the Cavaliers will lean heavily on their most talented position group.
They're fortunate the team's stars at linebacker also fill leadership roles.
"That's crazy from a year ago, a lot of people would think that was one of our best teams we've had in years actually but this team, coming back right here, the cohesiveness and the chemistry that we all have together that's another level, I would say, as a football team," Blount said.
Be the first to know
Get local news delivered to your inbox!