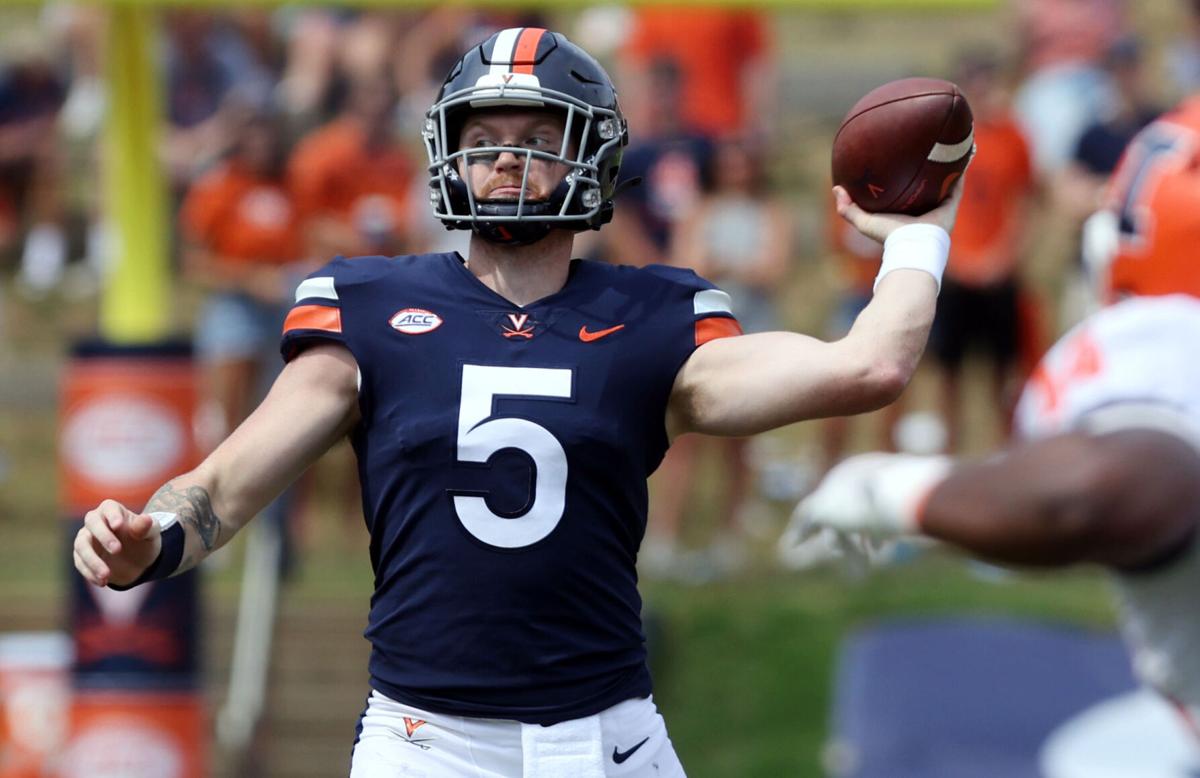 Keys to victory for Friday's ACC matchup between Virginia and Wake Forest.
■ Play respectable defense: UVa doesn't need to play like the 1985 Chicago Bears to win. The Cavaliers just can't give up nearly 60 points and 700 yards like they did against North Carolina. Virginia's offense looks elite compared to ACC peers. The defense needs to carry its weight this week after a rocky showing against the Tar Heels.
■ Establish the pass: UVa fans were alarmed by the subpar rushing total last week — Virginia ran for just 21 yards. That shouldn't be a concern. If UVa records more than 400 yards of offense each week by leaning on the passing attack, that's fine. Virginia maintaining a level of excellence through the air this week is a key to winning. A traditional run game isn't a necessity in 2021, especially if Brennan Armstrong plays like a Heisman candidate.
■ Move on from last week: Losing by 20 points to North Carolina likely hurt the team's confidence. Through two weeks, UVa looked special. Last week, the defense looked putrid. A win this week goes a long way toward regaining momentum. UVa's team, especially the defense, isn't as bad as it showed last week. The Cavaliers need to stay positive; better results lie ahead.
■ Make Virginia tackle: More specifically, Wake Forest needs to put UVa defenders in one-on-one matchups with its skill players. Virginia defenders struggled to tackle in space last week, and the Demon Deacons should try to exploit that weakness. Wake Forest has shifty and athletic receivers and running backs. Finding ways to get them into open areas is critical. UNC did well to put receivers in positions where one missed tackle meant a gain of 20-plus yards.
■ Play complementary football: Both UVa and Wake Forest try to play complementary football, meaning each program wants all three sides of the football to work together in unison. An easy example to better understand complementary football is a team downing a punt at the opponent's one-yard line and turning that into a safety. Special teams puts the defense into an advantageous situation, and the defense executes to record two points and get the ball back to the offense. Wake Forest usually leans on solid play from all three phases to win games. The Demon Deacons aren't just a scoring team. They forced six turnovers last week in a 35-14 win over Florida State.
■ Slow down Brennan Armstrong: Stopping Armstrong feels like a massive ask, but the Demon Deacons need to at least slow down UVa's quarterback. Armstrong threw for 554 yards and four touchdowns last week. Rarely will UVa's defense yield 60 points, so limiting Virginia's offense to fewer than 35 points will be important for Wake Forest. That starts with pass defense.