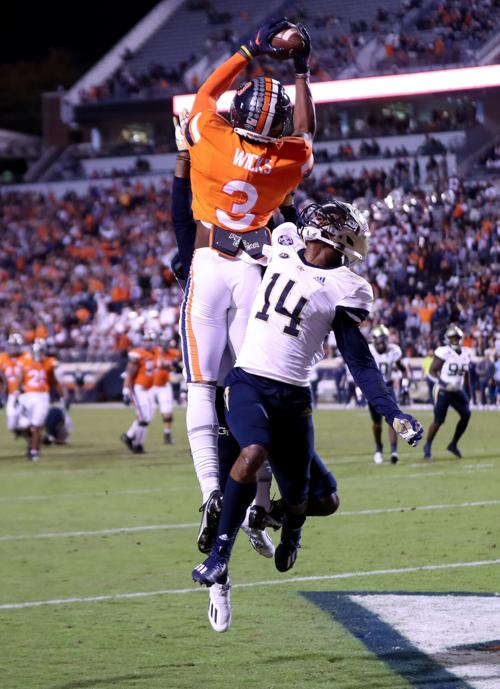 Keys to victory for Saturday's ACC Coastal Division matchup between Virginia and Pittsburgh.
Slow Pitt's pressure: After yielding seven sacks in last week's loss to Notre Dame, the Cavaliers face a better pass rush this week. The Panthers are third nationally in sacks (3.6 per game) after leading the FBS in sacks last season. UVa, on the other hand, has surrendered the second-most sacks (33) in the ACC this fall. Throughout coach Pat Narduzzi's seven seasons in charge at Pitt, the Panthers have registered at least five sacks in a game on 20 occasions and are 19-1 in those games. Whether UVa starts standout quarterback Brennan Armstrong or freshman Jay Woolfolk behind center, the Cavaliers need to keep either signal-caller upright.
Get Wicks involved: Last Saturday, UVa wide receiver Dontayvion Wicks was limited to two catches for 32 yards against Notre Dame. If the Cavaliers are going to get back to their winning ways, they'll want to get Wicks, the owner of five 100-yard receiving performances, involved more frequently against Pitt. Wicks said he has to do a better job getting open this week than he did last week. He has 1,004 receiving yards — he's just the fifth receiver ever to top 1,000 yards in a season at UVa — and nine touchdown catches this fall.
Better tackling: In the first half against the Irish, the Cavaliers didn't tackle well but improved over the final 30 minutes as Virginia held Notre Dame to one second-half touchdown. Against Pitt, UVa must keep bettering its tackling, and defensive coordinator Nick Howell said he's continued to work tackling drills, leverage drills and pursuit drills during practice this week in preparation for the Panthers' explosive offense.
Don't forget to run it: Because the Cavaliers have had tackling woes, Pitt shouldn't forget to run the football even though it's been a throw-first bunch this season. The Panthers currently have a run-pass ratio of 48 percent to 52 percent, which favors the pass, but they've proven they can it well at times, too. This fall, Pitt has tallied at least 200 yards on the ground four times. Quarterback Kenny Pickett, a Heisman Trophy contender, can throw it as well as any quarterback in the country, but against UVa, Pitt might be able to find success rushing the football, too.
Score on defense: This fall, the Panthers have scored three times on defense and in each of the three games they tallied their defensive touchdowns, they won. Pitt often creates takeaways because of the pressure it puts on opposing quarterbacks as its 10 interceptions are tied for the second most in the ACC. Its three interception returns for touchdowns are tied for the third most in the country.
Cover UVa's playmakers: For all of Pitt's success in getting to the quarterback, the Panthers do give up plenty of yards through the air, 242.9 per game, which ranks 87th in the FBS. In their losses to Western Michigan and Miami earlier this fall the Panthers gave up even more — 357 passing yards to WMU and 426 passing yards UM. And those two teams don't have as many weapons as UVa does on the perimeter and in the slot, but two Western Michigan receivers caught for more than 100 yards each against Pitt and three Miami pass-catchers caught for at least 82 yards versus the Panthers.