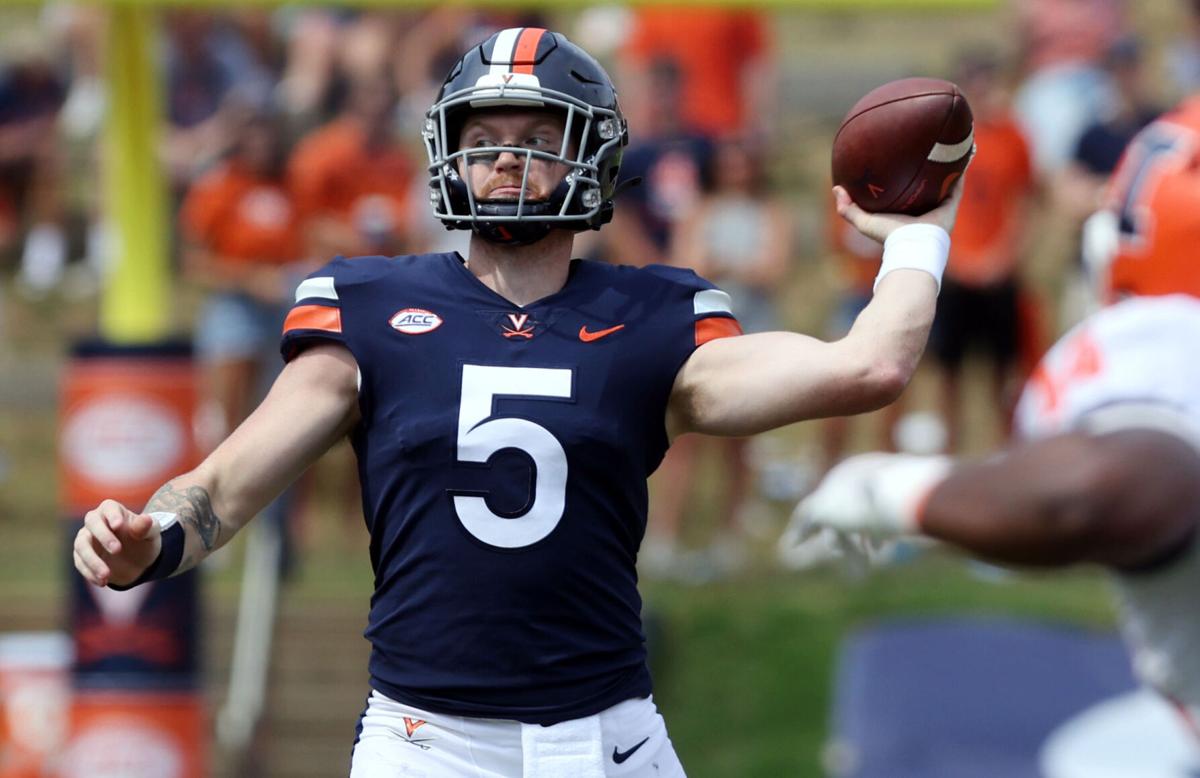 Keys to victory for Saturday night's ACC Coastal Division matchup between Virginia and North Carolina.
Virginia
■ Brennan Armstrong: If Virginia's quarterback plays like he has through the first two games, the Cavaliers have a good chance of leaving Chapel Hill with a win. He's thrown for 744 yards and seven touchdowns, while completing 71.6% of his passes and only throwing one interception. He's also added two rushing touchdowns. Armstrong makes the offense hum, and he's been stellar through two contests.
■ Pressure Sam Howell: Virginia Tech sacked UNC quarterback Sam Howell six times in the season opener. The Hokies pressured Howell throughout the game, ultimately holding him to 208 passing yards and forcing three interceptions. Virginia doesn't need to replicate that remarkable defensive showing, but the Cavaliers also can't let him sit back in the pocket all game. Howell picked apart Georgia State last week, throwing for over 300 yards and adding over 100 on the ground.
■ Embrace the road environment: Head coach Bronco Mendenhall said earlier this week his best BYU teams relished playing on the road. Those teams loved rowdy crowds and picking up road victories. His Virginia teams have struggled away from Scott Stadium, going 0-4 last season and 6-19 in his time at UVa. The Cavaliers need to buck that trend to win the Coastal this fall.
North Carolina
■ Test the secondary: UVa's secondary appears much improved from a season ago, but the group hasn't played an offense like North Carolina's. The Tar Heels have a future NFL player at quarterback in Sam Howell, and the receivers are talented, even if some lack experience. Hitting chunk plays in the passing game, which the Tar Heels have done well in the last two meetings with Howell at quarterback, is UNC's likely path to a win.
■ Locate Keytaon Thompson: Virginia's offensive weapon has 10 receptions for 134 yards this fall. He also has eight carries for 67 yards and a touchdown. Oh, and he's thrown a pass. The Cavaliers like to motion Thompson before the snap, and they often find ways to get him the football in space. Virginia has plenty of offensive threats worth keeping a close eye on, but slowing Thompson seems like a good starting point for a defensive game plan.
■ Win the special teams battle: Special teams weren't an area of strength for UVa last season. The Cavaliers looked strong in Week 1 to open this season, but missed a couple field goals in Week 2. Last season's game was secured on a fourth-quarter fake punt by Virginia. A special teams play or two could be the difference Saturday.