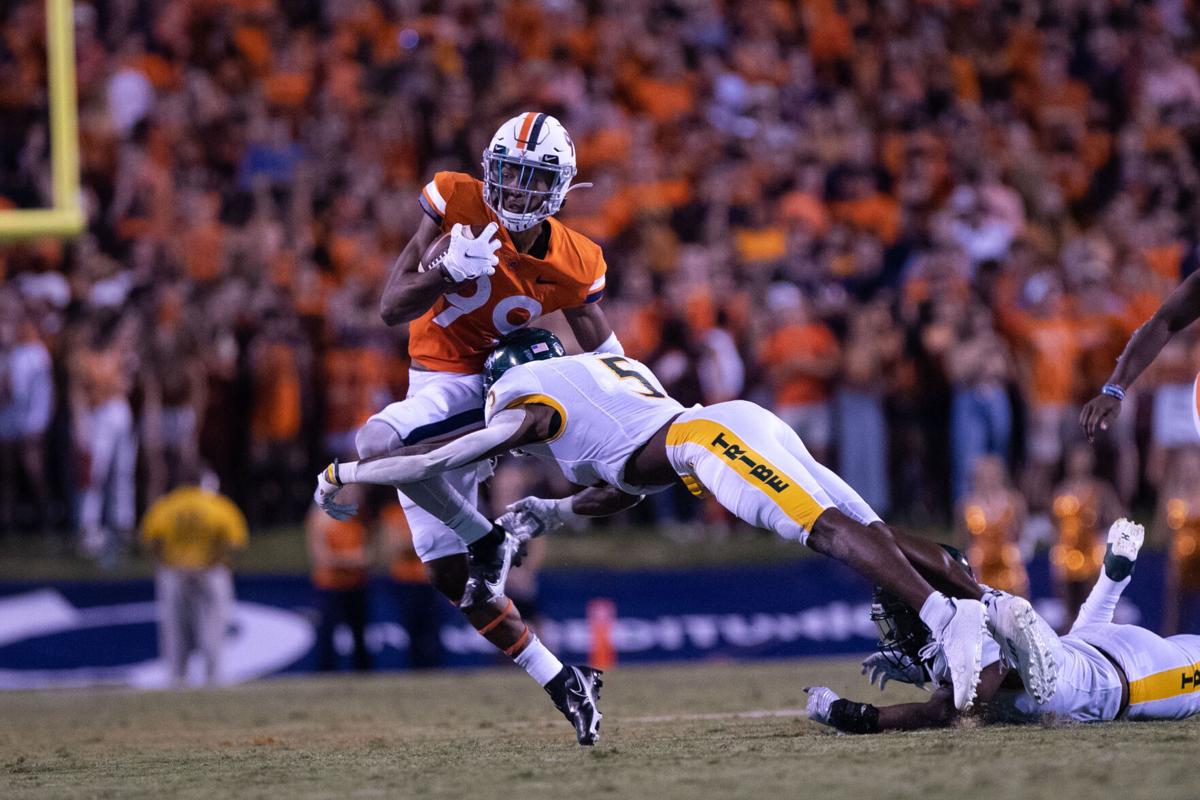 Keys to victory for Saturday morning's matchup between Illinois and Virginia.
» Start fast: UVa is the better team, and the Cavaliers are playing at home. It's a game Virginia should win, but it's also an 11 a.m. start time. UVa was slow to start in last season's one early afternoon kickoff, trailing N.C. State 14-0 after a quarter. If Virginia plays anywhere close to its best, the Cavaliers should win. A loss comes into play if the team has a sluggish start for the morning game.
» Test the secondary: Brennan Armstrong threw for 339 yards against William & Mary, including a 65-yard touchdown pass to Demick Starling. Illinois allowed 280 passing yards to UTSA, and the Fighting Illini are yet to record an interception in two games. Virginia has an advantage offensively, and the Cavaliers should aim to test Illinois' secondary with speedy players such as Keytaon Thompson, Dontayvion Wicks and Ra'Shaun Henry.
» Stay disciplined: Illinois' best chance to win is if Virginia makes mistakes. Nebraska missed two extra points, gave up a safety and allowed a fumble recovery for a touchdown against Illinois in Week 0. That was in addition to a handful of ill-timed penalties. The Cavaliers didn't turn the ball over and only committed two penalties against William & Mary. A similarly disciplined performance leads to a win.
» Control the clock: Sometimes the best defense is a good offense. Illinois' actual defense isn't the best, but the Fighting Illini held the ball for nearly 35 minutes in a win over Nebraska. UTSA won the time of possession battle last week, and Illinois lost the game. Bret Bielema's teams are at their best when they put together time-consuming scoring drives.
» Find Isaiah Williams: Redshirt freshman Isaiah Williams has 14 catches for 142 yards and a touchdown through two games. He's a dynamic skill player who should test UVa's defensive backfield more than anyone on William & Mary's roster did.
» Pressure Brennan Armstrong: UVa's starting quarterback didn't deal with much chaos in the team's win over William & Mary. When given time to process a defense, Armstrong excels. He can occasionally make errant throws or risky decisions when the game speeds up. Pressuring the quarterback will be critical Saturday.