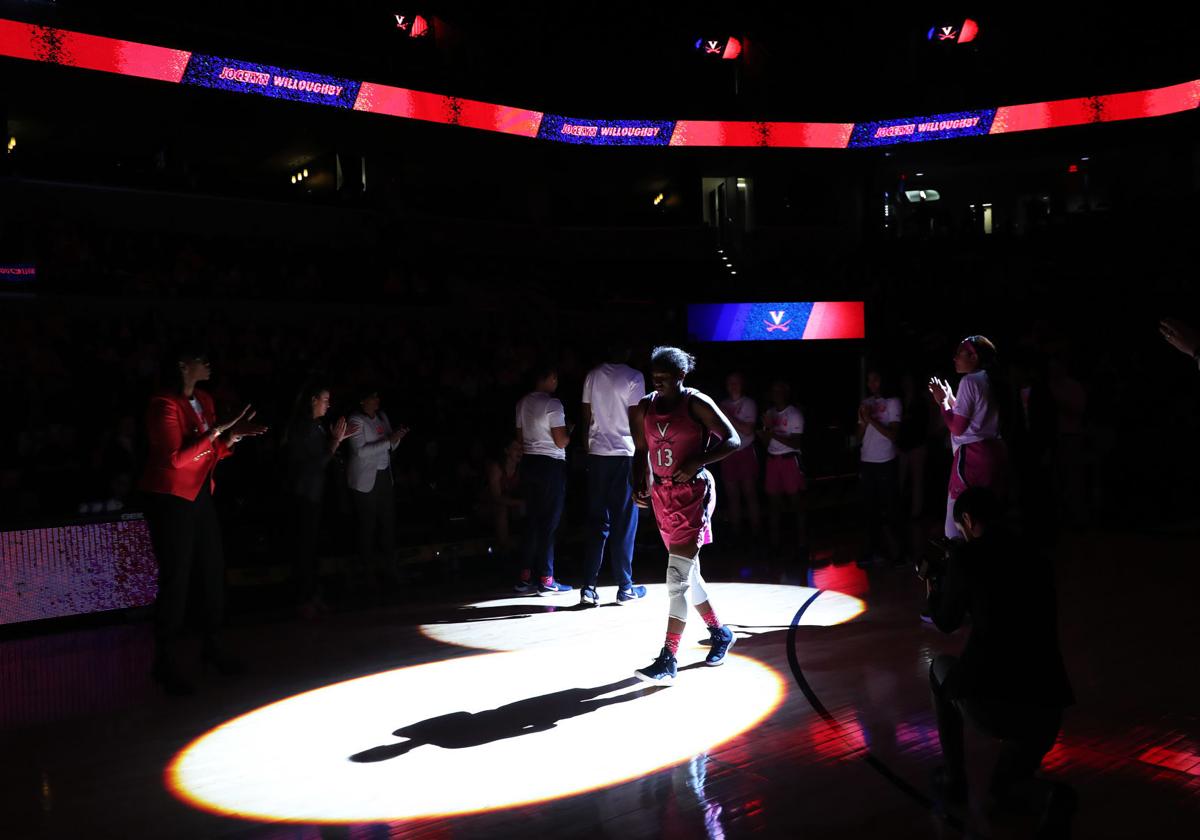 The first game of the 2020 WNBA season features an experienced title favorite facing off against an up-and-coming squad with seven rookies. The Seattle Storm enters the year with championship aspirations, while the New York Liberty wants to develop for future success.
When the two teams tip off Saturday at noon on ESPN, many eyes will be on Liberty rookie Sabrina Ionescu. The former Oregon star was the No. 1 pick in the 2020 WNBA Draft, and she's regarded as one of the best women's basketball prospects in recent seasons.
While attention will be given to Ionescu, those in Charlottesville will be watching a different rookie.
Former Virginia star Jocelyn Willoughby is expected to make her WNBA debut Saturday alongside Ionescu.
"I think, overall, it's excitement," Willoughby said of her emotions prior to her debut. "This is a game that I didn't know if it was going to happen for some period of time, and now it's getting closer, so definitely excitement overall."
After being drafted by the Phoenix Mercury with 10th overall pick in the 2020 draft, Willoughby was promptly traded to the Liberty on draft night. The New Jersey native hoped to suit up for her hometown team in front of her family and friends.
Instead, due to COVID-19, Willoughby will play her first career game in Bradenton, Florida, in the WNBA's "bubble." There won't be any fans.
"It's just going to feel a little bit different, but my mentality and preparation isn't necessarily going to be different," Willoughby said.
After leading the ACC in scoring as a senior during the 2019-20 season, Willoughby plans on preparing like she has for the past few seasons at UVa.
She's a physical player with solid court awareness and a smooth jump shot. She can score in a variety of ways, and she rebounds at a high rate. Defensively, Willoughby performs well thanks to quick feet and noticeable strength. Her game translates well to the next level.
Willoughby feels confident in her game heading into the start of the 22-game season. She wants to improve on making reads offensively, but after practices and scrimmages, she feels good about how her athleticism translates to the WNBA level.
"I think physically I'm pretty ready for this league," Willoughby said. "I've prepared for this, and so I think a lot of players mention like it's a huge transition in terms of the build and strength of players. So far that hasn't been too much of a shock or a big transition for me, so I'm thankful for that."
Entering the season in one single location makes for an unusual rookie season. Willoughby does get to experience the same odd season alongside six other rookies, though. She's certainly not alone in trying to find her footing in the WNBA.
Head coach Walt Hopkins, who is entering his first season as a WNBA head coach, likes the way his young team handles adversity. It hasn't been an easy few months to prepare for the season in Florida, but the players embrace the struggles of the 2020 season.
"This whole thing is going to be a challenge, but this group, the way that they've responded to anything we've asked and to the challenges we've had so far — which honestly are pretty formidable, not us in particular but everyone here — it's been really impressive," Hopkins said.
Few WNBA experts expect many wins from the Liberty in 2020, but the extremely talented and young roster looks the part of a future contender. There's plenty of time for the squad to develop, but even with tempered external expectations, some first-game jitters are sure to come out Saturday.
Willoughby has never played a game in the WNBA, and her first game atmosphere won't allow fans into the facility.
"It's not going to be a typical game," Willoughby said. "There's not going to be any fans. It's not in normal circumstances."
The "not knowing" gives Willoughby some anxiety, but she'll likely settle into a groove after a few minutes on the court.
An increased focus on social justice during the 2020 WNBA season also makes for a slightly atypical season. Courts are expected to display the message "Black Lives Matter."
Other measures, like jerseys displaying Breonna Taylor's name, will be part of the opening weekend plans to bring awareness to racial injustice in the U.S. Taylor was killed in March by Louisville police officers.
COVID-19, racial injustice and basketball will all be on Willoughby's mind as she makes her way through her rookie season.
It's going to be a rookie season unlike any other, and she's ready for everything that comes with being a professional athlete in the summer of 2020.
"I think in some ways it'll be emotional given that this season is dedicated to more than just basketball," Willoughby said of her debut. "With the moment of silence before the game and just having that moment of reflection, so I'm sure there's gonna be a lot of emotions tied to it, but overall excitement to get back to basketball and looking to compete and put on a good performance."