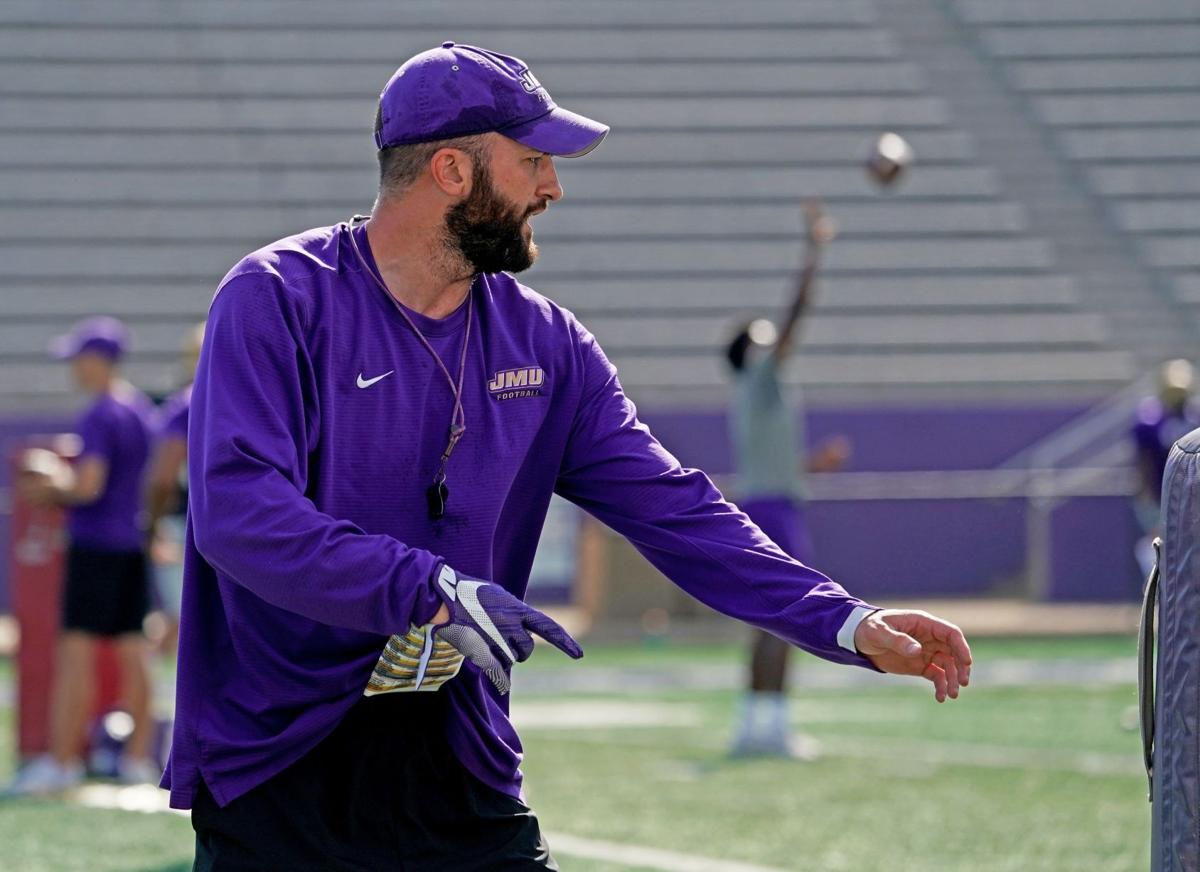 HARRISONBURG — In the aftermath of James Madison offensive coordinator Shane Montgomery's departure for the same position at Buffalo in May, Mike Shanahan was forthright about his desires.
Shanahan, who had served as the Dukes' wide receivers coach and recruiting coordinator, approached head coach Curt Cignetti and said he was very interested in taking over offensive coordinator duties.
Cignetti and Shanahan had built a relationship at three schools over several years. Shanahan served on Cignetti's staff as receivers coach at Indiana University of Pennsylvania in 2016, and stuck with him in the same role during Cignetti's time at Elon (2017-18) then JMU.
Shanahan felt he had nothing to lose. When he went to Cignetti about the potential for the promotion, the two continued conversations about it during the next few days.
"I wanted to put my best foot forward. And I had a plan," Shanahan said Sunday during JMU's preseason football media day. "We went in there and spoke together. So I wanted to basically show him that I was ready.
"And, obviously, he felt like I was ready for it."
The move was announced on May 18. Shanahan has taken over the keys of a Ferrari — an offense that paced the Colonial Athletic Association and ranked 11th in the nation during the spring FCS season at 447.5 total yards per game — while retaining his responsibilities as wide receivers coach and recruiting coordinator.
The 31-year-old's charge in the fall will be to direct an offense that offers experience and dynamism at the skill positions toward the team's goal: a national title.
"I feel like everybody is hungry," Shanahan said. "They're working hard. They kind of had a taste of what it was like. And bad taste toward the end [with a playoff semifinal loss to Sam Houston in the spring].
"So I think they're using that and channeling that in the right direction."
The roots linking Shanahan and the Cignetti family go deeper than IUP. Shanahan was a standout wide receiver at Pittsburgh (2008-12), and Cignetti's younger brother, Frank, was the Panthers' offensive coordinator from 2009 to 2010. Shanahan and Frank Cignetti, who is now offensive coordinator and quarterbacks coach at Boston College, still talk.
For Shanahan, the coaching seed was planted at Norwin High School in North Huntingdon, Pa. Norwin wide receivers coach Brian Brozeski ignited in Shanahan a passion for it.
His coaches at Pitt were influences as well, including former head coach Dave Wannstedt, former offensive coordinator Matt Cavanaugh, former wide receivers coach Bobby Engram and Frank Cignetti.
Shanahan, as a player, had stints with the Montreal Alouettes in the CFL and in the preseason with the Jets and Buccaneers before beginning his collegiate coaching career at his alma mater, directing wide receivers during 2014-15.
Then he said he felt his last four to five years working for Curt Cignetti were like an interview for offensive coordinator.
Cignetti said during the CAA's media day late last month that Shanahan has a good mind and is industrious.
"He's smart, very diligent," Cignetti said. "He comes in the office every day trying to get better and improve. And that's the name of the game."
A first step for Shanahan upon receiving the promotion was listing areas where he felt JMU could improve offensively. The Dukes settled into a groove the second half of the spring season, and now have an opportunity to build on that.
Shanahan said that — coming off a reassessment that followed the Dukes' game at Elon on March 6 — it seemed that the team ran things that quarterback Cole Johnson did well, getting the ball out of his hands quickly. That game was a line of demarcation for the team, which sputtered a bit early in the spring season.
Johnson is preparing to enter his sixth season at JMU, but the spring was his first campaign as the full-time starter.
"Coach Shanahan has taken a lot of what we did good last year, and kind of added on to that. … I think we've installed a lot more presnap and postsnap looks that we can take advantage of what the defense is doing, whether they're trying to stack the box or play one-on-one outside," Johnson said Sunday. "So I think it's been really great."
At the core, the JMU offense under Shanahan will not defer from its brand. The Dukes will continue to rely on running the ball, he said, with another deep lineup of backs available led by CAA preseason offensive player of the year Percy Agyei-Obese.
"There are a little bit of differences in our offensive stuff," Agyei-Obese said Sunday, asked about Shanahan's direction. "And I really think it's going to help us really flow and move faster on the field."
In his new position, Shanahan finds himself delegating his days with coordinator duties like writing practice and game plans, and watching film, first thing in the morning before turning his attention to the receiver group in particular as the morning progresses. Then, in the evening, his focus flips back to the big picture, examining all positions on the offensive unit.
One of Shanahan's collaborators on offense is his former quarterback at Pitt, Tino Sunseri, who JMU hired as its quarterbacks coach in May. Sunseri arrived from Alabama, where he was an offensive analyst. Montgomery had doubled as quarterbacks coach before his departure.
The Dukes are more than two weeks into fall camp, with their Sept. 4 opener against Morehead State approaching quickly. Shanahan said he feels good about the installation of the offense.. He said the group has continue to improve its consistency.