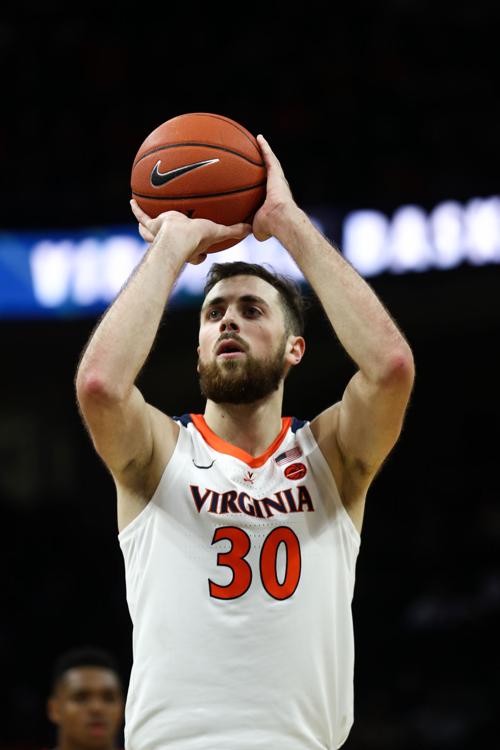 The Virginia men's basketball team's national title defense took a step forward Saturday when 7-footer Jay Huff announced that he's taking his name out of the 2020 NBA Draft to return for his final collegiate season.
Huff announced the news on Instagram, perhaps tricking UVa fans in the process.
"Dear Wahoo Nation," Huff wrote. "Thank you for all your support over the past four years. There is no doubt in my mind that we have the best fans in the world! On top of that, I've met some of my closest friends, and more importantly the love of my life and soon-to-be bride. We also got to close out the season in JPJ on a win. It's been a ride, Charlottesville, and I wouldn't trade my four years here for anything in the world."
Huff, who came on strong toward the end of last season, started to set up fans to think he was turning professional and forgoing his final season of eligibility.
"But it's time," he continued. "As many of you know I've been testing the NBA waters, and the process has been interesting. While there have been no in-person workouts, the many interviews that I've done have been very positive. I truly think I have a future at the next level. And the deadline to decide is approaching fast."
Monday represented the deadline to withdraw from the draft while retaining NCAA eligibility.
"Between lots of prayer with my family and those close to me, I've made a decision I'm at peace with," Huff said. "So in the words of Michael Jordan, 'I'M BACK.' Can't with for one more year in Charlottesville."
Huff ended the post by saying, "Gotcha."
Virginia fans can breathe a sigh of relief knowing the top-tier forward returns for another season. In 2019-20, Huff averaged 8.5 points, 6.2 rebounds and two blocks per game. He knocked down 35.8% of his 3-point shots, while shooting 57.1% from the floor.
Huff's best basketball came in the final few games of the season. In the final three games of the year, Huff averaged 14.3 points, 7.7 rebounds and four blocks per contest. He blocked 10 shots in a late-season victory over Duke.
Entering the 2020-21 season, UVa returns its starting point guard in Kihei Clark and its top option at center in Huff. Sam Hauser, a Marquette transfer, is eligible as a wing after sitting out the 2019-20 season. Guards Casey Morsell and Tomas Woldetensae are among the other notable returners.
Given Huff's announcement, UVa will likely enter the season as a preseason top-10 squad.
Be the first to know
Get local news delivered to your inbox!