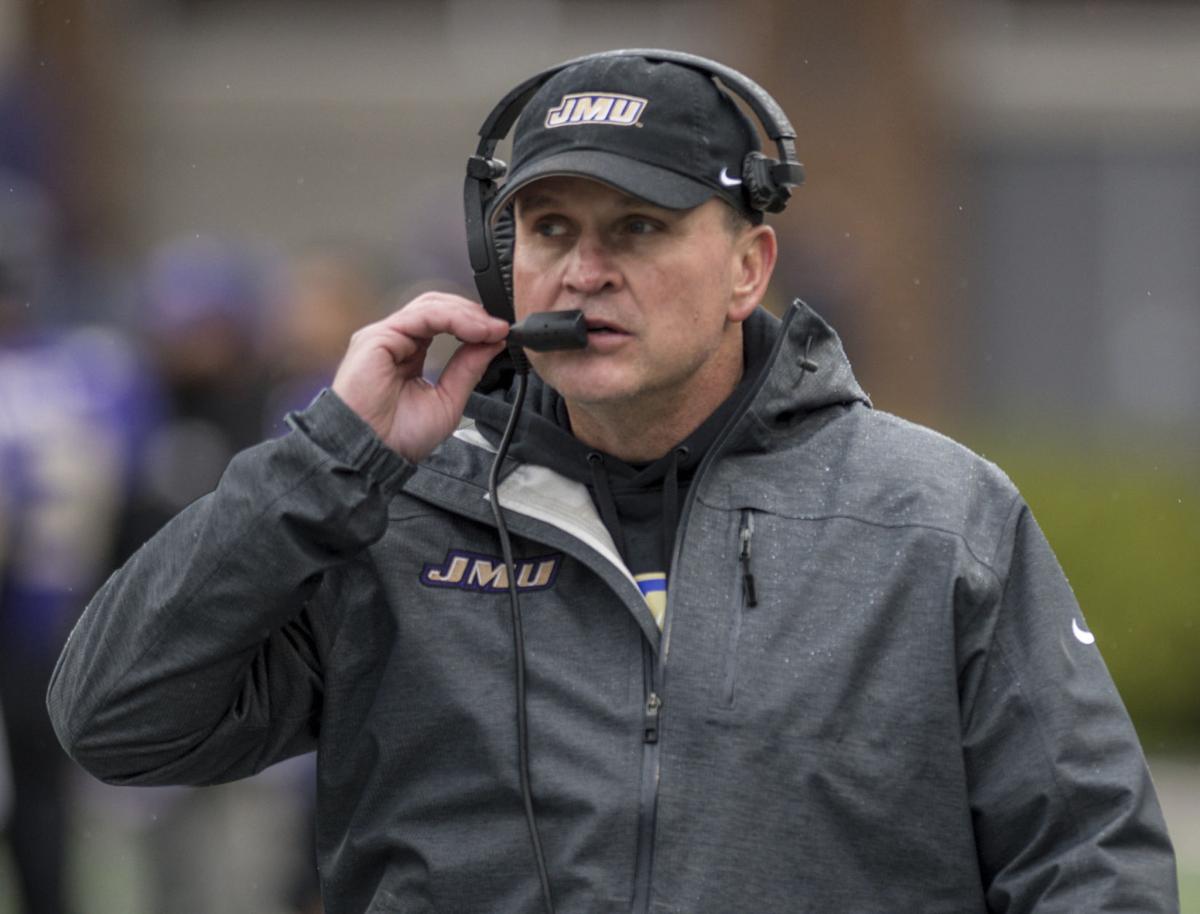 The Mike Houston era at James Madison is over.
The school announced on Sunday evening that Houston, who completed his third season as the Dukes' football coach on Saturday, was leaving the program "to accept another coaching opportunity at a Football Bowl Subdivision program." That program is East Carolina, which fired previous head coach Scottie Montgomery on Thursday.
Houston guided James Madison to one of the most successful eras in program history. In Houston's three seasons in Harrisonburg, the Dukes amassed a 37-6 record, two Colonial Athletic Association championships, three playoff appearances and one FCS national championship. Two of James Madison's six losses during Houston's tenure came against FBS programs (North Carolina and N.C. State) and another came against North Dakota State in last season's FCS national championship game.
"We are grateful to Mike Houston, his family and his staff for their commitment to JMU over the last three years," JMU athletic director Jeff Bourne said in a release announcing Houston's departure. "When we hired Mike, he was the right coach at the right time for our program. He injected energy, he went about his job the right way, he cared about our student-athletes and he won."
Houston's move to East Carolina capped a drama-filled week that featured several twists and turns. On Wednesday, The Athletic's Bruce Feldman reported that Houston was expected to become the new head coach at Charlotte, a new FBS program that competes in Conference USA. Houston addressed the report later on Wednesday, saying that he had been offered the Charlotte job and that he was interested in the position.
On Thursday, East Carolina fired Montgomery, with multiple reports stating that Houston would be the Pirates' No. 1 target in their coaching search. On Friday, Charlotte released a statement saying that it had withdrawn their offer to Houston after he told school officials that he wanted to explore other openings. On Saturday, JMU lost to Colgate in the second round of the FCS playoffs, ending the Dukes' season.
Houston released a statement through the school thanking the fans, program and administration.
"The past three years for Amanda and I and our boys have been nothing short of amazing as far as our experience in Harrisonburg, Virginia and being part of James Madison University," Houston said. "I could not be more grateful for the opportunity to be part of what I believe is a perfect college environment found at JMU. I will forever be indebted to Jeff Bourne, Vice President Charlie King and President Jonathan Alger for believing in me and handing me the reins to coach the James Madison University football program. There's only one JMU. This is a special place and a place that will be hard to ever replicate in future coaching opportunities. I will always have incredible memories of my time here.
"To JMU Nation, I want to say thank you for the most loyal and passionate support that any coach could ever ask for. My only regret is not getting back to Frisco, Texas this year. I am confident in and believe in the players in this program and look forward to following along next year as they make another incredible run."
Bourne said he has confidence that the Dukes can find a coach that can build on the success the program had under Houston. The search for that candidate begins now.
"…Success at James Madison is not determined by one individual." Bourne said. "The foundation for success here remains intact with our returning and prospective student-athletes, our support staff, the athletics and campus infrastructure, the JMU administration, a passionate fan base and donor support.
"I am confident that we will have a new coach in place shortly who will build upon that foundation and carry us to even greater success."