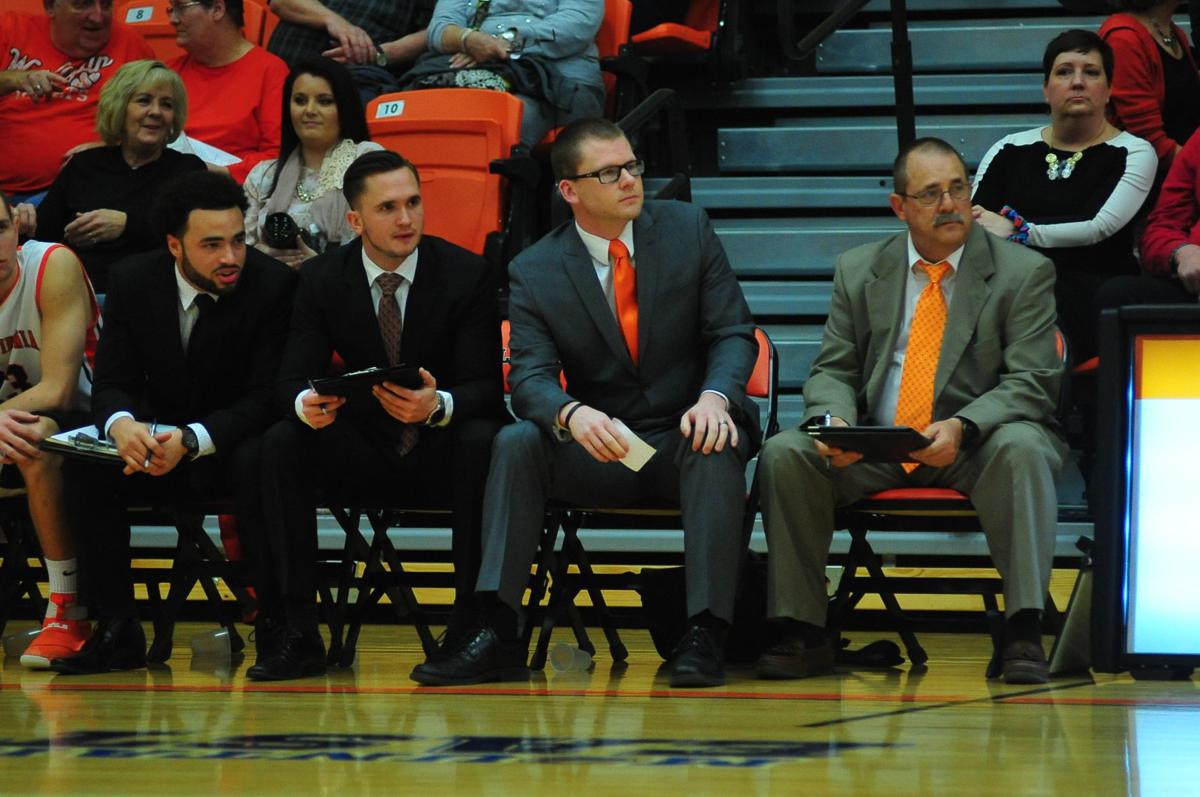 Jack Meriwether spent most of his childhood learning the game of basketball as a player in Central Virginia.
This fall, the former Albemarle and Tandem Friends standout returns home to teach the sport he loves as the new boys basketball coach at The Miller School.
Meriwether, who has spent the last 2½ seasons as head coach at West Virginia Wesleyan, announced Monday he had resigned his position at the school to take the Mavericks' coaching job.
"I truly believe that Charlottesville is one of the great places to live in America," Meriwether said. "Both my wife and I are from here and it's very exciting for us to be able to come back to the area."
In high school, Meriwether played at Albemarle before transferring to play at Tandem Friends. He left that program as the school's all-time leading scorer with more than 1,000 points.
He went on to college at Virginia Tech and completed his degree at Thomas Edison State College while working as an independent scout. Meriwether started his coaching career at Randolph College as a member of Clay Nunley's staff. He said that experience was pivotal for his future goals.
"[Nunley] is the ultimate 'Coach's coach,'" Meriwether said. "I learned so much from him about how a program should be run, how to prepare every day and how to maximize the resources you are given. I am thankful for that experience every day."
From there, Meriwether had numerous coaching stints throughout Virginia, including stops at Genesis Academy as well as Fork Union Military Academy.
He also was recognized as one of the premier talent evaluators in Virginia on the AAU circuit. Meriwether spent three years as an assistant and recruiting coordinator for Boo Williams' 17U EYBL team, where he coached five McDonald's All-Americans as well as future NBA players such as Thon Maker, Bam Adebayo and Miles Bridges.
In addition, he served as a camp counselor for many high-profile basketball coaches around the country, including the John Lucas Rising Stars Camp and the prestigious Victor Oladipo/Ty Lawson camp at DeMatha Catholic High School.
"Most of my basketball career has been spent coaching and recruiting in Virginia," Meriwether said. "When I was coaching/recruiting for Boo Williams, it was my biggest priority to make sure we always had the top player from Central Virginia, and I was responsible for recruiting and coaching players like Robert Johnson, Kenny Williams, Mamadi Diakite and Curt Jones."
Meriwether is well aware of the wealth of talented basketball players in Central Virginia and is excited to once again be a part of it.
"There is great basketball in this area and having played public and private school basketball and having recruited it for so long, I feel confident in saying that coaching in this part of Central Virginia is as strong as it has ever been," Meriwether said. "I'm excited to be a part of that. Combine it with the success [Virginia] Coach [Tony] Bennett has had at UVa and it's a really special time for basketball around Charlottesville."
The 33-year-old posted a 26-43 record in 2½ seasons at West Virginia Wesleyan, including an 11-18 mark last year. But when the opportunity came open at The Miller School, it was something he felt he needed to consider.
"I have been fortunate to have a great situation at West Virginia Wesleyan and I think we've really been building something special that is headed in a great direction," Meriwether said. "The Miller School is a special place and opportunities like that don't come along every day."
Player development and recruiting have been Meriwether's focus during his coaching career. At West Virginia Wesleyan, they operated under a unique athletic model that included only partial scholarships and admission restrictions for student-athletes that go beyond that of the general student body.
"Stepping into that situation has really forced me to think outside the box in terms of how we recruit, what systems we run and the most effective way to stay competitive and build a program in that environment," Meriwether said. "It's hard to leave Wesleyan, but I do think it's nice to say that we had reached the point where it was moving in the right direction with the way we were doing things."
Meriwether is no stranger to Miller School and what the program has accomplished. He followed Fred Wawner as he built up the program in the early 2000s and has watched the strides the entire athletic program has made from afar.
"A great deal of the program's draw comes back to what [Wawner] built in that time and the visibility it brought to the program and the school," Meriwether said. "Since then, the school has done a great job of bringing in coaches to continue building the legacy. I think with the success Danny Manuel had recently with the basketball program and the success [baseball coach Billy] Wagner has had in baseball, it's a very special time at Miller."
Miller School athletic director James Braxton said he's known Meriwether for a long time and recognized he was a perfect fit to lead the Mavericks program.
"We feel like he's just what we need," Braxton said. "He's coached at every level and has experience with independent schools, which was something we were looking for. He has strong ties to AAU programs in Virginia and the East Coast. We feel like he's a good fit for us and he's an area guy, which is always nice to have."
Miller School's boys basketball program has reached the Virginia Independent Schools Athletic Association Division II state title game in each of the past three seasons. Meriwether plans to utilize his wealth of coaching knowledge to help take the Mavericks to another level.
"I think our players can expect a high level of communication from me," Meriwether said. "I intend to run the basketball program at Miller just like I ran our program as a college head coach, because that is what we are preparing these young men for."
He has reached out to the returning players and said has a good grasp on what to expect. In terms of playing style, Meriwether plans to utilize a unique defensive strategy that includes extending the court as well as an offensive system that spreads the court and incorporates good ball movement.
"I have a good grasp on the incoming players, as well as the returners and it's a big part of why I'm so excited to get going," Meriwether said. "I think it's a very talented group that should be hard for people to guard. I think having players who can fill a lot of roles and spread the court is the way basketball is moving and our roster this year fits that very well."
Meriwether plans to meet with the team as a group when they return to campus at the end of this month.
"My message to them is that there just aren't a lot of places I would leave a college basketball job for, but I see Miller as a special opportunity for me and a special opportunity for them, so we all need to value that every day," he said. "We are going to coach them like a college basketball team and it's going to be hard, but there's a real opportunity that comes with the work we will put in. That extends far beyond the court. The Miller School community is a special place in part because of how well it prepares young men and women for every college and I plan to do everything I can to help in that pursuit."