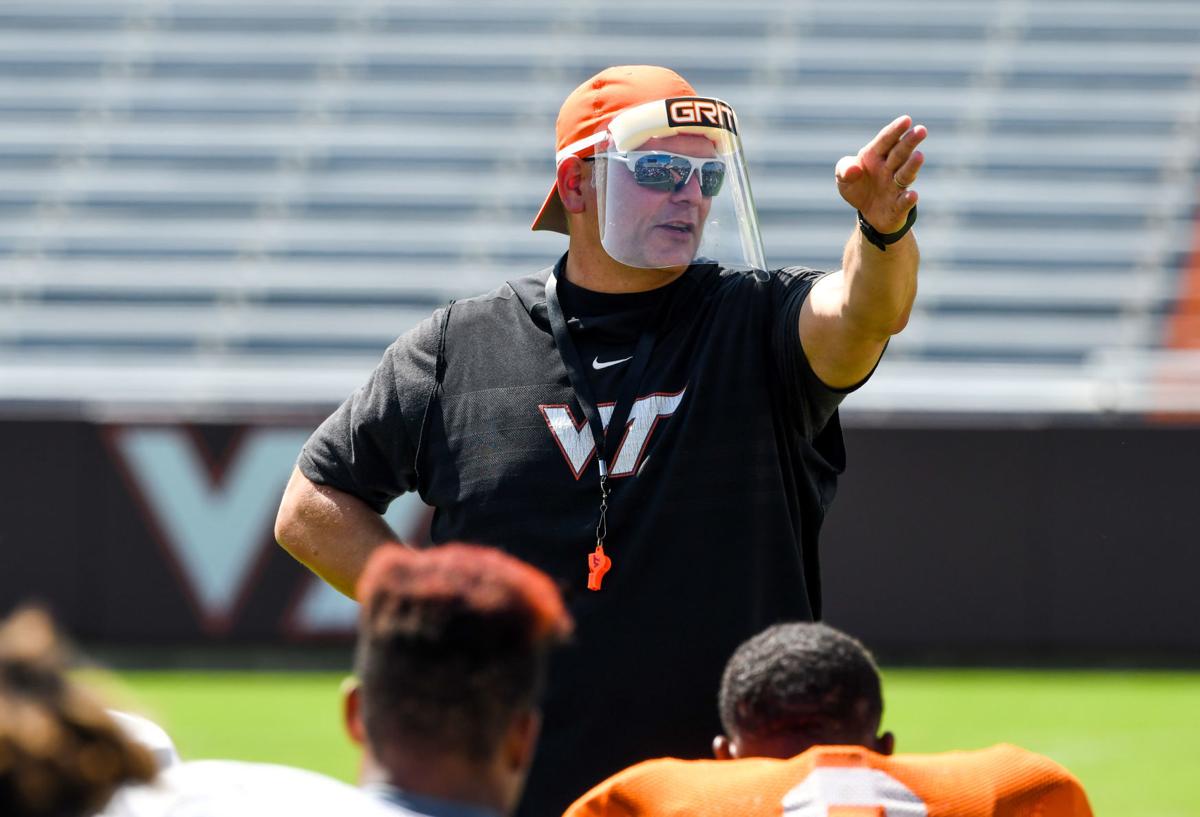 Virginia Tech's decision not to play against rival Virginia on Sept. 19 due to the large number of athletes unavailable because of COVID-19 protocols didn't come down to a razor-thin margin or a few key players' statuses.
The Hokies could not safely field a football team.
"In my opinion, it wasn't even close," Virginia Tech coach Justin Fuente said.
Speaking with the media Monday, two days after Tech informed the ACC and UVa it could not play the game, forcing its postponement to a date that remains to be determined, Fuente praised his team's efforts to protect itself from the virus, rebuffed criticism that the program could have still played Saturday and acknowledged he isn't certain what comes next.
"This had nothing to do with competitive advantage," said Fuente. "There's no way we could walk out there and safely put our kids on the football field. That's just the facts."
Virginia Tech has declined to release testing results for its athletic department, citing a questionable interpretation of FERPA, a federal privacy law.
(Virginia attorney general Mark Herring's office declined to answer whether FERPA would prevent a state university from publicly revealing data including number of tests administered and number of positives results returned.)
But Fuente said his program had its COVID-19 situation under control before a sudden spike following the return of students to campus last month. He Fuente said it is not believed the rise in cases within his program stemmed from a single event, like a party.
"We have been really, really good all summer long and all through fall camp. I can tell you that much," said Fuente. "We were knocking it out of the park."
Fuente's program is currently in a four-day pause as it hopes to limit the spread of the virus and get players back from contact tracing quarantines. He said the team will reassemble Tuesday but won't practice until Wednesday at the earliest.
The Hokies open the season Sept. 26 at home against North Carolina State now.
"I don't know who we have back right now or who we'll have back tomorrow," Fuente said. "So trying to find a way to piece it together is where we're at right now and what it's going to look like, how long we'll know, how many practices we'll get, I've got no clue right now."
The postponement of UVa-Tech led to Virginia and Duke moving their game from November to Sept. 26. It was a decision Blue Devils coach David Cutcliffe learned of Friday night, on the eve of his team's season opener at Notre Dame.
Cutcliffe decided not to tell his players and staff, not wanting to distract them from the game against the Irish.
Saturday morning, he walked into the team's pre-game meal.
"People have their phones out. All their talking about is the change of the Virginia game," said Cutcliffe. "I had no idea it was going to be released by the ACC. My suggestion is, we wait til Sunday to release those changes out of a respect to teams and staffs that are preparing to play a game."
Hunter suspended
Earlier Monday, Virginia Tech announced that safety Devon Hunter has been suspended indefinitely "for not upholding the high standards" the program has for players.
The 6-foot, 220-pound junior from Chesapeake was a likely starter this season, after playing in 23 games over the past three seasons.
The former four-star prospect figured to take over at strong safety for Reggie Floyd, a senior on last year's team.
Be the first to know
Get local news delivered to your inbox!