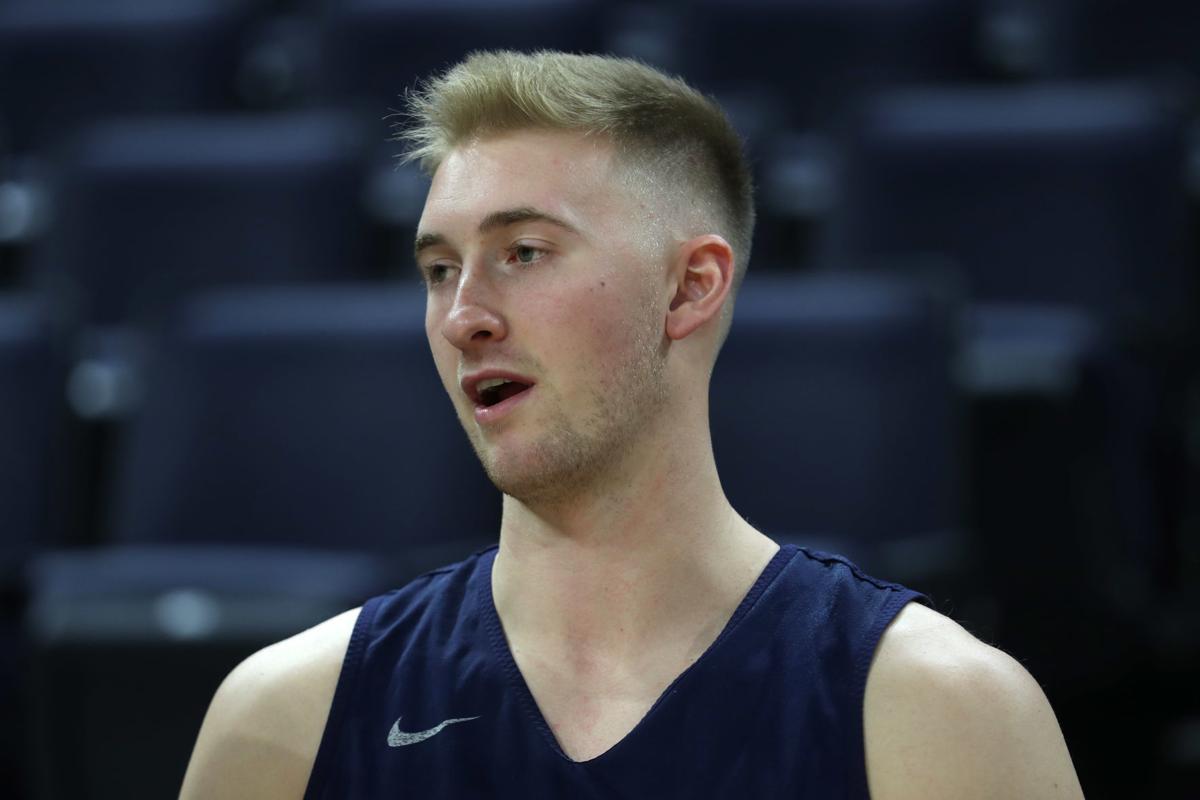 Wednesday marks two weeks until the start of the college basketball season.
For ACC men's basketball fans, that means the eventual return of rivalries like Duke-North Carolina as well as chances to watch Virginia – which is still the defending national champion – compete on the hardwood.
It's an exciting time of year, and this marks an important week for the conference. The men's basketball schedule was released Tuesday morning, and Operation Basketball begins Wednesday with coaches and players speaking to media on the ACC Network.
Additionally, Wednesday morning brings the preseason All-ACC team and a predicted order of finish in the conference. I received a vote for the preseason team and predicted order of finish, and in the name of transparency, figured I'd share my selections.
Preseason All-ACC team
David Johnson, Louisville — Johnson came on strong at the end of his freshman campaign, averaging 8.9 points, 4.4 assists and 3.8 rebounds per game over his past 15 games. He's an efficient scorer at guard and does most things well. He posted solid numbers despite starting just four games and averaging 16.1 minutes per contest. Higher usage — like he saw at the end of last season — should result in a special sophomore season.
Michael Devoe, Georgia Tech — ACC fans will hear plenty of times this week that Georgia Tech's backcourt makes the Yellow Jackets an ACC sleeper. By the time the week's over, they won't qualify as a sleeper team. Devoe is a big reason why pundits like Georgia Tech. He averaged 16 points per game last season and shoots a shade over 40% from 3-point range for his career. He needs to cut down turnovers, though.
Sam Hauser, Virginia — Hauser earns ACC Preseason Player of the Year honors for me. At 6-foot-8 and 225 pounds, Hauser can play small forward or power forward for the Wahoos. He's a career 44.5% 3-point shooter, and he's likely to be Virginia's primary scoring option all season. Look for Hauser's efficiency numbers to jump off the page by season's end.
Jalen Johnson, Duke — My Rookie of the Year pick, Johnson possesses elite versatility. He can shoot the ball from beyond the arc, attack the rim and pass well. The 6-9 freshman figures to leave for the NBA after one season in Durham. Florida State freshman Scottie Barnes is another youngster to keep an eye on when looking for potential Rookie of the Year candidates.
Garrison Brooks, North Carolina — Brooks might very well win ACC Preseason Player of the Year honors over Hauser. The experienced big man might fill in for graduated Notre Dame standout John Mooney as the ACC's new double-double machine. He averaged 16.8 points and 8.5 rebounds per game. He's mostly an inside threat, shooting just seven 3-pointers in his three years at North Carolina.
Projected order of finish
Tony Bennett isn't sure if this year's team will match last year's defensive excellence, but he's expecting more from the offense. Even if the defense does take a minor step back, the offense should be much improved from last season, when it struggled with 3-point shooting and consistent scoring. Kihei Clark, Sam Hauser and Jay Huff figure to be starters and a handful of other players with a variety of skill sets should contribute at guard and forward. UVa's rotation could go 10 players deep. Look for Virginia to develop into one of the best 3-point shooting teams in the country.
Once again, freshmen will lead the charge for the Blue Devils. Look for a productive season from freshman forward Jalen Johnson. He's a versatile athlete with scoring ability as well as good vision that leads to impressive passing for a player who stands at 6-9. Jeremy Roach, DJ Steward and Mark Williams are a few of the other elite recruits in Duke's 2020 class expected to make impacts as freshmen. Sophomore forward Matthew Hurt should also provide valuable minutes for the Blue Devils.
It's hard not to love UNC's frontcourt. Garrison Brooks enter this season as arguably the best big man in the ACC. Sophomore Armando Bacot is a handful in the post, requiring UNC's opponents to possess quality interior play to compete with the Tar Heels. Leaky Black brings veteran experience and elite defense on the wing. Freshman guard Caleb Love should contend for ACC Rookie of the Year honors.
Unsurprisingly, Leonard Hamilton's team features lengthy athletes who can score and defend at a high level. The Seminoles look good on paper. Scottie Barnes is listed as 6-9, and he possesses point guard skills. He's an elite freshman who should pair well with senior guard M.J. Walker. It wouldn't be a shock to see the Seminoles contend for the league title again this season.
Unfortunately, Louisville's Malik Williams will miss 12 weeks with a foot injury, the program announced recently. Even with the talented big man injured, the Cardinals should be among the league's best. David Johnson seems poised for a breakout sophomore campaign after a strong finish to his freshman year. Carlik Jones, a transfer from Radford, should bring additional scoring and versatility at the guard position to complement Johnson.
Guards Michael Devoe and Jose Alvarado make up one of the best backcourts in the ACC. Senior Bubba Parham adds quality depth at the position. There's enough talent on the roster for the Yellow Jackets to make the NCAA Tournament, assuming the backcourt stays healthy.
Is there a college basketball player more fun to watch than Chris Lykes? Despite being just 5-7, the dynamic guard can really score. He's an athletic player with tremendous quickness and worth taking time out of your week to watch. Kameron McGusty played well for the Hurricanes last season, and he adds size and scoring in the backcourt. Miami should be in the mix for an NCAA Tournament berth.
Buddy Boeheim shoots the ball from beyond the arc about as well as anyone in the league, and Joseph Girard III is a dynamic backcourt mate. Consistent frontcourt production may determine how far Syracuse goes this season.
With eight upperclassmen, Clemson possesses the experience needed to win ACC games. The Tigers are led by NBA prospect Aamir Simms, who elected to return to school instead of entering the NBA Draft. The former Blue Ridge star scores and rebounds at a high level, and he holds the tools and experience needed to finish on the All-ACC team.
Landers Nolley's transfer drew headlines, but Nolley's efficiency at the end of last season left plenty to be desired. Wabissa Bede, Cartier Diarra, Jalen Cone and Tyrece Radford help form what could be one of the better backcourts in the conference. The Hokies won't be expected to win the ACC, but they're good enough to pull a major upset or two this season.
Kevin Keatts and the Wolfpack feature a few talented players. D.J. Funderburk wants to be a dominant post presence for N.C. State. If he reaches that goal, it certainly helps a team in need of other contributors to step up. Manny Bates plays tremendous post defense, offering value to complement Funderburk. Braxton Beverly provides consistent shooting from the perimeter, and Devon Daniels averaged 12.7 points per game last season while also recording 1.7 steals per contest.
Guard Xavier Johnson should eclipse 1,000 career points in his third season with the Panthers, and sophomore forward Justin Champagnie enters this season as one of the most underrated players in the conference. Depth of talent remains the key concern for the Panthers, who often don't have the firepower to beat the best teams in the conference.
Prentiss Hubb deserves attention for Notre Dame. The junior guard scores and passes well, and he's one of the top players for the Fighting Irish. Stanford transfer Cormac Ryan adds shooting on the perimeter. A lack of depth could prove to be an issue.
Head coach Jim Christian finds himself on the hot seat this year. The Eagles return senior forward Steffon Mitchell, one of the best defenders in the conference. Sophomore guard Jay Heath offered a consistent scoring option for Boston College last year. Unfortunately for Boston College, the Eagles don't quite match up with the rest of the league on paper.
The Steve Forbes era begins with limited expectations for the Demon Deacons. The roster features a few transfers as well as key returner Isaiah Mucius, a talented forward. The transfer of star big man Olivier Sarr to Kentucky hurts the team's chances of finishing in the top half of the league. Regardless, Wake Forest fans can look forward to a new era following an abysmal few years with Danny Manning leading the program.