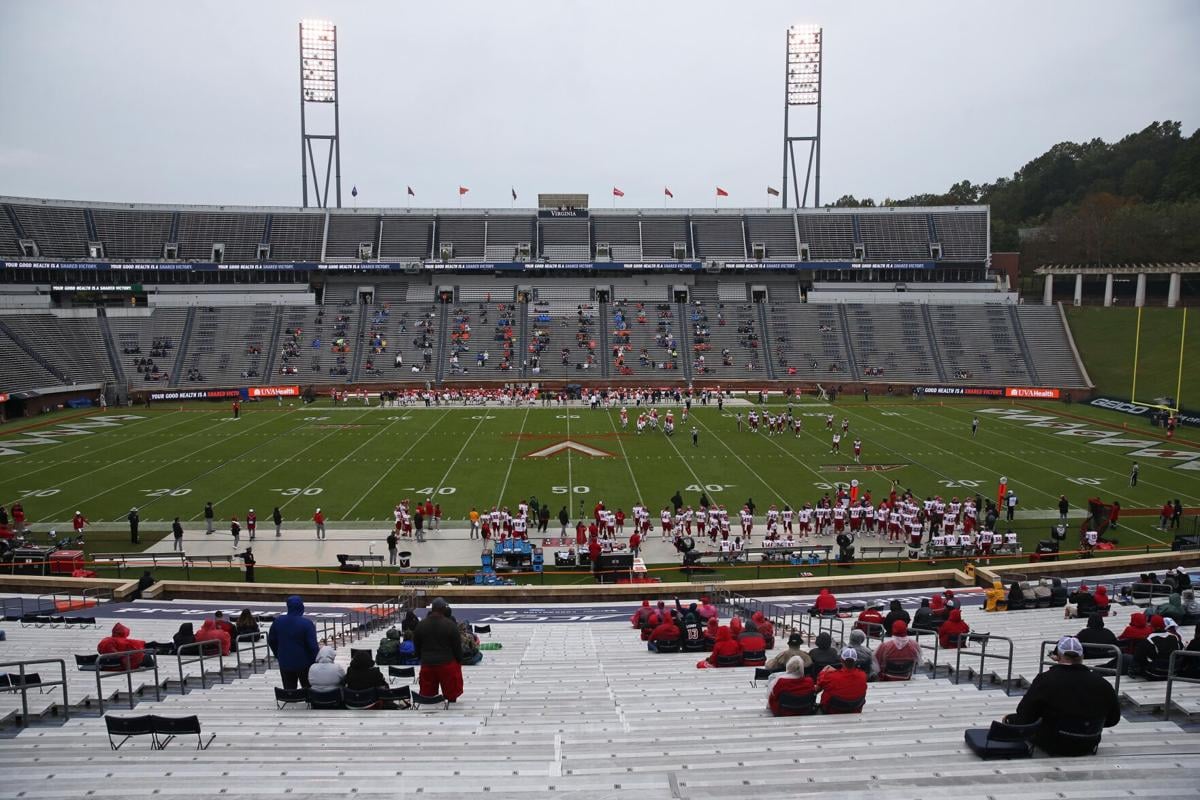 Scott Stadium has played a major factor in the growth of the Virginia football program.
This season, the electric atmosphere that helped propel Virginia to victories isn't nearly the same. The Cavaliers allow a maximum of 1,000 fans per home game due to restrictions caused by COVID-19.
"We hadn't lost at home for so long," UVa head coach Bronco Mendenhall said Monday. "Our game against N.C. State, I think that's another reason it caught me off guard. We're just kinda used to going in there and we just win. And there's this energy and there's this chemistry that almost overtakes you. I'm not saying that had a negative effect, but when we walked in, when I walked in, it was like whoa. Wow, this doesn't feel like, I can't say doesn't feel like home, but it doesn't feel like Scott Stadium normally does."
Through four games, UVa is 1-1 at home and 0-3 in road contests.
Quality of opponents deserves mentioning when looking at the home and road splits. UVa's lone win came against a Duke team that's currently 1-5. The three road losses came to Clemson, Miami and Wake Forest. Those programs are a combined 14-3 this fall. Two of the defeats came when Miami and Wake Forest lost to Clemson.
UVa's road losses came to good teams. The home loss came to a 4-2 N.C. State squad.
In addition to being quality football programs, Clemson and Miami allowed more than 10,000 fans into their home games against UVa. Those fans were noticeable, even if it's not quite the same as a typical season.
"The presence of fans seems more normal, and it seems more home field-ish, but I can't say that's changing the outcome," Mendenhall said.
While limiting attendance seems like it would lead to less of a home-field advantage due to diminished crowd noise, home teams are winning at high rates this fall.
Richmond Times-Dispatch columnist David Teel tweeted earlier this week that ACC teams won nearly 54% of their home conference games from 2015-19. This season, home ACC teams are 27-11 in conference action, winning at a clip just over 70%.
Duke, Georgia Tech and Syracuse are the only ACC teams with overall losing records at home this fall. Eleven of the 15 ACC squads have winning records, and UVa sits at .500.
Whether it's lack of travel during a pandemic or simply good fortune, home-field advantage seems to be relevant, even with limited attendance across the conference. That's good news for the Wahoos, who play their next three games at Scott Stadium.
Even without many fans, the Cavaliers appreciate competing in Charlottesville.
"Scott Stadium is just home for us," sophomore linebacker Nick Jackson said. "We're always treating Scott like it's a special place because it is a special place for us, and we bring the fourth side wherever we go. It's always nice to be at home."
Several players say the fourth side, which consists of the players and coaches on the bench, gives them energy needed to play well. Those players not in the game remain engaged, watching the action and cheering from the sideline.
The bench helps add the energy missing with thousands of fans at home instead of inside the venue.
"I think I've always preached football is football at the end of the day," junior running back Wayne Taulapapa said. "What excites me more is my brothers on the sideline, that fourth side that is really important to us every time we play, every time we get on the field."
Mendenhall echoes the statements of Taulapapa.
Scott Stadium developed into a place where UVa expected to win while feeding off a rowdy crowd. That's not the same this year and some responsibility falls on the fourth side to help make up for that.
The Cavaliers hope an energetic fourth side can lead to improved play. UVa enters Saturday's night game against North Carolina on a four-game losing streak. Taking care of business at home is critical for the Cavaliers to salvage any chance at finishing the fall with a winning record.
"We still value being at home," Mendenhall said. "We love being at home. We love being in our own stadium. But to say it's the same, I don't think that's fair because it's really not. We miss the support, right, and so we're really focusing on the fourth side which is our own players, because we know there's another fourth side supporting from afar, but we're really trying to help that become our advantage as well."