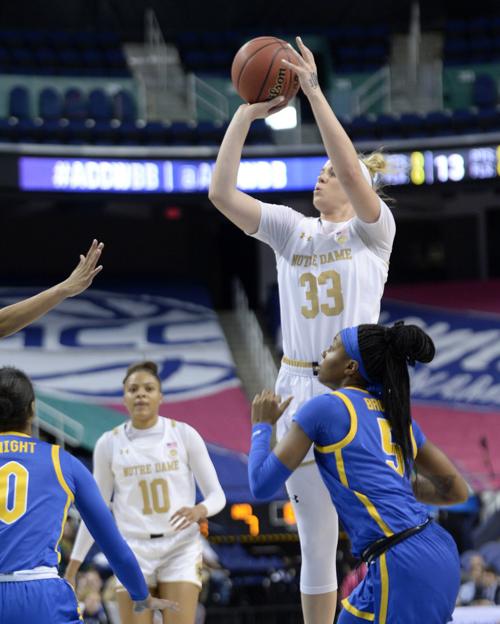 STANARDSVILLE — As school systems around Virginia complete the first week of quarantine from the coronavirus pandemic, teachers and administrators are looking for fresh ideas to keep students engaged and active away from the classroom.
Greene County Public Schools and one of its most recent alums have teamed up to do just that on the school's different social media platforms with an at-home fitness challenge.
The challenge, which started Thursday afternoon, features former William Monroe all-state performer and current Notre Dame freshman Samantha Brunelle streaming an array of exercise activities to help students stay active.
"We are continually seeking ways to keep our students engaged while schools are closed," Greene County Schools Superintendent Andrea Whitmarsh said. "From distributing meals to at-home learning activities, educators in Greene have quickly worked to take care of the needs of our students in different ways. This challenge will not only demonstrate the importance of fitness and movement, but will give students and community members something positive to look forward to each day. We sincerely appreciate Samantha's willingness to continually give back to her community."
"Sam will introduce a quick and easy fitness challenge for students to mimic at home," said Jennifer Walker, assistant to the superintendent at Greene County Public Schools. "For example, she may demonstrate how many side-to-side jumps she can do in a minute, then challenge students to do the same. As an extra twist, Sam may even show off some of her basketball skills."
The videos are not just for students. Parents and community members are invited to share clips of themselves doing the activities and post them on social media using the #StayActiveWithSam.
"Sam is a role model to a lot of students in our community and was very excited for the opportunity to support fitness," Walker said. "So many members of our community have followed her through high school and excitedly watched her college games. We believe our community will love to see Sam helping us all stay fit, especially helping students stay active while they are coping with these major life adjustments due to coronavirus."
Brunelle, who just returned home from South Bend, has always been a big proponent of giving back to her community. Earlier this week, she helped the GCPS hand out meals for families in need.
"I'm just very happy and excited to be a part of this," Brunelle said. "Especially in this time of quarantine, it's important for kids to be engaged, still and active. Jennifer Walker and the rest of Greene County Public Schools are doing amazing things for our community during this time."
Dr. Brenda Walton, director of teaching and learning with GPCS, and Walker approached Brunelle with the idea of taking part in this project earlier in the week.
"I love it," Brunelle said. "I am happy to give back to the school and community that have given me so much support and encouragement over the years. Once a Dragon, always a Dragon. And I'm sure my coaches would love to know I'm getting in all the activity I can."
Walker said this was out-of-the-box thinking to find a way to help fulfill a need in the community.
"We are quickly coming up with ways to keep our students engaged in all of the activities that they are missing from school, including fitness," Walker said "What better way to stay active than with our athletically talented alumni, Samantha Brunelle. We are hoping that it gives parents a fitness-oriented option, in addition to our at home learning activities. All are welcome to participate."
Walker said they are working with Brunelle to devise a group of exercises that everyone can take part in, especially the younger students.
"We want to make sure the activities are exciting and challenging, but not so hard that students are discouraged and choose not to participate in future ones," she said.
GCPS is committed to the well being of all its students, and this fitness challenge is another way to keep kids engaged, even outside of school.
"We believe it is vital for students to try to maintain a routine that is as normal as possible, given the circumstances," Walker said. "In lieu of having recess or PE, it is important for students to incorporate some sport of fitness-related activities into their days."
Brunelle hopes to use this platform as a way to teach students the importance of exercise.
"Being an athlete, it's important to stay active," she said. "Being cooped up at home, activity is as important for mental health as it for keeping yourself in shape."
The first clip, which aired on Thursday is a special one for Brunelle, who celebrated her 19th birthday in her typical fashion, giving back to her hometown.
"I think these challenges will be fun and show how social media can be used in a positive way," Brunelle said. "I hope people find fun and can share a few laughs with me."
Concerned about COVID-19?
Sign up now to get the most recent coronavirus headlines and other important local and national news sent to your email inbox daily.