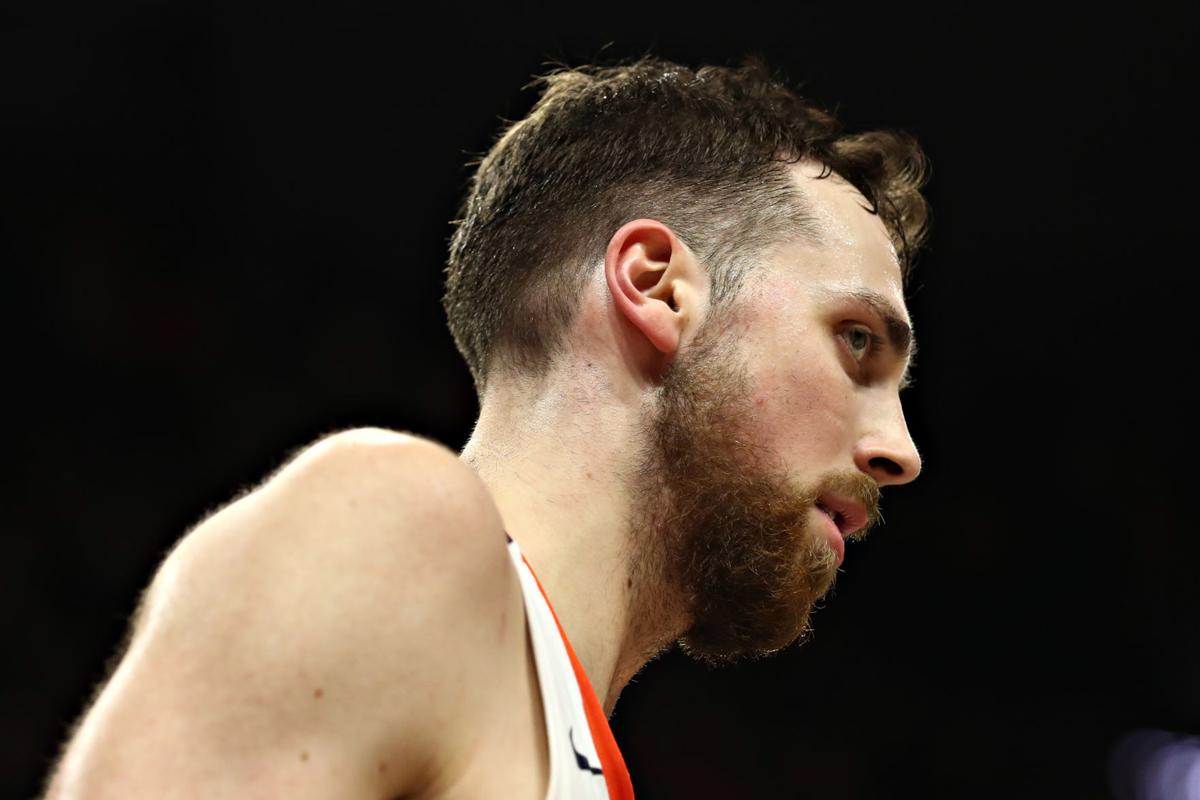 Coming out of high school, Virginia forward Jay Huff drew comparisons to former Wisconsin star Frank Kaminsky.
The comparisons made sense. Both players stand at approximately 7 feet tall, and they both possess a rare blend of shooting, scoring and defense that most players their size simply can't replicate.
During Huff's junior season of high school, the 7-foot Kaminsky led the Badgers to the national championship game and won the Naismith Men's College Player of the Year award as he displayed an array of low post moves combined with elite 3-point shooting. Maybe most impressively, he committed just two fouls per 40 minutes while defending the rim.
Kaminsky wasn't always a star, though. When he arrived at Wisconsin, he was a prospect with loads of potential and plenty of work ahead. Much like Huff, the height was there, but Kaminsky needed to add muscle to his frame while polishing his game on both ends of the floor.
Huff came to Charlottesville in a similar situation. He weighed in at below 200 pounds when he committed to UVa. The potential was evident, but Huff needed to turn potential into reality.
Through four years in Charlottesville and three seasons taking the floor for UVa, Huff has flashed signs of dramatic improvement. Checking in at about 240 pounds now, he averaged 8.5 points, 6.2 rebounds and two blocks per game this season for UVa in 25 minutes of action per contest. Huff's best basketball came at the end of the season, as the talented 7-footer played aggressively on both ends of the floor.
"I definitely think I got way more confident," Huff said. "Coach Bennett's system is obviously really good, but I also think I was just getting to the point where I didn't think about it as much. I would get to points in games where I was on the floor for long periods of time and I would kind of go into autopilot and I wouldn't have to think and I was able to just figure that out, which I think was really good."
Heading into his redshirt senior season, can the big man make a leap similar to Kaminsky, going from a talented piece on a good team to one of the best players in all of college basketball?
he decision
For Huff to take leap, he obviously needs to return to Virginia. It seems unlikely that Huff would leave Virginia for the NBA this offseason. Given the modern NBA game's reliance on guard and wing play, a center averaging fewer than 10 points per game in all three seasons suiting up for the Cavaliers makes Huff a slightly risky pick in the NBA Draft.
While Huff turning professional might not be expected, with the uncertainty surrounding sports amid the spread of COVID-19, nothing is guaranteed in the future. Huff could decide he wants to turn pro and start working on his game as a professional, even if that means starting his career in the G-League.
Huff turning pro would be a surprise, however, as he stands to improve his NBA Draft stock dramatically if he returns to school and improves his scoring average and free-throw shooting percentage next season.
The development
Huff's development as a redshirt junior showed up prominently at the end of the season. In what turned out to be one of the last games of the year, Huff finished a rebound shy of a triple double against Duke. He became only the second player in college basketball history to block 10 shots against the Blue Devils.
The ability to protect the rim came through crystal clear in the win over Duke. A few days later, Huff flashed his offensive skills. He scored Virginia's first 17 points in a 46-44 win over Miami, knocking down 3-pointers and showing different facets of his offensive arsenal.
In a two-game stretch in late February and early March, Huff showed why UVa fans light up when discussing Huff's potential.
"Jay's capable — you saw against Miami he had 17 points quick — he's capable of scoring as everyone knows, but I think his defense really stepped up this year," former Virginia guard Braxton Key said.
Numbers support Key's claim. According to college basketball reference, Huff posted the best defensive rating of any player in Division I basketball to play at least 20 minutes per game and play in at least 25 games this season. Per 40 minutes, Huff averaged 3.3 blocks.
"I like to think that the defense spoke for itself and that the way I was able to help the team was impactful," Huff said.
When compared to Kaminsky, Huff matches up favorably as a defender.
Kaminsky never posted a defensive rating as good as Huff's in his four seasons at Wisconsin. Kaminsky also never averaged more than 2.6 blocks per 40 minutes in a season during his career. Huff averages 3.4 blocks per 40 minutes across his collegiate career. Huff does commit more fouls per 40 minutes, however, whereas Kaminsky did an exceptional job defending without fouling.
Offensively, Kaminsky's output surpasses Huff's, but the efficiency numbers are similar. Kaminsky shot 36.9% from 3-point range during his collegiate career, while Huff shoots 38.5% from beyond the arc. Huff also shoots 67.8% on 2-point shots, while Kaminsky shot 58% from inside the arc in his collegiate career.
Kaminsky, however, shot the ball significantly more frequently in his final two seasons than Huff has in any of his three seasons in Charlottesville. The Wisconsin star averaged 9.8 and 12.5 shots per game in his final seasons, while Huff has yet to exceed 6.1 shots per game in a single season.
The leap
ESPN released an article on April 7 listing the top 25 returning Division I men's players for next season, and Huff earned the No. 12 spot. For the 7-foot star to reach that potential and become one of the best players in the game next season, he simply needs to be on the court more.
In Kaminsky's breakout senior campaign, he averaged 33.6 minutes per game and shot 12.5 times per game. This season Huff averaged 25 minutes per contest and shot 6.1 times per game. If Huff doubled his shot attempts to come closer to Kaminsky's 12.5 shots per contest, Huff would've averaged about 17 points per contest this season.
In fact, Huff averaged 15 points per game in the five games this season when he took double-digit shot attempts.
Huff played in all 30 of UVa's games this season, but he only started 18 and he played fewer than 20 minutes in seven of those games. He also had six games where he attempted two or fewer shot attempts.
With Mamadi Diakite and Key out of the frontcourt picture next season, it opens up an opportunity for Huff to log more minutes and put up more shots. Given his general offensive efficiency throughout his career, it wouldn't be surprising to see Huff take a drastic leap forward in terms of points and shots per game.
Even with UVa's slow tempo and offensive-minded small forward Sam Hauser coming into the fold, there should be plenty of shots to go around. In Kaminsky's senior campaign he averaged 18.8 points per game and Wisconsin ranked as one of the 10 slowest teams in all of Division I basketball according to KenPom's adjusted tempo metric. Small forward Sam Dekker attempted 10.2 shots per contest that season, as Kaminsky was far from the only offensive threat on that Wisconsin roster.
Virginia's 7-foot star took a leap forward this season, especially defensively. The improvement earned Huff more time on the court as the season progressed, as he logged at least 28 minutes in seven of the last 10 games of the season. In those seven games, Huff averaged 11.3 points, 7.9 rebounds and 3.4 blocks per game on 56.4% shooting from the field on about eight shot attempts per game.
"He worked at it every single day, after practice, before practice, just trying to be better," Key said of Huff's defense. "For him to take the leap he did this year, it was huge."
Improved defense and a need for a new frontcourt scorer make Huff appear poised for a special 2020-21 campaign.
Be the first to know
Get local news delivered to your inbox!