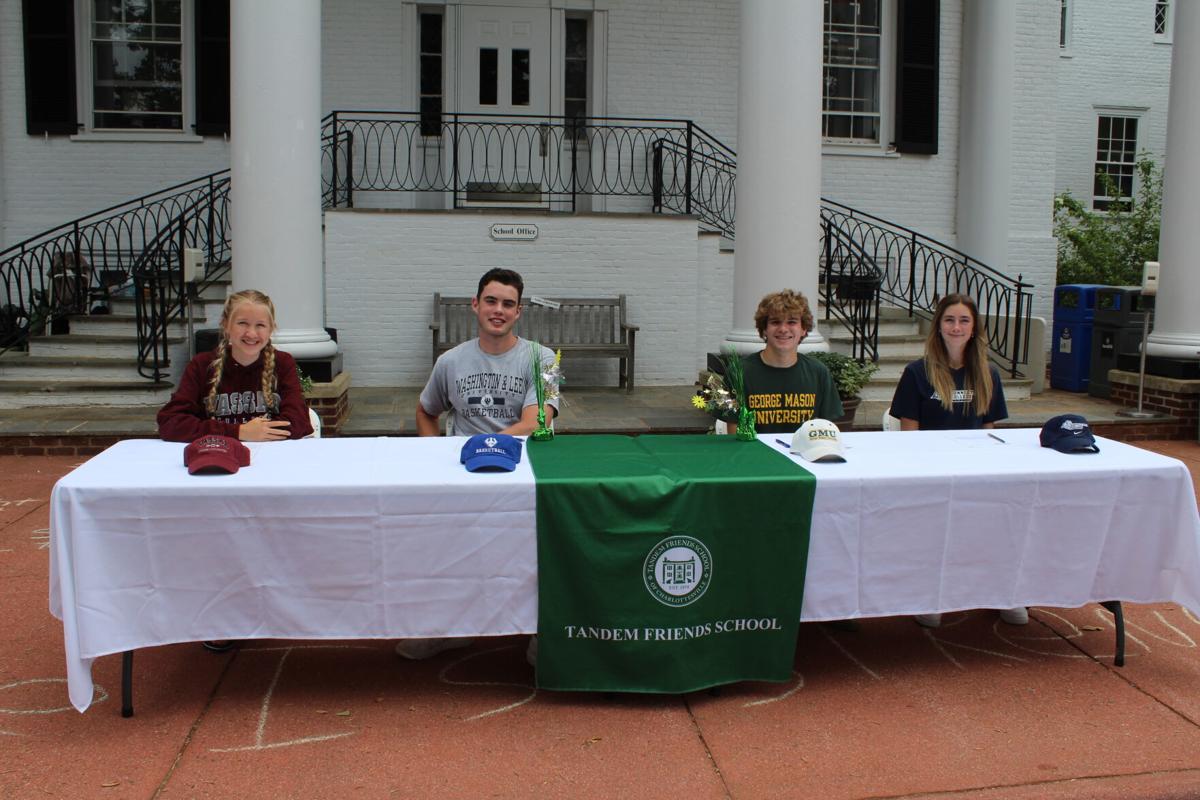 The Tandem Friends School athletic program honored four senior student-athletes Tuesday afternoon during the school's annual signing day celebration.
Mason Love, Julia Dailey, Sophie Farr and Ford Scott officially signed their National Letters of Intent to continue their athletic careers at the college level.
"This day definitely means a great deal to me, as well as my classmates who have committed to play sports in college," said Scott, who signed to play basketball at Washington & Lee University. "It's very exciting and gratifying after working hard over the last four years to experience this and seeing my classmates accomplish their goals is just as exciting. Although things are a little different with the extenuating circumstances of the coronavirus, I'm glad we could have this signing day ceremony to celebrate what's to come for us."
Love, who signed to run for George Mason University, finished his career as one of the most decorated runners in the Badgers history despite missing his senior season because of COVID-19.
"This day represents a lot of hard work, so it is very important to me," Love said. "I did not even expect to get a signing day because of COVID, so I got more than I expected."
After a successful junior campaign, Love had visions of competing for a state title, both in cross country as well as indoor and outdoor track before his senior season was lost due to COVID-19.
"I was not able to compete and prove to everyone that I deserved those titles," he said. "While training, I was not able to keep goals of races in the back of my head. The only thing that kept me going was the possibility of signing with the team in college."
That goal was achieved Tuesday, when he signed with the Patriots. Now, Love is setting his sights on becoming a successful Division I college runner.
"Right now, I am working to get my mileage up to 70 miles a week," Love said. "I'm expecting it to be much more competitive, but at the same time, I am expecting it to be a super fun experience that I will remember for the rest of my life."
Dailey signed to play volleyball at Connecticut College and is excited about the opportunity.
"When I committed last summer, I was really excited about my future at Connecticut College and all the opportunities that came with it," Dailey said. "So, this signing day is the icing on the cake. I am also so grateful Tandem gave us this special day to officially sign. It is something I have looked forward to ever since I planned to play in college."
Potentially competing in sports at the college level was not on Farr's radar at the end of her junior year.
"It wasn't until this time last year that I even thought I had a shot at running in college, so the fact that I am able to do this is super exciting for me," said Farr, who will run for Vassar College. "My athletic career wasn't my only focus in the college search process because I knew I could keep running on my own at least, wherever I went, but I also knew I would miss being on a team and competing with a goal in mind, so did pursue athletics at a few of the schools that I applied to."
Farr admitted that Vassar was among her top college choices because of its academics; having the opportunity to keep running competitively was an added bonus.
"Vassar was already high on my list, without athletics," she said. "It is great to fit for me, both academically and athletically, so I am very happy it all worked out this way. Being able to sign makes everything seem so real in a way that I have been lacking this past year. It is giving me a goal to look forward to and have an opportunity I don't want to miss."
After missing out on her senior cross country season, Farr is motivated to prove her worth at the next level, both on the field and in the classroom.
"I am so ready to race other people again," Farr said. "I, of course, hope to run personal bests, but I also hope I can have a meaningful contribution to the team. I am very excited to race other people because it's hard to push yourself in a race the way you have to in order to perform well. I have no problem running on my own and I'm actually very disciplined about it because I love running, but racing is a whole different level that I really miss. The hardest part about the process was not having recent times to show. I was on an upward trajectory in terms of my race times in my junior year when everything shut down and I know I was going to continue to improve."
Tuesday's signing ceremony offered a sign that things are improving for the athletes as they head off to college following a topsy-turvy final high school season.