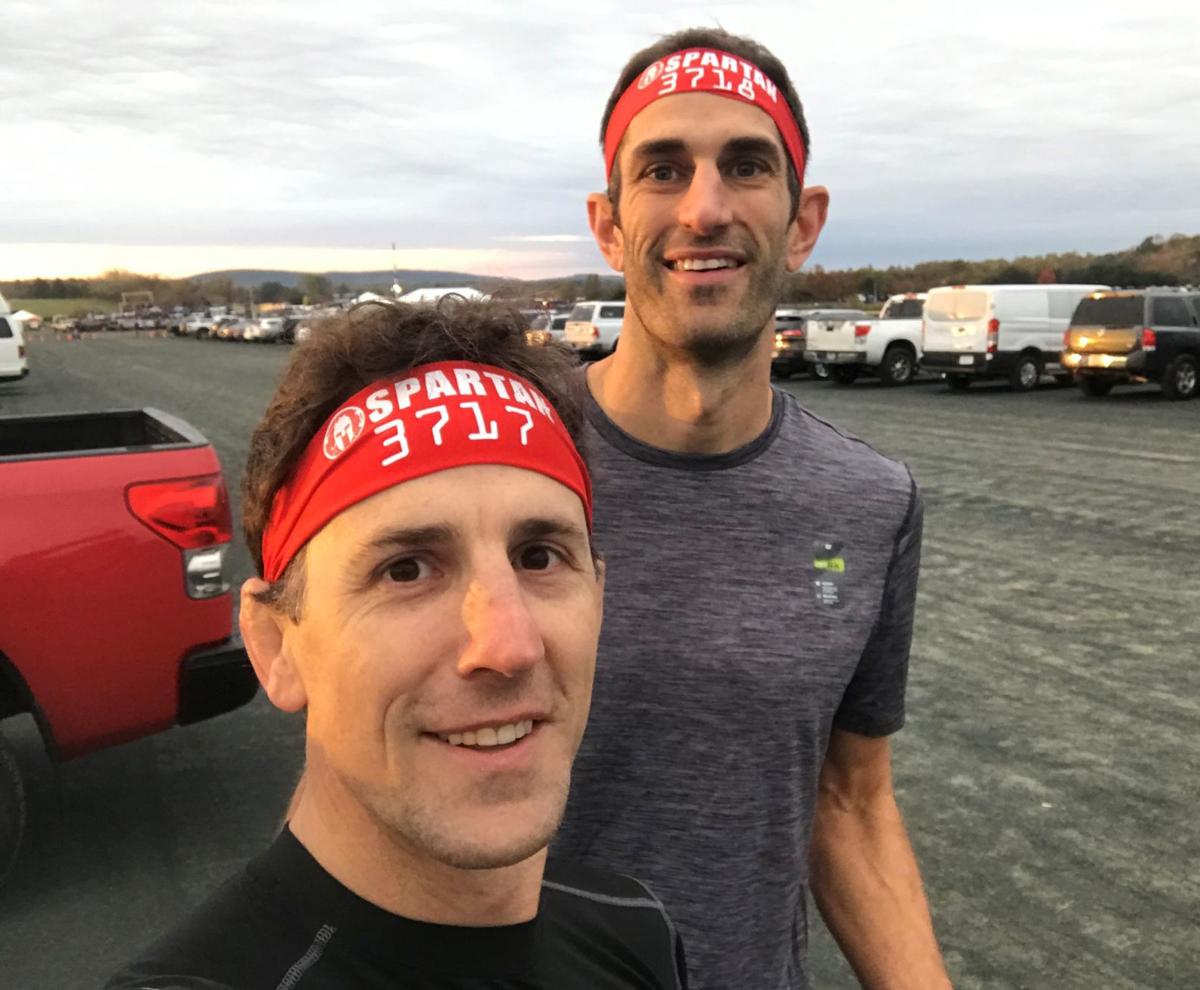 Jim Harshaw's first marathon won't come in front of a big crowd. He won't receive swag from a marathon event. Harshaw's marathon isn't officially sanctioned, but it still counts just the same.
A former three-time ACC wrestling champion and a 1999 UVa alumnus, Harshaw planned to run the Pittsburgh Marathon this May with his neighbor Jeff Schwalm, a former Bridgewater College basketball player and current teacher in the Albermarle school district. Instead, COVID-19 caused the cancellation of the event.
Rather than giving up midway through their training — they had logged a training run of 17 miles before the cancellation — they opted to create their own course staring near their homes in Forest Lakes and ending in downtown Charlottesville.
"We've gotten this far," Harshaw said. "Let's keep this thing going."
Their journey begins at 7 a.m. Saturday and they plan on ending at roughly 10:30 a.m.
"We're in it for the challenge as much as anything," Harshaw said. "It's as much of a challenge, maybe more of a challenge, doing it on your own without the big crowds and the festive atmosphere."
Running 26.2 miles consecutively challenges even the fittest runners. It's a long distance that takes the average runner hours to complete, and the race is both a mental and physical test.
Luckily for Harshaw, who was an assistant wrestling coach at UVa for a few years and now works as a speaker and performance coach, he and Schwalm have a friend tagging along on a bike at a safe distance to provide both emotional and physical support when needed. They'll use their mutual friend to act as a hydration station without the typical fueling stations at official marathon events.
"He's gonna ride his bike along with us because he has nothing better to do, I don't think, either, so we're gonna throw some Gatorades and water in his backpack, so that'll be good," Harshaw said.
Creativity is critical for the makeshift marathon, which won't include hydration stations, fancy prizes or a raucous crowd. Toward the end of the marathon, however, the runners expect a few family members to make an appearance.
Whether it's a family member or two biking near the runners at a safe distance for the final miles or a few relatives waiting at the finish line, Harshaw and company hope to make the marathon as close to the real thing while also following all legal guidelines regarding social distancing.
While it's not quite summer weather in Charlottesville, Saturday's forecast looks promising for the runners. The race begins with a temperature in the upper 30s and ends in the lower 50s. There's minimal wind and plenty of sunshine for the runners. It'll be a picture-perfect day for the few family members there to greet the runners when they finish.
Running offers Harshaw, who has stayed in shape since his wrestling days, an outlet to remain fit while following social distancing protocols.
"It's been fantastic," Harshaw said. "In the early days in the training here was going outside in low and mid 20-degree weather at six o'clock in the morning on Saturdays for a long run. That was kind of brutal, but as we got into the social distancing stuff, the weather's gotten nicer, which has allowed us to train more comfortably while keeping our social distance."
Harshaw enters Saturday's unofficial race as an accomplished athlete.
He won over 100 matches in his Virginia wrestling career. He became an All-American in 1998-99. He qualified for the NCAA Championships four times and was a three-time intercollegiate Virginia state champion.
He isn't, however, usually one for long runs.
Saturday's marathon is his first, and he hopes his athletic background and mental toughness can help him push through the marathon.
"There's something that comes with having been a college athlete that makes you feel just at a subconscious level that you can deal with pain and suffering maybe a little better than the average person just because of the crucible experience that college athletics can be," Harshaw said.