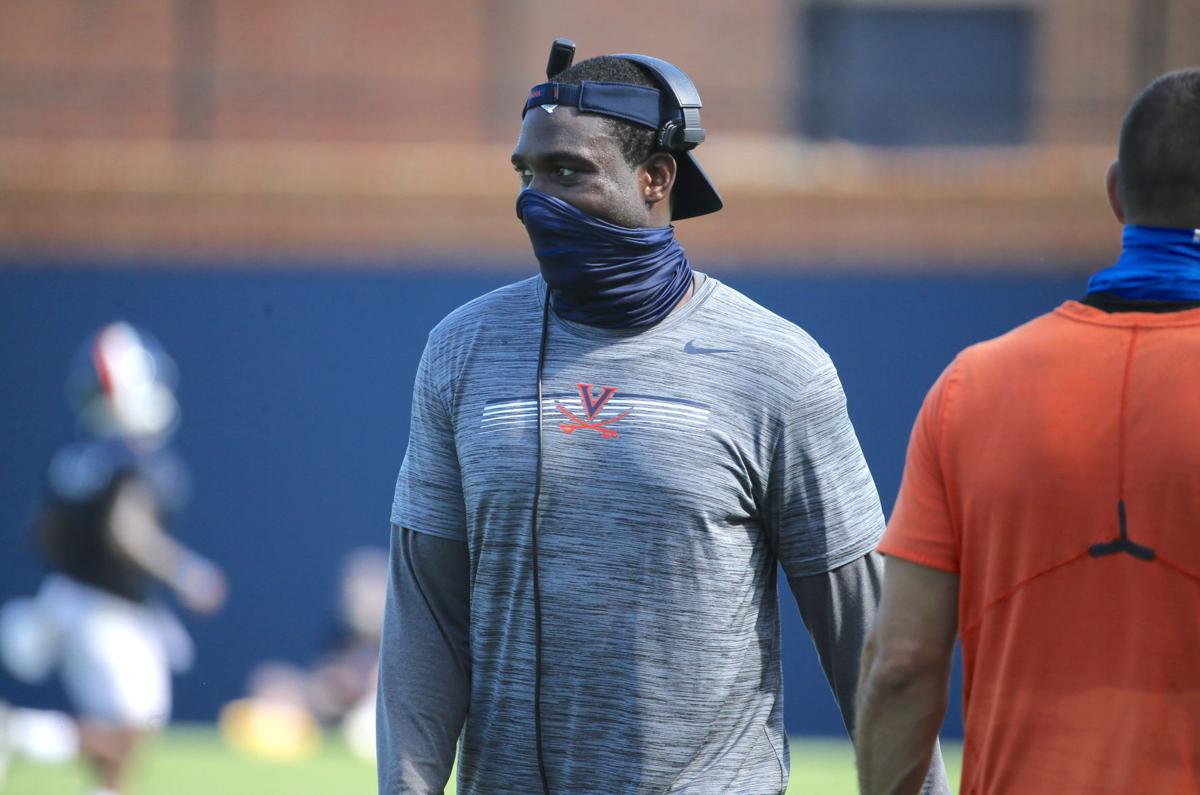 After Clint Sintim's professional playing career came to a close, the former Virginia linebacker pursued a career in coaching. He always hoped that journey would bring him back to Charlottesville.
"Since I retired and I got into coaching, the goal was always to come back here to Virginia and be on the staff in some capacity and make a contribution," Sintim told the media Wednesday.
Sintim's coaching career began as an outside linebackers and special teams coach for West Alabama, a Division II program, in 2014. Most recently, he served under Danny Rocco at Richmond and Delaware. He primarily coached outside linebackers during that stretch.
In February, during the college football offseason, Sintim's dreams took a step closer to becoming a reality.
Then-UVa defensive line coach Vic So'oto accepted the same position at USC, leaving an opening on Bronco Mendenhall's staff.
Mendenhall interviewed Sintim, then offered him a job on his coaching staff.
Now the former UVa standout is back in Charlottesville, coaching the Cavaliers' defensive line.
Clearly, both parties are excited about Sintim's addition to the staff.
"When coach gave me that call in mid-February to come down and interview, my wife and I came down, we met with the staff, and then shortly after when he offered me a job, it didn't take much to say, 'We're coming,'" Sintim said. "I'm excited to be here. I'm excited to contribute and whatever role I can play to help this team be better than what it was, that's what I'm here to do."
In addition to Sintim's playing experience and knowledge of the game schematically, the coaching staff raves about Sintim's love for his alma mater.
A Virginia native, Sintim knows the area and is passionate about the Wahoos.
So'oto excelled during his coaching tenure at UVa and was well-respected by his coaching peers. He left Charlottesville partially because he's from the West Coast and wanted to return.
Sintim's heart lies in Charlottesville.
"He's passionate about Virginia, and I don't think you can undersell that," co-defensive coordinator Nick Howell said in April. "Any time somebody has care in their heart for something, they're gonna do a really good job at it. He's extremely passionate to be here, so it's exciting."
That passion is evident to the players, who started camp Monday. Through recent practices and Zoom interactions, they like what they've seen from their new coach.
"Coach Sintim wasted no time in making sure that we had a foundation of trust and understanding with each other," sophomore defensive lineman Jowon Briggs said. "He's very knowledgeable about the game. Obviously we all know about his career here and his career in the league, so it's really easy to find myself being a sponge and absorbing all the information he can have for us."
Sixth-year defensive lineman Richard Burney likes that Sintim understands UVa. Despite being a little more than a decade removed from his college playing days, Sintim can relate to what the current players are going through as a UVa student-athlete.
"I do respect the fact that he was a UVa graduate, played at UVa," Burney said. "He has a lot of insight, a lot of knowledge about the school and just football in general. I respect him, he's a good guy, a great mentor, and overall, I think a great coach."
It's unclear if Sintim's group will take the field for games this fall due to COVID-19, and his first season as UVa's defensive line coach is certainly unprecedented, but he's looking forward to whatever work he puts in this fall.
A few years ago, he made it a goal to return to UVa as a coach. He made it back to Charlottesville, and he's thrilled to be back.
"I'm living my dream right now," Sintim said.
Be the first to know
Get local news delivered to your inbox!