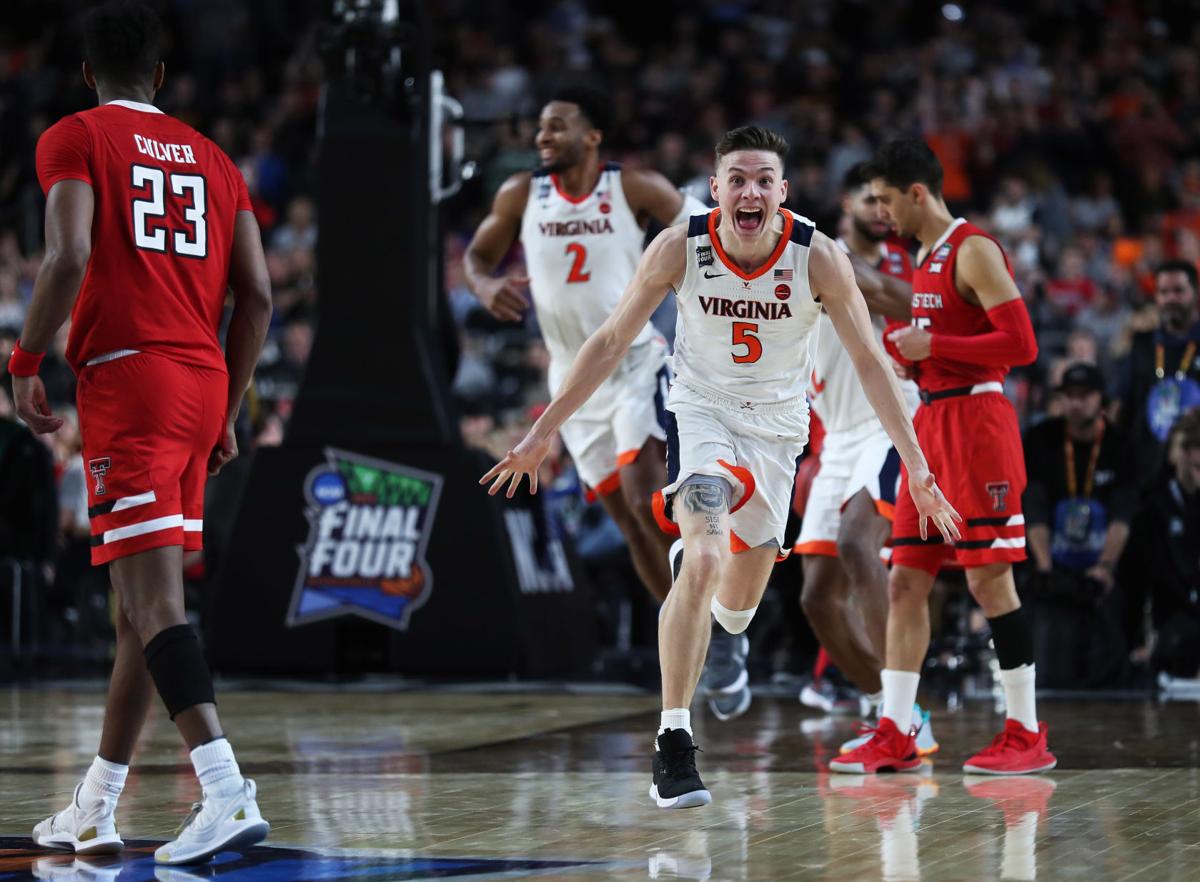 NEW YORK — Kyle Guy is heading to the Sacramento Kings.
The former Virginia guard was taken by the New York Knicks, who were picking for the Kings as part of a trade, with the No. 55 pick (second round) in the 2019 NBA Draft on Thursday at Barclays Center.
Guy, who worked out twice for the Kings, posted a message on social media sharing his excitement about being chosen.
Guy was the third former Virginia guard to hear his name called Thursday. De'Andre Hunter went No. 4 in a pick that will reportedly be traded to the Atlanta Hawks, and Ty Jerome went No. 24 in a pick that will reportedly be traded to the Phoenix Suns.
"You were the best teammates I've ever had and the best players I've ever played with," Guy wrote. "Even more so you were incredible friends and always knew how to make us laugh lol. It's an emotional week and tomorrow our dreams come true."
Guy averaged 15.4 points, 4.5 rebounds and 2.1 assists per game this past season, leading Virginia to the NCAA Tournament championship. The Indianapolis native was named the Final Four's Most Outstanding Player.
The 6-foot-2, 175-pound Guy's decision to declare for the draft after his junior season came as a surprise. Unlike Hunter and Jerome, Guy didn't receive a ton of draft buzz this past season.
He turned the slights into fuel and shot 44.9 percent from the field and 42.6 percent from long range, and on March 4 he tied a program record with eight made 3-pointers in the team's 79-53 win at Syracuse.
Guy's time at Virginia transcended basketball. The Cavaliers' defeat at the hands of UMBC in the first round of the 2018 national tournament, which marked the first time a No. 1 seed had lost to a No. 16 seed, prompted Guy to confront his mental health.
He spoke openly about the anxiety the loss triggered, and became an advocate for those dealing with mental health issues. When the final buzzer sounded on Virginia's win over Texas Tech in the national title game, Guy sprinted to the edge of the court, leaped in the air and pumped his right fist, an image that has come to symbolize the Wahoos' redemption story.
Despite his college success, Guy was hardly a touted prospect in this year's draft. With the Kings, he'll aim to prove the doubters wrong once more.
Be the first to know
Get local news delivered to your inbox!