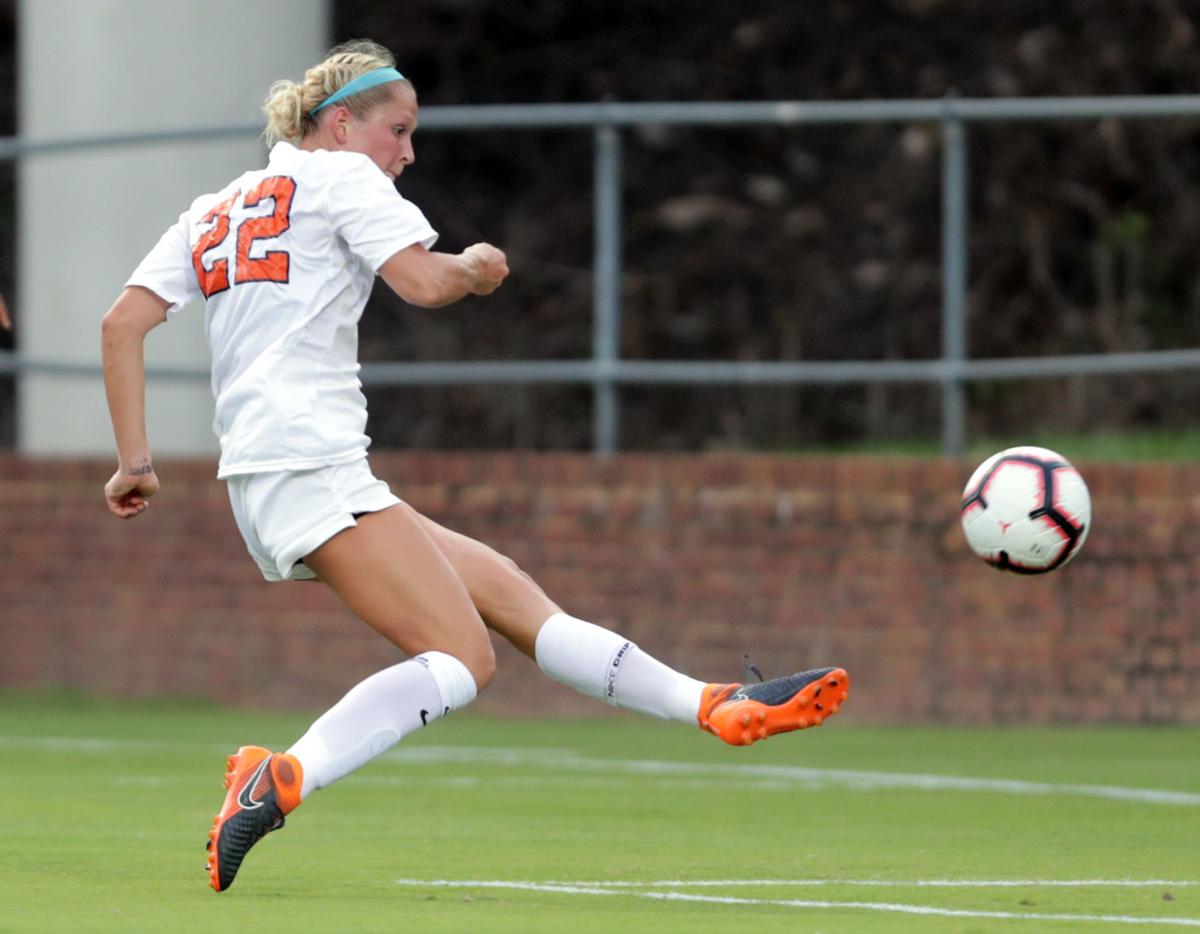 Meghan McCool was looking for jobs in the Philadelphia area when her phone rang. The Washington Spirit was on the other end of the line.
After training with the team in March, COVID-19 sent McCool home without a contract. McCool kept in touch with the Spirit, a National Women's Soccer League team that wanted to bring her into the fold. Unfortunately, COVID-19 kept causing issues, and the Spirit kept delaying when they might officially sign McCool.
With abundant uncertainty, the former Virginia star wondered if she'd ever actually receive the deal and join the team.
"I kind of started doubting everything because it was so up in the air and questionable and then one day completely out of the blue they called me, and they were like, 'We figured everything out, we want to sign you, we have a contract,'" McCool said.
McCool put pen to paper, and the Spirit officially announced her one-year signing on June 9.
Her signing meant she'd be a member of the organization for the NWSL Challenge Cup, a one-month tournament in Utah to kick off the league's return to action.
Somehow, the situation only became more hectic from there.
After finishing her senior season at UVa in the fall and training with the Spirit in March, McCool spent most of her time working out in Charlottesville during the pandemic. She trained on fields alone, working on her skills and aiming to stay in game shape. Her boyfriend's mom is a personal trainer, so McCool relied on her guidance for conditioning work.
When she joined Washington in June, she was thrown into a full 11-on-11 practice her first day. In less than a month, McCool and the team traveled to Utah for the NWSL Challenge Cup, which began on June 27.
Typically, professional teams ease into seasons with lengthy training camps. McCool didn't have that benefit in her first season as a professional. Even though she stayed in shape on her own, preparing for professional soccer is a different beast.
"This is definitely the biggest jump from levels I've ever had," McCool said. "I think that's saying a lot because I came from one of the best programs in college soccer. UVa was awesome, the training environment was awesome, we had the best coaching staff. I might be biased, but I think they prepared us as well as you possibly could imagine, but this level — no one takes it lightly and everyone's physical, everybody's in shape."
Speed jumps out the most to McCool. At the professional level, everything moves quickly.
In college, McCool might be able to get away with zoning out for a few moments. At the professional level, losing focus for a moment or two can result in a lost opportunity for a goal. The speed and physical play are the two biggest areas of adjustment for McCool.
"Training, you're playing against your teammates, yeah, but they're not afraid to absolutely rock you and prepare you for the game," McCool said. "I think that's a little different than college. I think people are too nice in college."
Once she joined the team in preparation for the Challenge Cup, McCool learned quickly the intensity of the league during workouts and scrimmages.
"I've had a couple moments when you just get absolutely laid out, and you're like 'OK, I need to be a little stronger,'" McCool laughed.
While the first three weeks of her contract have been a whirlwind, McCool finds herself on a loaded roster of professional soccer stars. She's competing at the highest level, and she also has a coaching staff eager to build her confidence.
Given the circumstances, it'd be easy for McCool to feel overwhelmed by the last few weeks. The coaches want to make sure the former UVa standout believes in her own abilities.
"I think once I made the roster I was able to take a deep breath," McCool said. "I had a couple meetings with the coaches and they were like, 'You're here for a reason. Yeah, it's going to be a new level, you're gonna have to get your feet under you, but you need to be confident.' I think that really helped me, and since I've just been able to do what I know and trust myself a little bit more."
Head coach Richie Burke gathered all of the rookies after the team's first game, asking them what they thought of the level. All the youngsters are adjusting to the style of play at the professional level, and the coaching staff wants to move them along quickly so they'll be ready when called upon in meaningful matches as the tournament progresses.
It's a learning process for the young players, but Burke and the coaches want to help.
While McCool has yet to take the field in the Spirit's first two games, she's hopeful to make her professional debut soon. In what's been a hectic few weeks, McCool is ready for the next whirlwind moment.
"I have been dressing," McCool said. "That was one of my goals to make the dressing roster, so that's been good, but I think ultimately, obviously, everybody wants to play. I would like to get into a game at some point and go from there."
Be the first to know
Get local news delivered to your inbox!