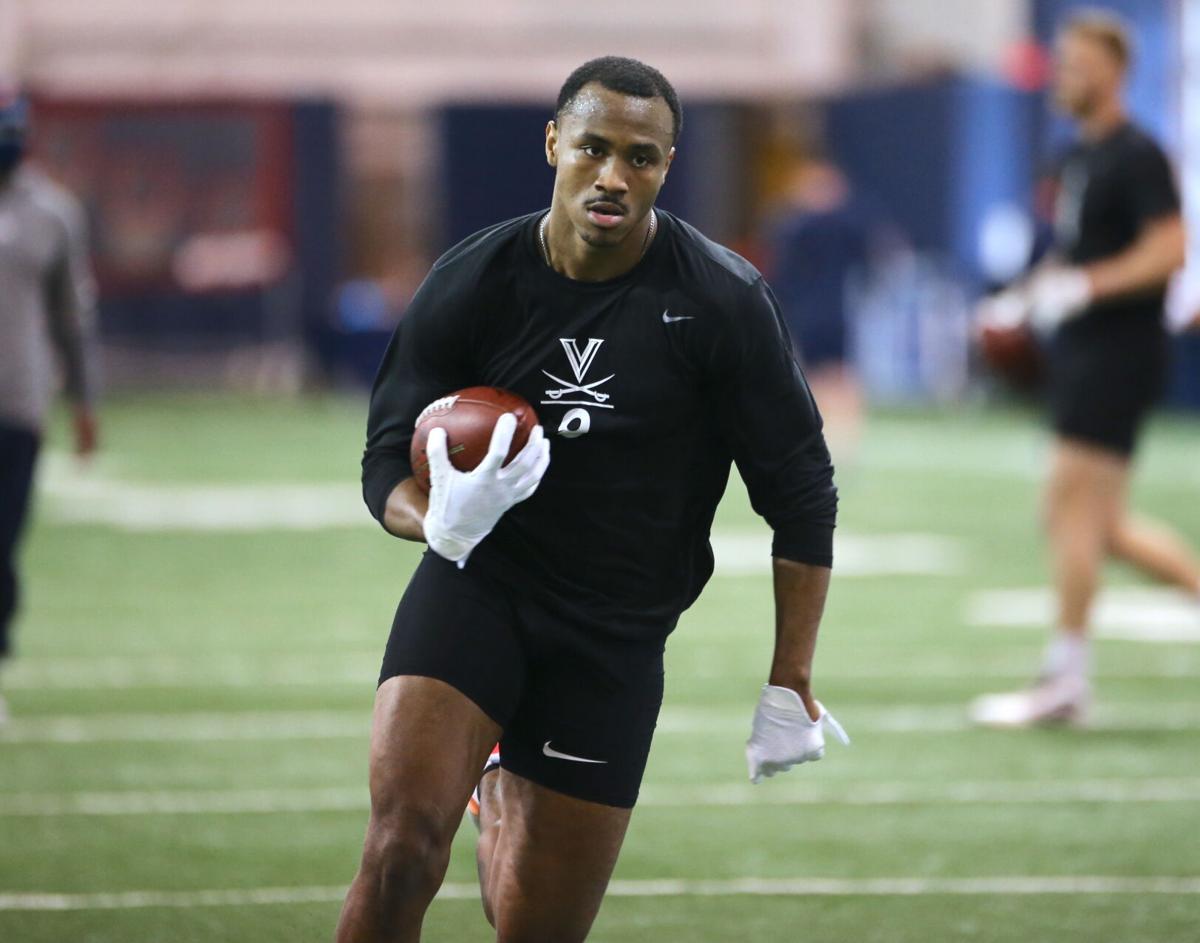 Without game action since December, a group of former Virginia football players felt butterflies in their stomachs for the first time in months Wednesday morning during the program's Pro Day.
"Last night, I tried to go to bed. I was in bed at 10 o'clock, trying to go to bed. I literally couldn't," running back Shane Simpson said. "It just felt like Christmas when I was younger."
Simpson, who played at UVa in 2020 as a graduate transfer from Towson, was among the 11 players who worked out in front of 22 NFL scouts. He was joined by several of his 2020 teammates, including safety D'Angelo Amos, kicker Brian Delaney, wide receiver Terrell Jana, tight end Tony Poljan and linebackers Charles Snowden and Zane Zandier.
Defensive back Quin Blanding, linebacker Chris Peace and wide receivers Dejon Brissett and Hasise Dubois also joined the action. Those four players graduated from the program prior to the 2020 college football season.
All 11 players had something to prove to NFL scouts.
Some players at Power 5 programs like Alabama and Clemson are sure-fire NFL Draft prospects. That's not the case with most of UVa's guys.
Even UVa's two players most likely to be selected in the 2021 NFL Draft — Snowden and Poljan — have plenty to prove.
Snowden is recovering from a broken ankle. He's able to run and cut after suffering the injury in November, and he's regained trust in the ankle. He's not quite at 100% yet, but mentioned that his doctors tell him he's ahead of schedule in the rehab process.
An athletic linebacker with exceptional size, Snowden only performed the bench press on Wednesday. He performed 21 reps of 225 pounds, which is solid given his long arms.
Snowden is likely a mid-round draft pick, given the injury.
"The biggest thing scouts and personnel told me is really focus on getting back healthy, making sure that around training camp, football time starts, I'm ready to go," Snowden said.
Snowden has spent time in recent weeks rehabbing, working on his bench press and studying 4-3 defenses. UVa runs a 3-4 defensive scheme and he wanted to learn a different, yet common system should a 4-3 team draft him.
Poljan, also a likely mid-round draft pick, missed the Senior Bowl at the end of January due to a positive COVID-19 test. Having missed out on the opportunity to showcase his skill set for scouts at that event, Pro Day held additional importance for him.
At 6-foot-7 and 265 pounds, the tight end fits the mold of a new era NFL tight end. He can block, but he's also elite as a receiver. He snagged six touchdowns in 2020, his one season at UVa after coming to Charlottesville from Central Michigan as a graduate transfer.
"I think the tight end position is being more utilizing nowadays," Poljan said. "We're really seeing first-hand, people are being so creative now with what they're doing now with a person 6-5, 6-6, 6-7."
Dubois lost out on a Pro Day opportunity last spring due to COVID-19. Despite ripping down 75 receptions for 1,062 yards and six touchdowns as a senior in 2019, questions lingered about his speed. As a result of that and a loaded wide receiver draft class, Dubois went undrafted. The pandemic made finding a roster spot even tougher for undrafted free agent prospects, and Dubois never received a chance with an NFL squad.
"It's been a battle," Dubois said. "Being able to go a whole year without a Pro Day and being able to watch the full NFL season without me getting a shot … it was hard."
A UVa spokesperson said Dubois' top 40-yard dash times came in from 4.69-4.87 seconds. That's on the slow end for potential NFL receivers.
Dubois' best attribute is certainly his hands. He was the only FBS receiver in the 2020 draft class with 100 or more targets without a drop, according to Pro Football Focus. He produced at an elite level as a senior and is hopeful for an invite to an NFL training camp.
Proving his speed through the 40-yard dash was also Simpson's goal. The running back is often referred to by media and scouts as "quick" rather than "fast." He takes offense to that description, and wanted to use the 40-yard dash to change that perception.
"I had the [knock] of being quicker than fast for some teams," Simpson said, "and I think that was kind of disrespectful in a way because I haven't been caught in the ACC or in the CAA."
A Virginia spokesperson shared that Simpson posted a 40-yard dash time of 4.59 seconds. That's slightly below what he expected immediately following the drill — he told media he felt he ran a 4.4 40-yard dash — but it's still respectable given his versatility as a runner, receiver and returner.
Simpson projects as a possible late-round pick or undrafted free agent.
He also recorded 22 bench press reps Wednesday, which raised more than $1,200 for rare disease research.
Zandier, one of UVa's defensive stalwarts in recent years, decided to turn pro rather than return for another season at Virginia. He said people often told him he could benefit from another year in Charlottesville, but he's ready to prove them wrong by making an NFL roster.
Likely an undrafted free agent prospect, Zandier knows his performance at Pro Day could be critical to earning a chance with teams.
"Every single .01 second or every inch, every centimeter, every rep matters a lot," Zandier said.
For the 11 players in attendance, their fate lies in the hands of NFL teams. They need an opportunity, whether it's through the draft or a team tryout, to compete at the next level.
Fortunately for the group, they at least had a Pro Day this spring to perform for scouts after last year's event was taken away from graduating players.
"Some guys here have waited a whole year, some guys have a couple months of preparation," Jana said. "I'm just thankful to get the opportunity to come out here to compete, to show what I have."