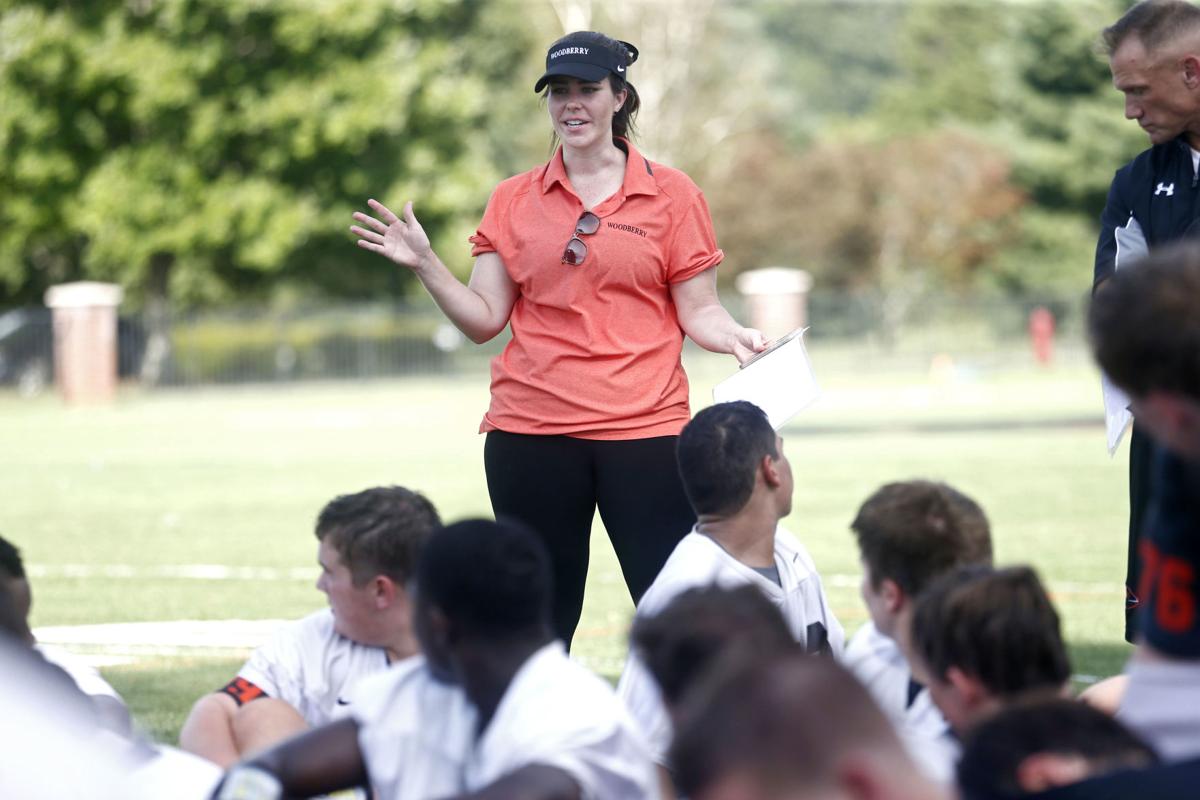 WOODBERRY FOREST — Abbie Ryan is used to feeling like a fish out of water.
Born in Texas to Midwest transplants, at 7 years old, she proudly waded into a sea of Dallas Cowboys T-shirts at school on the Friday before Super Bowl XXX, wearing her Pittsburgh Steelers gear.
Hers was the only black and gold in sight.
"I remember getting relentlessly picked on about that, but I'm stubborn so I was like, 'Yea, go Steelers. What about it?'" Ryan said.
Before joining the staff at Woodberry Forest, all she did was work in mission control at NASA's Johnson Space Center in Houston.
These days, Ryan teaches math and intro to engineering, and she's living a lifelong dream as a tight ends coach on the Tigers' football staff.
"The only difference between me and the other coaches is how far I have to crane my neck to talk to the players," Ryan said. "The one thing I've already learned about Woodberry is if you're passionate about something and willing to work, they'll let you do pretty much whatever you want."
Breaking into a boys club like coaching is nothing new for the Dallas native.
"As an engineer, I feel like I've already done that," she said. "I got asked a lot in my interview about how I thought I would do in an all-male environment, and my thought was that's where I currently reside."
The work never ends for a teacher and coach at a boarding school, Ryan said, but getting on the field any way possible has always been her motivation.
"I remember that sad realization when I was young that I'd never really get to play," Ryan said. "Football is a 'man's game' in Texas."
The fall was all about football in the Ryan home. She and her parents tuned in to support Ohio State and the Steelers every weekend, and she did anything to get close to the field – from working concessions at middle school games with her mom to performing as the mascot for her high school team.
"I was a little surprised when I heard about her, but then I met her and realized she's a perfect fit," Woodberry Forest head coach Clint Alexander said. "She loves football and had a great understanding of defense the first time I spoke with her. She's intense and enthusiastic and a master teacher."
She flew her father to Pittsburgh for his 60th birthday to see a Steelers game, and this will be the first year in the last five she and her mother don't' attend a Buckeyes game in the Horseshoe because, "I have my own team on Saturdays now," Ryan said.
Ryan's grasp on defensive concepts stems from her playing days on the powder puff fields at her alma mater, Rice University. This was not your average powder puff pick-up game.
"I played nose guard and in my first game, the center ran up to me and elbowed me in the nose and as blood is gushing from my face, the running back runs by me for an 80-yard touchdown," Ryan said.
She told that story to one of her tight ends after he trotted back to the huddle during the first couple days of practice, his head hanging low after making a mistake on a route. Her powder puff days may be what sparked Ryan's interest in education.
"What I loved about it was we were taking girls who had only ever done ballet in their lives and we're teaching them what zone defense is," Ryan said. "So, you have this ballerina coming up to me on the sideline asking about her zone responsibility."
Leading a classroom isn't new to Ryan, either. In her previous life, she spent plenty of time on the road, talking to students and young engineers, informing the public about what a NASA engineer does.
It hasn't all been lectures, though. Ryan endured some tense moments, with all eyes on her to make a decision in the moments leading up to a launch.
"She has a way of organizing and breaking the most complicated subject down to connect with whoever she's teaching," Alexander said. "And it's safe to say she's seen more stress than any of us. She's been in situations where it's get it right or something is going to explode."
Ryan found herself in the spotlight in one of her first team meetings at Woodberry, and shared a story about one launch in particular where her team was receiving disturbing data from a fuel cell.
With the clock working against her, Ryan — only 23 at the time — found herself at midnight on a Sunday signing a waiver certifying to the best of her knowledge as an engineer, the lives outside on the launching pad were safe.
"Specifically at NASA, you get a lot of 'Oh, crap' moments," she said. "Everything I had learned to that point, every Algebra II class I took prepared to make a good, educated guess as to what was going on."
Instead of powering a spacecraft's fuel cells with hydrogen and oxygen this fall, she'll be creating mismatches for a talented group of tight ends, highlighted by Virginia commit (as a defensive end) John Kirven and sophomore Kyle Bilodeau — a three-time Team USA All-American.
Senior Connor Koch, an all-state linebacker last fall, will also see some time.
"We wanted her with the tight ends because that's a special group, and we wanted someone focused solely on them every play," Alexander said.
The tight ends haven't been featured in the Tigers' high-powered offense the last few seasons. Kirven caught nine passes last fall, and Alabama walk-on Mac Hereford hauled in eight.
For Ryan, this season is about more than X's and O's, though. It's about that little girl, sitting in the stands in the Texas sun with her parents at a football game, realizing she'll never get to strap shoulder pads on.
"I'm so blessed to be in a place where I have support from Clint and the administration and players," Ryan said. "This really is a dream come true."
Ron Counts covers Central Virginia high school and prep sports for The Daily Progress and C'ville Varsity.​ Contact him at rcounts@dailyprogress.com, (434) 978-7245, or on Twitter @Ron_CDPsports.