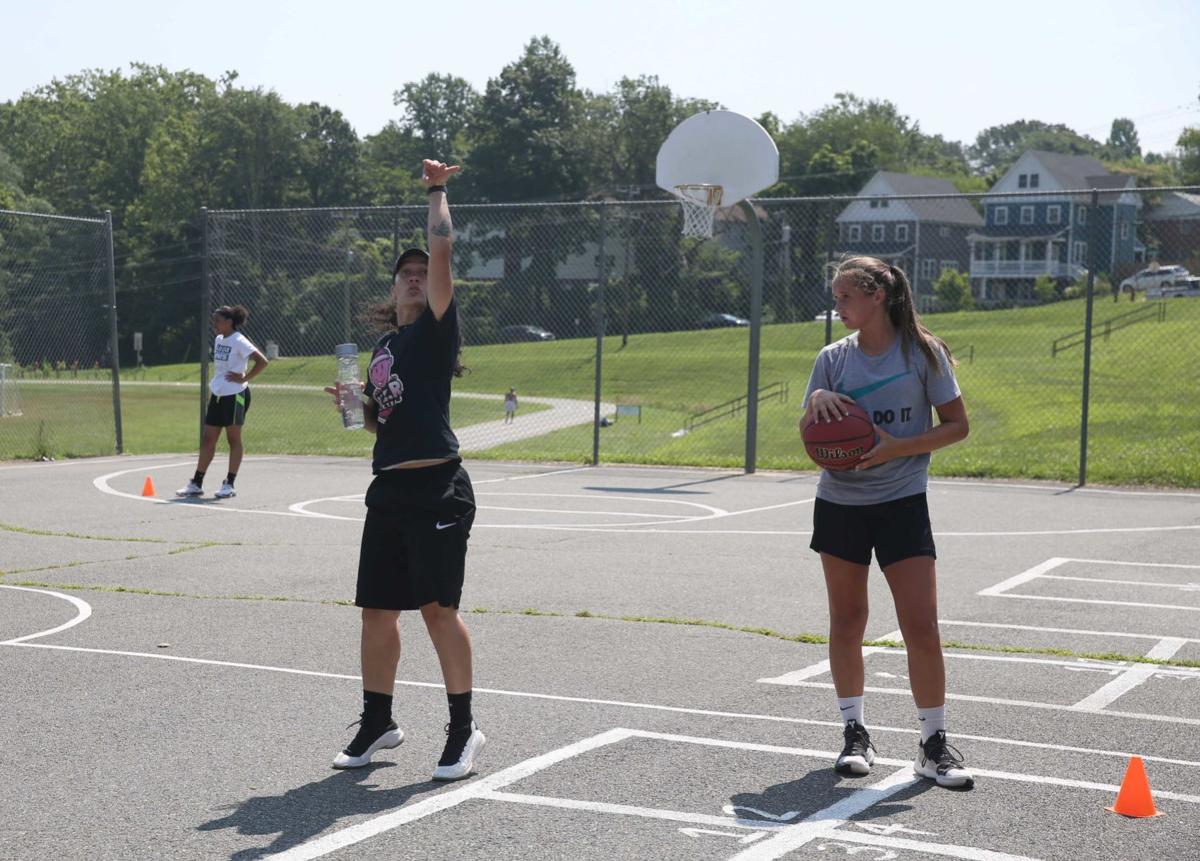 Two of Jessica Carter's passions in life revolve around teaching and basketball.
The student support liaison for Charlottesville City Schools is utilizing both in her latest venture to support female athletes in Central Virginia.
Carter has started a nonprofit organization called HER Sports, which stands for "Hustle to Earn Respect." The nonprofit group's mission is to gain support for female athletes on par with their male counterparts within their communities.
"We all know that respect is earned not given," Carter said. "In order to dominate in life, nothing is handed to you, especially as female athletes. We have to work to gain respect. As HER Sports expands, we will push to change that, along with other hopeful partnerships and sponsorships, from other women-owned organizations."
HER Sports' mission statement is to provide a unique, holistic experience to young girls by empowering, engaging and educating positive youth development through sports.
"When I say holistic, I mean overall health and wellness — physical, mental, emotional and social," Carter explained. "HER Sports is grounded on its core value of HUSTLE — ' Health is Wealth. Unity is Community. Strive for Excellence. Trust the Process and Earn Respect."
Carter has been a torchbearer for female athletes since graduating from Charlottesville High School in 2004. After a standout high school basketball career for the Black Knights, she went on to play collegiately at Mary Baldwin.
A four-year contributor for Mary Baldwin, Carter finished her college career as the Fighting Squirrels'' all-time leading scorer (1,943). She had her jersey retired by the school in January.
After graduating, Carter returned to Charlottesville and began to give back to the community as an educator, coach and mentor.
Over the past three years, she's coached seven basketball teams, ranging from middle school, junior varsity and a local AAU team.
"Basketball created a blueprint for success," Carter said. "As someone who grew up in this community, I have been able to maintain important relationships that have continued to help me grow as an adult and mentor."
Carter said basketball has taught her many life lessons, including accountability, resiliency, teamwork, independence, confidence, discipline, accountability and creativity. Off the court, it allowed her to maintain a healthy lifestyle, manage mental health and interact with others.
"It was my sanctuary," Carter said. "Just like in life, you have your ups and downs, challenges, wins and losses, but no matter what, if you want to be something in life, you have to hustle to earn respect. That is what I want to pass on to the younger generation, or Generation Z. Everything that I have learned and allowing them to teach me as well will be empowering."
Community members have encouraged Carter to start her own organization for a a while. She pondered the idea, but with the increased attention on equal pay for women in sports, her interest in girls' sports grew.
"Statistically, girls drop out of sports by the age of 14 for a variety of reasons," Carter said. "I found that to be astonishing, especially experiencing it as a coach from the transition from middle school to high school participation. So, I started writing down ideas and visions for HER Sports."
Carter formed HER Sports in March with the help of fellow Charlottesville High School assistant girls basketball coach Rickquan Johnson and Kim Thompson, another educator in the Charlottesville City School system.
The target audience is any girl age 18-and-under. The organization serves different roles based on an athlete's age and experience level. All are welcome and are encouraged to contact Carter by email at Jessica.Carter@hersports.info.
Carter had planned several events with HER Sports, before the COVID-19 pandemic put things on hold for a bit.
They've partnered with gyms, camps, health and wellness workshops and travel basketball teams to help promote the organization.
Last week, the group held workouts on Monday and Friday on the outdoor basketball courts at Burley Middle School. Several high school basketball players from Monticello and Charlottesville were on hand to help Carter and HER Sports teach the game of basketball to area youth.
"These were all girls from different schools that were a part of my AAU team last season, including several other girls that wanted to be a part of the overall mission of HER Sports," Carter said. "This allows them to give back to the community and lead as youth role models to the younger groups, including leading camps and clinics, organizing sporting events for the community and volunteering as a coach to gain that experience."
HER Sports is offering opportunities for young women in other avenues other than basketball. Carter is searching for youth that are interested in showcasing their talents in making a website, photography, journalism and social media marketing to help take part in the program.
Carter believes that the sky is the limit for HER Sports. Once the pandemic is over, she's looking forward to connecting with people that share the same vision and passion to help move the program forward.
That includes creating a board of directors, a strong group of coaches in different sports, as well as a strong volunteer pool so she could expand the group to different communities throughout Central Virginia.
"My ultimate goal for HER Sports is to be a nationally known organization," she said. "To have a facility that can provide a safe space, offer all sports and health and wellness services for girls to come to."
Be the first to know
Get local news delivered to your inbox!