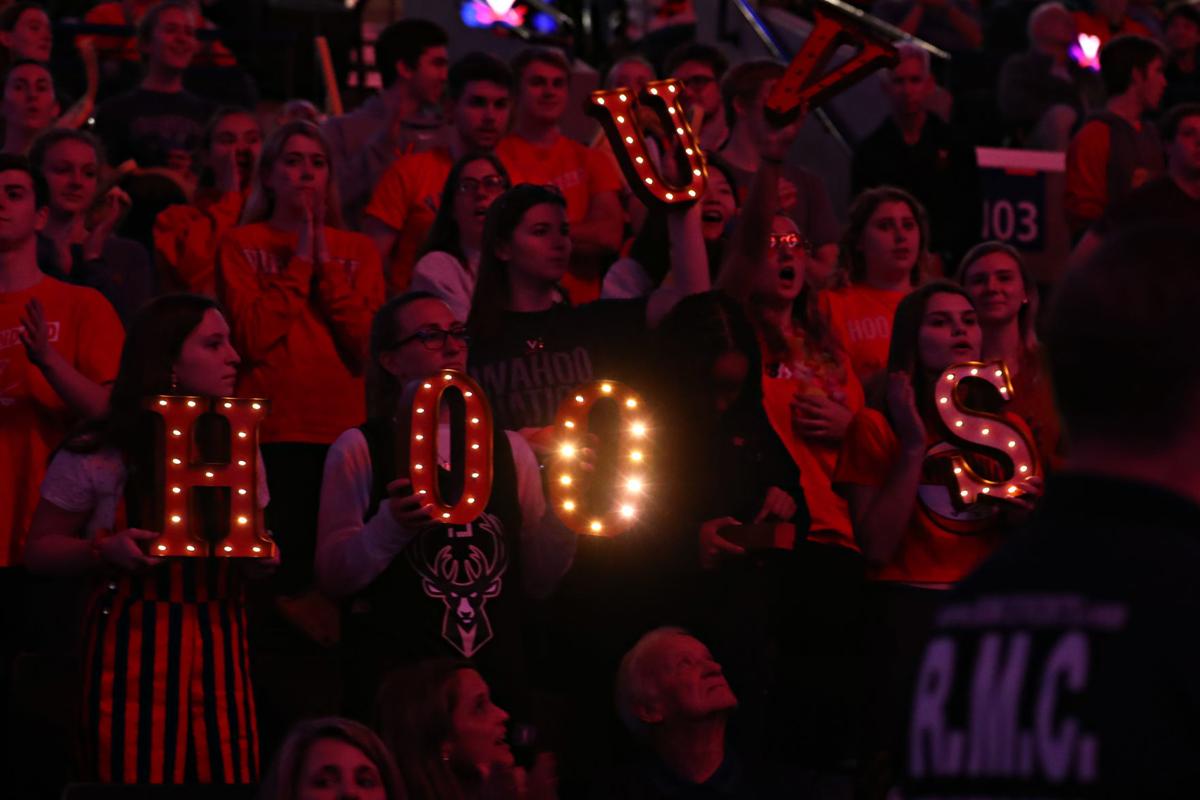 The atmosphere plays an important role in making March Madness a beloved tradition.
In addition to mid-major teams pulling upsets and seniors competing for the final time, millions of passionate fans tune in every March and early April for a college basketball tournament.
This season, players, coaches and fans missed out on the annual tradition due to COVID-19. Among those fans with ACC Tournament or NCAA Tournament plans were UVa fans hoping to see their team replicate last season's historic success.
Instead of watching the Wahoos contend for another national championship, fans were left to watch replays of last year's madness.
"It's heartbreaking," senior commerce major Kristen Kelly said. "It's also the emotions of having gone to school with Mamadi [Diakite] for four years and Braxton [Key] for two — I don't know either of them personally but you see these guys around grounds, you see them in classes, you see them studying — you want to also see them succeed, and you want them to do well in the postseason, especially for Mamadi, he's such a big part of that. It breaks my heart for those guys."
Kelly had plans to attend the ACC Tournament with a group of friends she met through going to UVa basketball games. Instead, the tournament was canceled before UVa took the floor.
For the die-hard Virginia fan, it's been a tough adjustment. She's used to attending as many home games as possible and watching road games on TV whenever she's unable to travel to road contests.
Kelly, who was studying abroad in Europe during last season's postseason run, made sure to watch every time UVa took the floor during the Big Dance.
"I was studying abroad during the championship, which was the hardest thing ever, but I did stay up and watch every game all across Europe, whether it was at 2 a.m., 3 a.m, the championship ended at 6:30 a.m.," Kelly said. "I was not gonna miss a second."
During last year's national title run, third-year law student Jasmine Lee watched with a group of law students in Charlottesville. Lee, who earned her undergraduate degree from UVa in 2016, has also started a tradition with friends of attending the Final Four.
She had plans to go to Atlanta for this year's event, but that was ultimately canceled. While she didn't attend the Final Four last season — she wanted to watch the event from Charlottesville — Lee did attend the Final Four in 2018 even though UVa lost to UMBC well before the Final Four.
"We still went out to San Antonio, and we wore our jerseys around all day," Lee said. "We went to the Final Four games and people would come up to us and be like, 'Don't you guys know you're not here?' and we'd be like, 'Yes, but we'll be here next year. We're just a little early. We will be here next year.'"
The Cavaliers did make it the next year, winning the national championship as Lee and friends celebrated the night away in Charlottesville.
As for Lee's loose tradition of attending the Final Four, she's making plans to attend next season. She hopes UVa, which returns key contributors like Kihei Clark and Jay Huff, can make it to the event in 2021. Even if the Cavaliers don't, Lee is set on going.
"We've already made plans to go to Indianapolis," Lee said. "We've already talked about it. It's going to happen."
Adjusting to no UVa basketball during March provided a challenge to Cavalier fans. For AB Bugg, a senior economics major, watching UVa games on replay has helped ease the transition away from basketball.
The passionate fan made the trip with friends to Louisville last season to watch UVa's dramatic victory over Purdue in the Elite Eight. That's one of the games she's rewatched since classes moved online and basketball season came to a close. Watching the contest brings back memories of the event and the car trip home.
"That was one of the most fun experiences of college for sure," Bugg said. "We were also so excited on the way back, too. I just don't think any of us could believe that we actually got to see their big win to go to the Final Four."
Missing out on postseason basketball stung, but losing out on saying a proper goodbye to classmates hurt the most, according to Bugg.
"The hardest adjustment is definitely living at home now and not getting to be with my friends because we never had that goodbye because we thought we were gonna have a couple more months left," Bugg said.
All three UVa-supporting students missed out on postseason basketball viewing experiences. While they wish they had those opportunities, they're all looking forward to the Virginia basketball when it does return.
"It'll just be nice to have that community of people that you can constantly reach out to and have something to talk about and bring you back to those UVa days, because not having it, it does leave a huge hole," Kelly said.