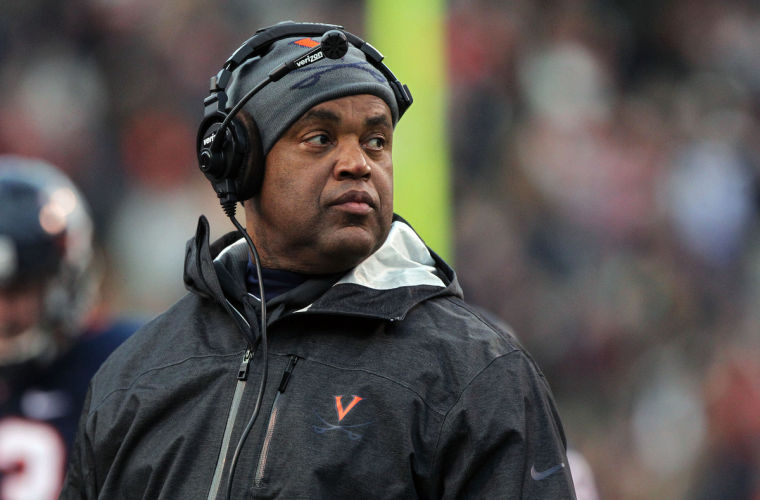 With the scoreboard burning into the dark, frozen Virginia night, Cavaliers coach Mike London realized he was a lucky man.
That might seem odd, considering his UVa football team had just lost its ninth straight game of the season and for the 10th consecutive time to in-state rival Virginia Tech to cap a 2-10 campaign. A lot of coaches wouldn't have survived that record, especially after three losing records in four years.
Not many football coaches get to call their own shot in terms of when it's time to go. In fact, only four Virginia coaches have left the program on their own terms since World War II. Frank Murray left for Marquette, Art Guepe for Vanderbilt, Ben Martin to Air Force (after only two years and a losing record), and George Welsh walked away and into the Hall of Fame after the 2000 season.
With Wahoo Nation splintered on London's fate, UVa director of athletics Craig Littlepage has his coach's back, somewhat of a rarity in today's world of college athletics.
After Saturday's 16-6 loss to the Hokies, London reflected on the season and looked ahead, knowing that his job is secure for another year thanks mostly to Littlepage.
When asked what that confidence meant to him, London paused 22 seconds to collect himself emotionally, before he answered.
"I believe it means that people see what you're doing behind the scenes, who you are, what you want to be, what your goals and visions are for the young men you're responsible for," the beleaguered UVa coach said. "It always means a lot when you're struggling and people can say, 'Listen I believe in you.'"
Littlepage, who is getting as much criticism for keeping London as London is getting for the Cavaliers' on-field shortcomings, believes his coach will win at Virginia, that he will right the Good Ship Wahoo.
London believes his program is close and when the lights on the scoreboard hit all zeroes Saturday, 2013 was in the past. He was already working on 2014.
He pointed to the fact that only around half a dozen seniors are leaving the program, that so much of the team will return, including a 1,000-yard rusher in Kevin Parks, two experienced quarterbacks, and most of the defense. He pointed to the fact that in spite of the losses, Virginia raised the level of turnovers and sacks, something that had haunted the 2012 team.
Now, he will turn attention to the fact that his team failed to convert those turnovers into points and his offense's poor efficiency in the red zone.
"It's not a sense of relieve that [the season is over]," London said. "It's about every opportunity to improve. You see glimpses of things that are happening along those lines. You see players that will be good players with further development. You see things that can make you a better football team."
While it would have been understandable to have told his players after the game to forget this season, erase it from memory and move on, London didn't choose that route. He wants them to never forget.
"You don't want to forget what it's like coming off the field tonight and the hurt in the locker room, and sending seniors out without success," the coach said.
A big part of this season has been about not getting beat by adversity, but showing character in how to respond. Former Virginia basketball coach Terry Holland used to say that sometimes you have to hit rock bottom before you can get to where you want to go. Well, we all know where Virginia's current address might be, Rock Bottom, USA.
"I know that we have to do a better job of what we do and how we do it … and it all starts with me and has to filter all the way down," London said. "I'm very appreciative, very humble and still feel blessed to be here. I don't take it lightly. I want to get this thing fixed."
One of the keys between now and next September is to find a quarterback that Virginia can win with. David Watford started Saturday's game but was highly ineffective against a Top 10 Hokies defense. Much to Wahoo fans' delight, Watford was replaced by Greyson Lambert, who was even more ineffective.
So, what is London to do?
"It's always a key to get a guy who can throw in rhythm, that can handle whatever teams are throwing at them," the coach said. "To have that type of poise. Watford is no longer a first-year starting quarterback. Fast forward, he is what he is. Same for Lambert.
"It's our job to make sure they develop good enough that when they step on the field the next time to compete that they can help this team win games," London said.
In fact, it's crucial. Teams without a solid quarterback in today's football are doomed to failure, so that is perhaps the biggest challenge going forward. The last time Virginia was good, Matt Schaub was at the helm of the offense. Think about it.
Virginia sophomore defensive end Eli Harold was solemn after the loss, promising to use this season to drive him to greater heights, vowing to attack every phase of football like it's the last day of his life, determined to "turn this train around."
Harold was just one of the Cavalier players who are glad that train's engineer will be back.
"Coach London is the reason that I came here," said Harold, who had three sacks on the day. "I was on my way to Florida until I sat down and talked to him and he reached out to me."
London's recruiting visit changed Harold's life.
"I thought [London] would be the best coach for me, me growing up without a father, losing my mother when I was 16," Harold said. "I thought he would be the man I would want to be like when I get older. If I have kids one day, they could look up to me and say that their dad was a man's man. Coach doesn't let the losses get to him."
Actually, the losing does get to London. It eats at him every waking moment. He just doesn't let it show.
A man's man wouldn't dare do that.