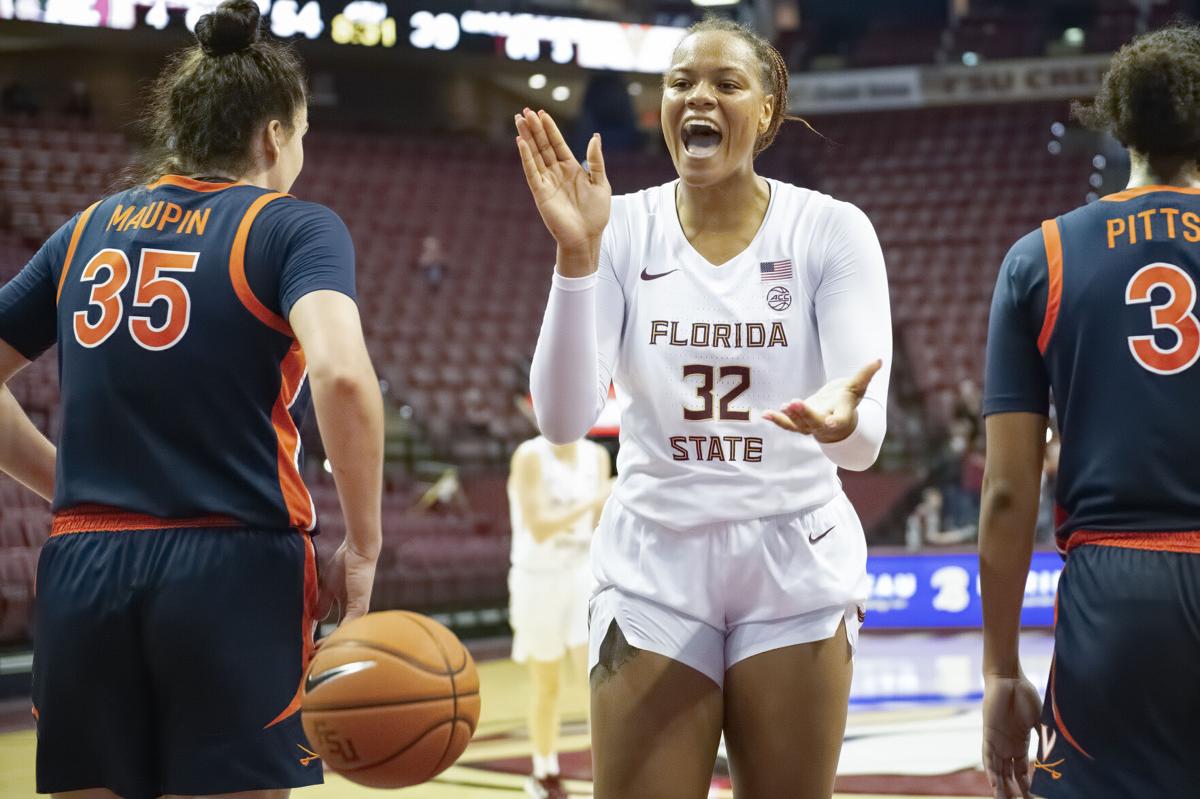 The Virginia women's basketball team put together a strong first half on Sunday at Florida State, going into the halftime break tied with the Seminoles.
But FSU took command in the second half, using a 26-3 run to pull away from the shorthanded Cavaliers and pick up to a 69-51 victory at the Donald L. Tucker Center in Tallahassee, Fla.
"I thought in the first half we came out strong, we defended well, we also executed," said Virginia coach Tina Thompson, who only had seven available players for Sunday's game due to injuries. "In that second half, there were moments where I could tell we were a little tired, but we continued to fight."
That fight helped Cavaliers (0-5, 0-2 ACC) keep things interesting early in the second half. A 3-pointer from Amandine Toi and a jumper from Emily Maupin gave UVa a 33-30 lead with 6:43 remaining in the third quarter.
It was all Florida State (2-0, 1-0 ACC) from there.
Valencia Myers hit a jumper to kick off an 8-0 Seminoles run that put FSU ahead 38-33 with 4:31 remaining in the third. Toi's fourth 3-pointer of the game brought Virginia within two, but a trey from Kourtney Weber ignited an 11-3 Florida State that gave the Seminoles a 49-39 lead heading to the fourth.
Florida State then scored the first 15 points of the fourth quarter to end any hopes of a Virginia comeback and leave the Cavaliers still searching for their first win of the season.
Toi continued her recent stretch of impressive play for the Wahoos, finishing with a team-high 18 points. The redshirt sophomore guard, who hit five 3-pointers on Sunday, has led UVa in scoring in each of the past three games.
"I think the great thing about [Toi] is that she plays at a high level all the time," Thompson said. "The way she practices is how she plays. She can find consistency in a game like this, even when she's tired, because her levels are consistent. The tempo that she plays at in the game is the tempo that she's playing at in practice, so there are no surprises and her confidence is high. She's worked a lot in this offseason to be better and to improve herself, and I think it's showing in her performances in our games."
Kaydan Lawson also had a solid outing for the Cavaliers, tallying 10 points, four rebounds and four assists.
The Seminoles had four players score in double figures, led by Valencia Myers, who finished with 14 points and tied FSU's single-game record for blocked shots with nine.
The Cavaliers return to action next Sunday when they travel to Virginia Tech. The game will tip off at noon and air on ACC Network. Despite the struggles and lack of available players, Thompson is confident her team will continue to battle as it seeks its first win of the season.
"I'm proud of this team," Thompson said. "I'm proud of how they show up every single day ready to work, even with our numbers being low, making no excuses."