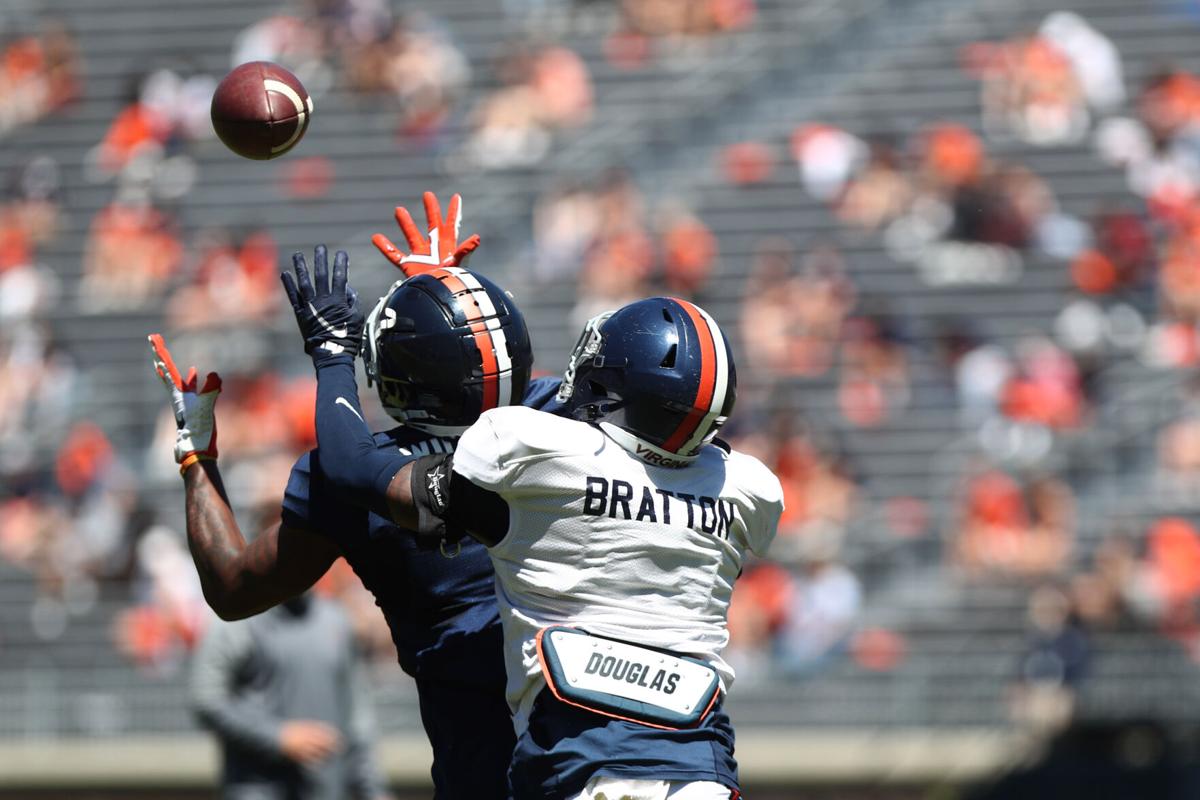 When Lavel Davis Jr. suffered a torn ACL this spring, the Virginia football team lost its most-anticipated deep threat at wide receiver.
On Saturday, during the Cavaliers' spring game, the team showed it has a replacement getting ready.
Sophomore Dontayvion Wicks, who missed last season with Lisfranc fracture in his right foot, had a breakout day at Scott Stadium, showing off his speed and athleticism during the two-hour practice.
"We always knew he was special," said quarterback Brennan Armstrong. "Now, it's just him getting on the field. Obviously today, he made a lot of good plays down the field."
Wicks's big day included hauling in a 40-yard deep ball, making a jumping catch for a reception on a slant route over the middle, and toasting a defensive back with a double-move for a 20-yard touchdown.
UVa coach Bronco Mendenhall said the offensive coaching staff went into Saturday planning to get Wicks heavily involved. Wide receiver Ra'Shaun Henry, who's been one of the team's top receivers this spring, was unavailable, and the Cavaliers didn't use receiver Billy Kemp IV or tight end Jelani Woods extensively during the scrimmage periods.
Wicks said he knew that was the plan going into the spring game.
"It's just normal to me because I know I can go out and make plays," said Wicks. "And that's what I have to do to get to where I want to be."
UVa had hoped to build much of its passing game around the big-play ability of Davis, a 6-foot-7 South Carolina native who led the ACC averaging 25.8 yards per catch as a freshman. Mendenhall called him "integral to our planning for this year."
Now, Wicks becomes that cog.
"He's an essential part, not just an optional part, of our offense and our receiving corps," said Mendenhall.
Wicks grabbed the headlines Saturday, but here are four other takeaways from the UVa spring game.
1. Keytaon Thompson's roll as a pass catcher will grow.
After the Mississippi State transfer suffered a shoulder injury last preseason, UVa moved him to a slash role that saw him play wide receiver, running back and quarterback. Thompson caught seven passes for 98 yards and three touchdowns. He ran the ball 39 times and threw it three. Saturday, Virginia showed it plans to get Thompson far more involved as a receiver. He ended up with more catches on the day than he had all of last season.
"We really like his ability to catch the ball," said Mendenhall. "And he's long and he's got such a great catch radius. He's a tough matchup for linebackers or safeties. So you'll probably see an increased volume the receiving part."
2. A deep backfield may translate to more five defensive back looks.
Virginia's defense spent most of Saturday playing a 3-3-5 look, and there's a good chance that will be the case next season. The Cavaliers are deep in the secondary and will be even deeper in the fall when cornerback Nick Grant returns from injury and North Dakota State graduate transfer Josh Hayes joins the program. Louisville transfer corner Anthony Johnson had a strong spring game, impressing with his physical play in the run game.
"The best five cover-and-tackle players will be on the field for us, regardless of position," said Mendenhall. "And we're going to drive and leverage that competition all the way up to the first game. … Our secondary right now is deeper and the numbers are allowing us to do that."
3. UVa will target its running backs out of the backfield.
Ronnie Walker and Amaad Foston both showed up Saturday as effective pass catchers out of the backfield, and that figures to be a big addition to the offense in 2021.
Virginia only got 27 receptions from running backs last season, with 13 coming from Towson transfer Shane Simpson, who isn't back.
4. The defensive line can generate a pass rush.
One of the focuses for UVa's defense this spring has been getting more one-on-one pass rush from its defensive line. And Saturday, it appeared to be making progress. Just 9½ of UVa's 32 sacks last season came from defensive linemen.
Getting back end Aaron Faumui, who opted out of the 2020 season, figures to give the team a big boost in that department. He had four sacks and nine hurries as a sophomore in 2019.