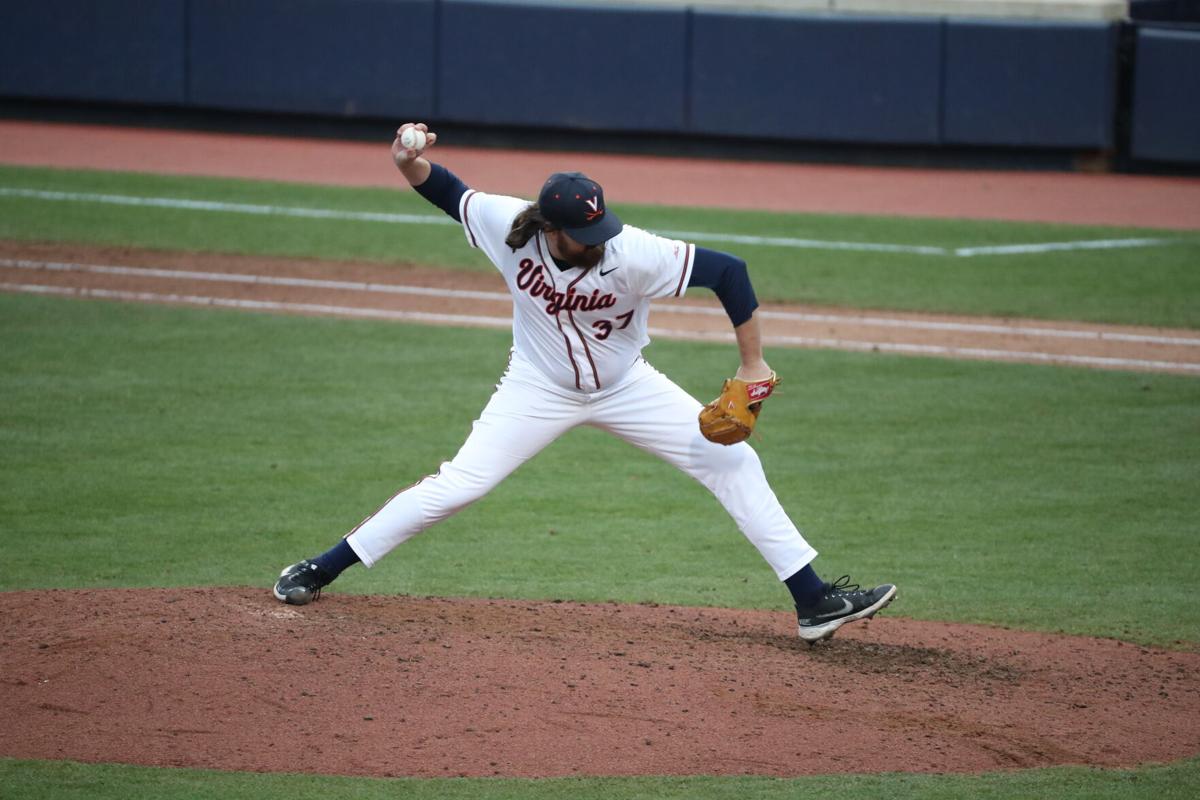 Stephen Schoch still vividly remembers being doubted as a little leaguer.
"I was seven years old and I got cut from my best friend's dad's travel team, didn't even play one game with them," Schoch, a sixth-year pitcher at UVa, said. "They're like, 'You just aren't that good,' and I was like, 'Well I think I am, but whatever.'"
The outside doubters remained as Schoch grew older.
Coming out of high school, the right-hander wanted to attend UVa, but the Cavaliers overlooked him. He ultimately went to Appalachian State and UMBC before joining Virginia as a graduate transfer ahead of the 2020 season.
He's quickly become one of the best closers in the ACC, and he's on the National College Baseball Writers Association's 2021 Stopper of the Year award watch list. Through six appearances this season, Schoch has a 1.86 ERA over 9 2/3 innings. He leads UVa with four saves, which is the third-most in the ACC. He's struck out 14 batters this spring.
Schoch throws the ball plenty hard and uses a deceptive arm angle and delivery to keep hitters guessing. His off-speed pitches are particularly effective. His stuff works, and he's an imposing and intimidating presence on the mound.
"It doesn't surprise me that he's been as effective as he has," Virginia head coach Brian O'Connor said. "First and foremost, he has supreme confidence in himself."
Despite being doubted throughout his baseball career, Schoch showcases unwavering on-mound confidence that stems from impressive self-belief.
When he steps on the mound, Schoch tells himself he's the best player on the field. He knows it might not always be the case, but when he believes it, he often performs at an elite level. Over the years, he's built up enough experience that confidence comes easily.
"It just comes from going out and doing it a bunch," Schoch said.
The fiery pitcher's self-belief could have been tested last spring. COVID-19 canceled UVa's 2020 season.
He decided to use eligibility relief offered by the NCAA, hoping the pandemic would be under control by this spring, giving him a chance for a full season with UVa. Schoch decided to pick up a few jobs to help pay the bills as he prepared for another season of college ball.
He started out as an Instacart driver, delivering groceries to customers at the beginning of the pandemic. Looking for something "more steady," Schoch took a job with a landscaping company.
"All the gyms were closed at the time, so I was like, 'You know what, I'm gonna get paid to work out pretty much,'" Schoch said.
UVa's closer considered that his most satisfying job of the summer, as he enjoyed arriving at a house that looked overgrown and leaving with it looking pristine.
Hoping to protect his body, Schoch pivoted to a job selling insurance.
"I figured if my career is gonna end, I don't want it to be because I got hurt landscaping or installing a patio," Schoch said.
While safer than landscaping, selling insurance wasn't something Schoch loved. Schoch joked that some UVa baseball fans likely hung up on him and don't even know it. He made it through the experience and remains a licensed insurance agent.
"Pretty sure I'm the only NCAA player with that under my belt," Schoch laughed.
Schoch took the odd jobs in stride, embracing each opportunity as he waited and hoped for a chance to compete with UVa again in the spring.
Fortunately, UVa's baseball season is underway. COVID-19 remains a threat to cancel and postpone games, but Schoch won't have to go back to selling insurance this spring.
That's welcome news for Schoch, who is a crucial part of UVa's plan this spring. When the team needs to shut the door late in a game with a lead, he's the No. 1 option.
Virginia has its sights set on winning a national title, even after a slow start to the season. The unranked Cavaliers still feel confident that they have the pieces to improve from their 8-8 start and make a run to Omaha.