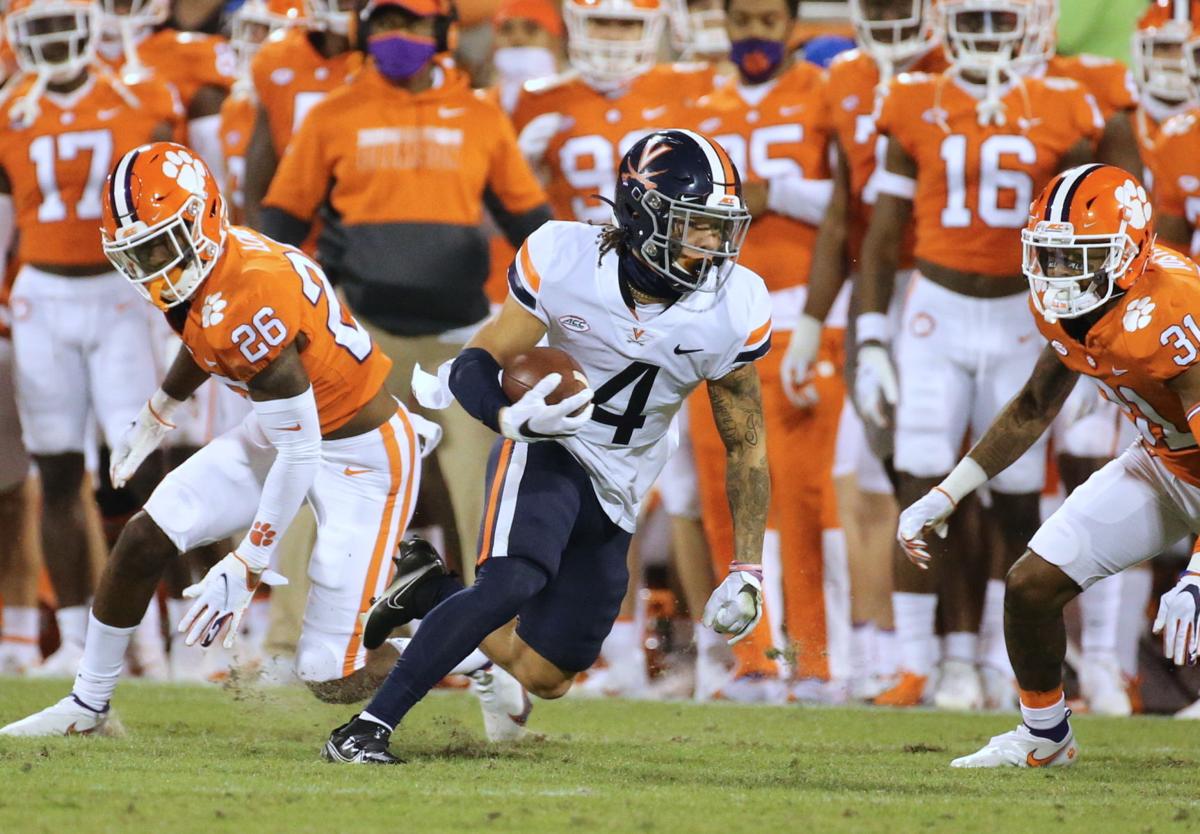 CLEMSON, S.C. — Beating the No. 1 team in the country as an unranked group requires near perfection. It requires game-changing plays and momentum-shifting moments.
In Saturday's showdown with No. 1 Clemson, Virginia fell a handful of dynamic plays away from leaving Death Valley with an upset victory. Instead, the Tigers (3-0, 2-0 ACC) picked up the game-breaking plays, winning 41-23 behind 187 yards and two touchdowns from versatile running back Travis Etienne.
"They made five to six more plays than we made," senior linebacker Zane Zandier said. "I thought we hung with them. We're capable of beating a team like that, I'm very confident that we are. Coming out of it, we don't want any moral victories, we lost the game, and it sucks."
After being demolished 62-17 by the Tigers in the 2019 ACC Championship Game, UVa (1-1, 1-1 ACC) appeared a worthy adversary this time around. UVa trailed by 10 late in the third quarter, and the Wahoos were close to cutting the deficit to just a touchdown on the opening drive of the third quarter.
Instead, Clemson's Andrew Booth Jr. stuck his right paw up in the air, snatching an interception in the end zone that thrilled those allowed into Memorial Stadium. The fans eagerly turned their heads toward the video monitors, wanting to catch a glimpse of the replay.
Despite a seven-inch height disadvantage with Virginia's Lavel Davis Jr., Booth Jr. won the jump ball.
That's a game-changing play.
"The pick in the end zone, that would have really swung it honestly," Virginia quarterback Brennan Armstrong said. "That's the one thing I look back, the pick in the end zone; that kind of hurt us. I think we would have scored there, would have had good momentum and the outcome of the game, just the score of the game could have looked a lot different."
Clemson also converted four of its seven third-and-longs, which are defined as third downs spanning at least nine yards. Facing third-and-16 on its own four-yard line early in the first quarter, Trevor Lawrence found Etienne out of the backfield for 21 yards. Later in the drive, Virginia allowed a 29-yard gain on third-and-12.
The drive ended in a punt, but the first downs flipped field position.
Dabo Swinney's team forced a quick stop and scored a touchdown on the next position. Instead of starting its drive near midfield trailing 3-0, Virginia allowed two chunk plays, which set up a Clemson touchdown on the Tigers' next position.
After a UVa field goal trimmed Clemson's lead to 10-3, the Cavaliers forced Clemson into a third-and-15 from the Virginia 27-yard line. Lawrence felt no pressure in the pocket as he threw a perfect pass into the back of the end zone. Amari Rodgers beat his defender by a step, scoring a touchdown on the third-and-long.
That's a game-changing play.
Time after time, Virginia put itself in position to make a play and give the ball back to its offense. Too many times, the Cavaliers failed to capitalize.
"It's not a great feeling," safety Joey Blount said of allowing third-and-long conversions. "That is something we need to work on to compete in this league. Quarterbacks are going to make those throws."
UVa's secondary didn't allow massive chunk plays at the same rate it did a season ago against the Tigers, but the inability to force stops on third downs ultimately doomed Virginia's upset bid. Lawrence finished 328 passing yards and three touchdowns. He threw no interceptions, and UVa failed to create a single turnover after notching seven against Duke.
Finding the five or six plays the Cavaliers missed against Clemson comes somewhat easily when dissecting the game. Despite the obvious mishaps, Virginia deserves credit.
Defensively, getting Clemson into third-down situations isn't easy. After only forcing nine third downs last year, the Cavaliers forced 15 third-down attempts this go around.
The offense moved the ball efficiently in stretches, tallying 418 total yards. Armstrong accounted for 359 of those yards, while also adding three passing touchdowns.
Virginia averaged 5.1 yards per play against the Tigers, which was just about how it did in the ACC Championship Game, when it averaged 5.2 per play. The Cavaliers sit alone with Ohio State and LSU as the only other programs to average five yards per offensive play for a full game against the Tigers since the beginning of last season.
"I think we closed the gap a little bit on them," offensive lineman Chris Glaser said. "We still have a long way to go, but I think they're a beatable team. Shout out to them, they had a great game. Made some great plays, and we're just a couple plays short of beating them."
While it wasn't an embarrassing loss like last season, Saturday's end result was still a loss.
UVa was, by its own admission, a few key plays away from winning the game.
"We were more prepared, as a coaching staff," head coach Bronco Mendenhall said of facing Clemson. "Our players were certainly more prepared after seeing what Clemson looked like a year ago. We were anxious to play, eager to play and believed we could win. A handful of plays, a handful meaning five or six, were the difference in the game. To Clemson's credit, they made those plays."
Last season, Virginia was more than a few plays away from keeping the game close. The Wahoos needed a few dozen plays to pull that contest within even a few scores.