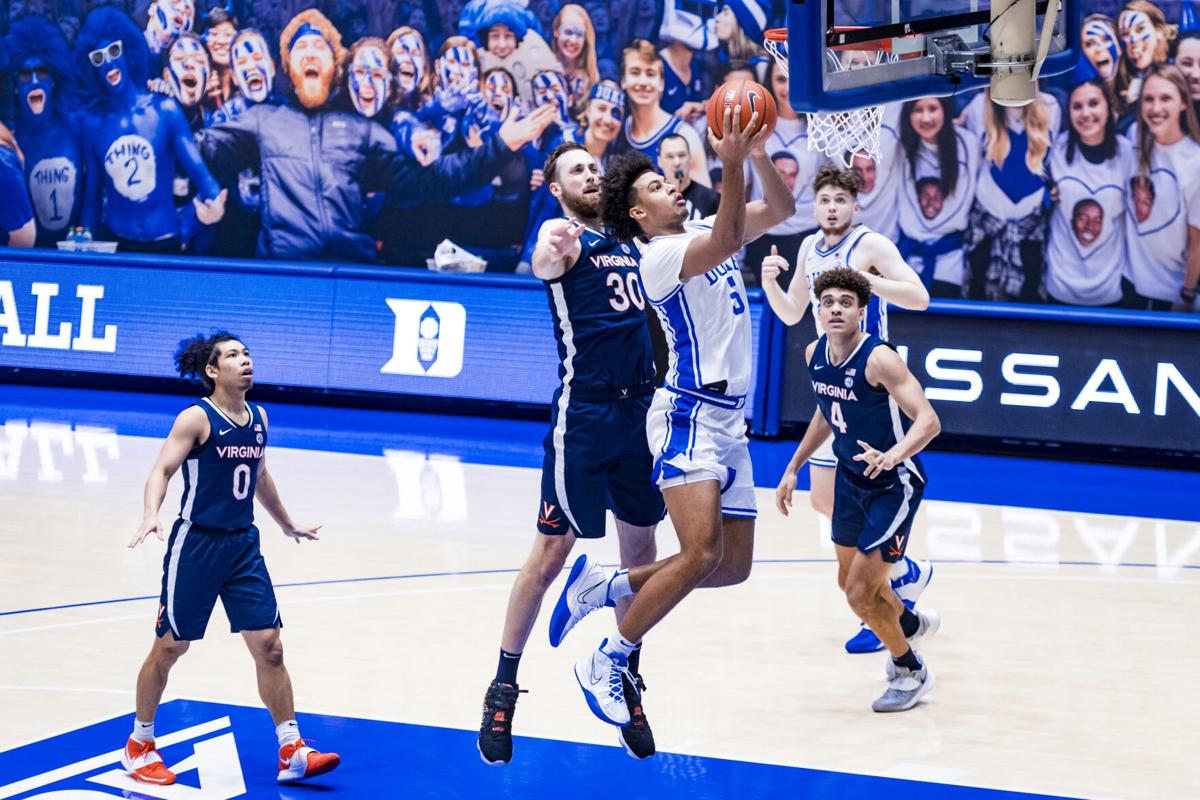 The buzzer sounded at Duke on Saturday night, and Virginia's players walked back toward the locker room with a newfound feeling of frustration. For the first time this season, the Virginia men's basketball team lost consecutive games.
After arguably its two best defensive performances of the season in back-to-back wins over Georgia Tech and UNC, Virginia (15-5, 11-3 ACC) has fallen to Florida State and Duke in its two most recent outings.
"Welcome to the ACC," redshirt senior center Jay Huff said. "I mean, that is what it is here. It's always been that way. Florida State's always been that type of team that can give anybody a game, same with Duke."
Virginia has lost 10 ACC games the last three seasons in addition to one conference tournament loss, which came in 2018-19. Of those 11 losses to conference foes, six have come to Florida State and Duke. The Seminoles and Blue Devils are the only ACC teams to beat UVa multiple times over the last three seasons, and they've both done it three times.
Tony Bennett's program doesn't lose often, but Duke and Florida State are worthy challengers to the reigning national champions.
Huff and redshirt senior Sam Hauser spoke to the media Saturday night along with Bennett. The group didn't show any signs of panic following the 66-65 loss to Duke. As Huff said, suffering defeats is part of life in the ACC.
"It's a tough one," Huff said. "It's one of those that could've gone either way. We can make a few plays, they don't make a few plays; it's definitely our game. We've been in that situation before. It happens. I think we'll be better off for it."
Bennett described blowout losses to Gonzaga and Florida State as servings of "humble pie." Saturday's loss wasn't that, and UVa's head coach saw some things he liked.
The Cavaliers, led by 20 points from Huff, exerted their will near the basket. They finished the game with 34 points in the paint, and the second half began with their quick Huff dunks. Virginia shot 50% from the floor Saturday, and it went 8-of-10 at the free-throw line. The 13 turnovers were a concern, but for the most part the offense executed well.
On the flip side, UVa shot 60% in the first half and still trailed 39-36 at halftime. For UVa to reach its potential, the defense needs to show more consistency for 40 minutes. Against Georgia Tech and UNC, the defense was there. Against FSU and Duke, the defense came up short.
"You can't just say, well we'll bail ourselves out banging a bunch of 3s," Bennett said.
The effort against Duke was better than the showing at Florida State, but the Cavaliers allowed 14 transition points to the Blue Devils and failed to guard the 3-point line effectively in the opening half. Duke knocked down seven 3-pointers in the first 20 minutes.
Bennett wants more consistent defense.
"I think they improved a little bit, but not enough to be successful," Bennett said. "Close but not quite."
Like they've done with their other four defeats, the Cavaliers will try to turn the loss into a learning experience. They were close to beating Duke, but late-game execution was subpar. The Cavaliers failed to score a point in the final three minutes, going 0-for-5 from the field. Several of the shots were challenging jump shots.
Huff believes the Cavaliers aren't far off from putting games away and becoming more consistent and dominant. The veteran doesn't want to put too much stock into the defeat, while also acknowledging that tweaks are necessary.
"It is what it is," Huff said. "It's basketball. They played a heck of a game."
UVa will have opportunities to implement minor changes as the season nears its end. Only three regular-season games remain on Virginia's schedule.
The schedule sets up well for a team seeking increased defensive consistency. N.C. State, Miami and Louisville all rank outside the top 50 in offensive efficiency, according to KenPom. Florida State and Duke are two of the top-15 teams nationally in offensive efficiency.
A Wednesday home game against N.C. State is next on the docket for the Wahoos, who look to remain in the ACC regular-season title chase after dropping to second in the league standings.