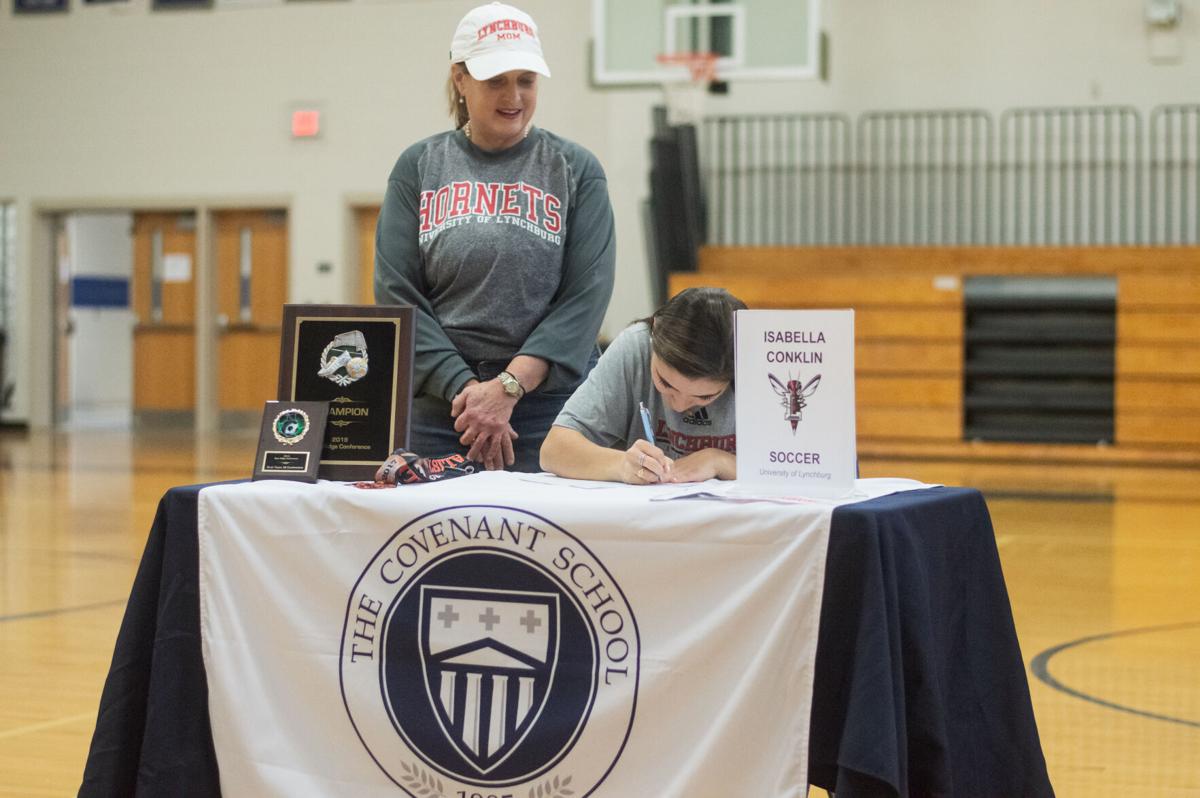 Isabella Conklin is driven to be the best, whether it's on the pitch or in the classroom.
The Covenant School standout will have an opportunity to challenge herself at the next level after signing her National Letter of Intent to play soccer at the University of Lynchburg on Thursday.
"I cried when I received my offer from Coach [Todd] Olsen to play at the University of Lynchburg," Conklin said. "I have dreamed of this moment for so many years of my young life. I even had that as one of the goals I have written on my bathroom mirror at home so I could see it every day. I want to do the very best I can to be a great teammate and have a positive impact on the team."
Conklin has had a whirlwind high school career packed with highs and plenty of lows, including a pair of devastating knee injuries. She tore her anterior cruciate ligament as a freshman, which kept her off the pitch for most of that season. She made up for the missed time the following year by registering 19 goals and two assists in just eight games to earn all-conference honors.
Conklin committed to Lynchburg during her junior year.
"The University of Lynchburg reminded me very much of UVa," she said. "They have a strong soccer culture that is heavily supported by the school. Coach Olsen has a similar coaching style as [UVa] coach Steve Swanson. They are really competitive in their division. Their facilities, including their playing field, are excellent. I have the ability to make an impact as a first-year. It's also a smaller school and I believe that will be an additional asset for me academically."
Late last year, adversity struck again when Conklin tore her ACL during a showcase tournament in South Carolina. Olsen was there to watch her play and immediately reached out to her.
"He knew it wasn't good, but texted me right away that they were still very excited about my commitment and no matter what the diagnosis was, he was looking forward to me playing for him," Conklin said. "He also texted me on the day of my surgery to make sure I was doing alight."
That close-knit relationship is what attracted Conklin to Hornets program in the first place.
"I really love the relationship the players have with each other," Conklin said. "It is a very team-oriented program. The culture is very supportive since the focus is always on the team."
Despite the injury, Conklin believes she can be a difference maker for the Hornets.
"Coach Olsen likes my physicality, my mental toughness, my team mentality and my desire to make others look good, instead of focusing on my own successes," she said. "He likes my defending skills, my speed of play and my ability to play many different positions, except maybe goalie since I'm 5-foot, tall. I can play defense, but I can also score goals. He also likes my flip throw-ins and plans to add that as an additional corner kick should the opportunities arise."
Conklin received interest from a number of programs throughout the recruiting process, but Lynchburg always stood out.
"This decision was actually very easy for me," Conklin said. "After I attended my first soccer camp there, I came home feeling like I really fit in with their program and playing style. Since it is only 67 miles away from Charlottesville, my mom can still attend my games. I looked at several other schools and they demonstrated interest in me as well, however I felt most at home at the University of Lynchburg. As soon as I received a verbal offer from Coach Olsen, I took it. To his credit, he allowed me to explore and even offered to support me if I chose to attend another program, which says a lot about the character and culture of his program."
After two major knee injuries, Conklin hopes her story can inspire other athletes to continue to work toward their goals.
"I just want high school student athletes to know that getting injured is part of the game and the risks that we take every time we practice and compete," she said. "Both my ACL tears were from non-contact injuries. I just landed wrong. I worked my rehab program after the first tear and was quite happy with how I returned to the field. Is getting injured a second time going to affect my play mentally? Am I going to be more tentative or cautious? Probably initially, but my personality won't allow that playing style to stick around very long. I'm a risk-taker by nature, while it gives my mama gray hair, I have a firm belief that I can positively channel that part of my personality into successes."
Conklin can't wait to get back out on the pitch.
"After the surgery in 2017, I returned stronger and faster than when I left and that is my goal for this rehabilitation process as well," she said. "I also want to improve my technical skills as much as possible. Once I get to Lynchburg, I will help out the team however Coach Olsen feels will be best. I trust him as a coach and will do whatever he asked to the best of my ability and beyond."