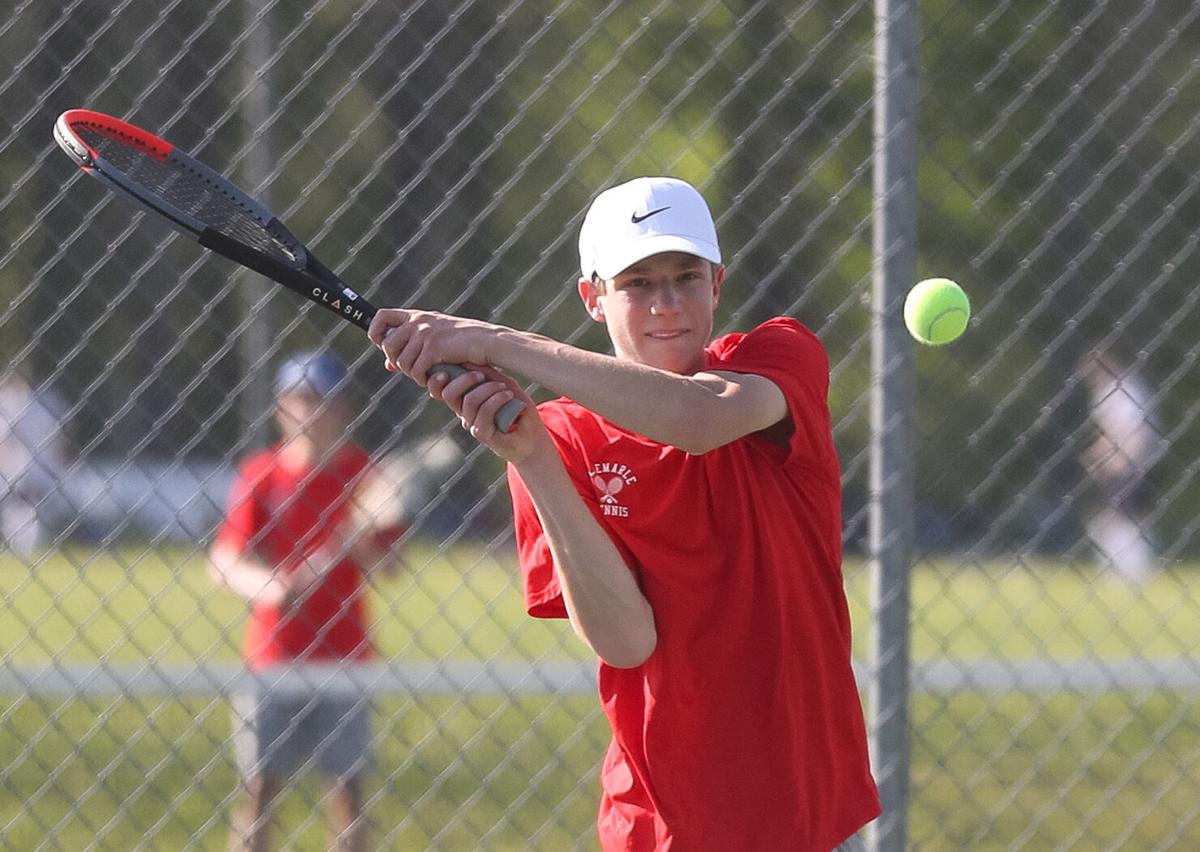 Hayden Cook grew up on the diamond as a pitcher and shortstop with a dream of playing high school baseball.
That journey ended after nagging arm injuries limited him to just one season of junior varsity competition before having to give up the sport he loves.
But the Albemarle High School junior has discovered a new pastime to keep him busy. Cook joined the Patriots' boys tennis team season and has quickly made an impact, winning his first two singles and doubles matches on the top line for the Patriots.
"That was pretty hard," said Cook of the switch from baseball to tennis. "I had some arm injuries, so I had to switch to tennis, but it's gone pretty well. I really like tennis and I really like my team."
Cook's fine work was on display Monday as he posted victories in singles and doubles to lead Albemarle to an 8-1 victory over Covenant in a nondistrict home match.
In singles, he outlasted Matthew Farina 10-5 to avenge an earlier loss to the Eagles junior on the travel tennis circuit.
After his varsity debut last week against Monticello, Cook felt much more comfortable on the court on Monday.
"Our first match, I was a little nervous, a little shaky, because this was my first tennis season," Cook said. "This match I loosened up a little bit. I had played Matthew, he had already beaten me before. I really had nothing to lose. He's great player and I came out there loose and came out there and played my best tennis I thought."
Cook's background in baseball serves him well on the tennis court. The great lateral quickness he used to play shortstop allows him to chase down balls all over the tennis court and the hand-eye coordination needed at the plate has been beneficial to his booming serve.
"My teammates were there cheering me on, which helped," Cook said. "I just had my best stuff going. My forehands, my backhands and my serve was pretty on. I think that's what went well for me today."
Albemarle received plenty of contributions up and down the lineup Monday as Coach Chip Grobmyer's team continues to find its identity with a new group of players in a COVID-altered season.
The most entertaining singles match of the day came on the No. 2 court. Covenant's Cooper Weiss built an 8-2 lead and looked firmly in control of the match, but Riley Hong rallied and won six of the next seven games to pull within 9-8. Weiss served out the final game to give the Eagles the win, 10-8.
The bottom two lines were highly contested. Nathan Santiago edged Chad Blount 10-7 at No. 5 singles for the Patriots, while Conner O'Grady prevailed with a hard-fought 10-6 win over Neal Nethula at No. 6 singles.
George Varvik was the first player off the court at No. 4 singles after posting a 10-2 victory over Will Bonistalli. Not far behind, Joshua Player cruised to a 10-3 win over Henry Monroe at No. 3 singles.
In doubles, Hong and Vavrik defeated Monroe and Bonistalli 8-1 on the No. 2 line for the Patriots.
The final two matches came down to tiebreakers. Charlie Montgomery hit a winner down the line to give him and teammate Santiago a 9-8 win at No. 3 doubles. On the top line, Covenant's Farina and Cooper came through with a big break to extend the match. Cook came through in the tiebreaker with two big serves to seal the match and the win for the Patriots.
It's been said that the toughest thing in sports is to hit a baseball. Cook has a new appreciation for both.
"It's probably tougher hitting a curveball," he said. "But a perfect serve is pretty hard too."