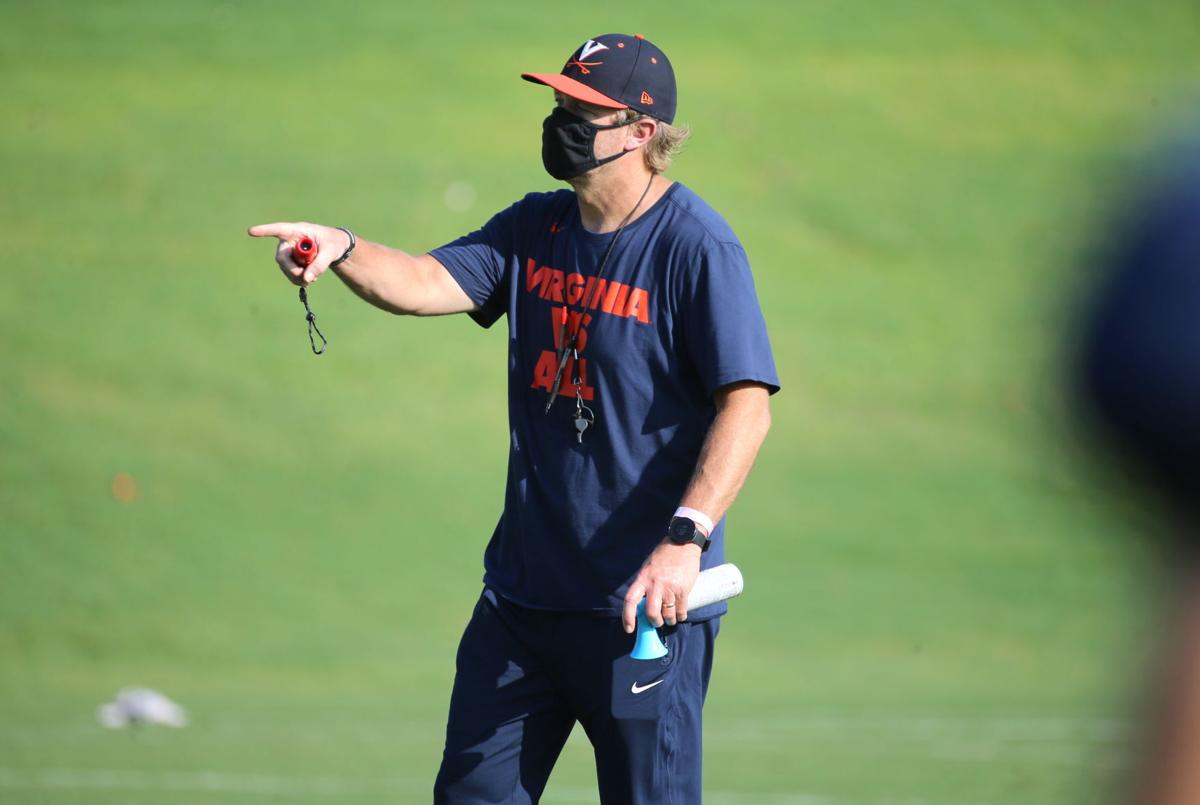 Next Saturday's season-opening Commonwealth Cup has been postponed due to COVID-19 issues at Virginia Tech, both schools announced Saturday morning.
No makeup date for the game, which was slated to air in prime time on ABC, was immediately given.
Virginia Tech also announced that it will pause its football practices for four days to address its coronavirus issues.
"The safety, as well as the physical and mental well-being of these young men and women entrusted to our care by their families remains our top priority," Virginia Tech athletic director Whit Babcock said in a statement. "While we share the disappointment of everyone who hoped to begin the football season against our in-state rival, we remain optimistic that a full ACC football schedule can be played thanks to the flexibility the present format permits. Despite this delay, our schedule still aligns closely with the Southeastern Conference and Big 12 football timelines."
Virginia will now open its season on Sept. 26 at home against Duke. The ACC announced on Saturday morning that the Cavaliers' matchup with the Blue Devils, which was originally scheduled for Nov. 14, was being moved to late September. Both teams previously had a scheduled bye week on Sept. 26, which made the move possible.
The Cavaliers have had limited success with scheduled openers this season. The Wahoos were originally scheduled to open the season with Georgia in Atlanta on Labor Day, but the pandemic caused a change in plans. UVa later scheduled VMI, but the Keydets eventually opted out of a fall football season. Virginia Tech replaced VMI as the Cavaliers' season opener, but positive COVID-19 tests within the Hokies' program led to the postponement of the Commonwealth Cup.
"These are very challenging times. We understand and respect the decision by Virginia Tech," Virginia director of athletics Carla Williams said in a statement. "With so much uncertainty, flexibility in scheduling becomes incredibly important. I know both teams and both fan bases were looking forward to opening the season next weekend. We'll work with the conference and Virginia Tech to reschedule."
Virginia Tech is now scheduled to open the season on Sept. 26 against N.C. State at Lane Stadium.
"My primary concern continues to be the well-being of the student-athletes on our football team," Virginia Tech coach Justin Fuente said in a statement. "I hurt for them because I know how badly they want to compete. I also appreciate that these young men have been dealing with the same stress, uncertainty and anxiety as their fellow Virginia Tech students over the past few months as their spring semester was dramatically altered. Then they were forced to find a way to train on their own, and to their credit, they found a way to get it done."
If UVa doesn't alter it schedule, it faces a stretch of 10 games in 10 weeks without any bye weeks. Without a game until Oct. 3, however, there's a possibility the Cavaliers alter their schedule to add a game on Sept. 19 or Sept. 26 to open up a bye week at some point during the season.
Altering the schedule could also open up a week to play Virginia Tech later in the season. The Hokies have a bye week on Nov. 28, which is the same week the Cavaliers are scheduled to play at Florida State. The Seminoles don't have an opponent on Sept. 19.
A few other minor schedule tweaks could create an open date for both the Hokies and Cavaliers to keep the annual rivalry game alive.
Regardless of how the schedule may shake out in the coming days, the Wahoos won't open the season at Virginia Tech.
It's challenging news for a program excited about competing in Blacksburg. The Cavaliers hoped to beat Virginia Tech on the road for the first time since 1998. It's even tougher for UVa because the Cavaliers did everything they needed to do to play in the game, but positive tests within the opposing locker room caused the postponement.
The frustration within the UVa team was evident on social media Saturday morning.
"Our commitment, sacrifices and desire to play show up in the numbers," UVa running back Wayne Taulapapa said. "UVa athletics set the standard and this family fought every day to uphold it. At the end of the day we'll control what we can control."
Taulapapa remained relatively calm, while linebacker and vocal leader Charles Snowden was more pointed in his remarks.
After tweeting for Virginia Tech players to stop tweeting about wanting to play and show that desire through actions, Virginia Tech wide receiver Tre Turner responded. Turner tweeted, "I'm ready whenever, wherever bro."
"Nahhh y'all not," Snowden replied. "If that were the case we'd be seeing you in 7 days, so I'm not [trying to] hear that. Get your guys to start doing the right thing."
The Cavaliers announced five new COVID-19 test results within the athletic department Friday night. The football team hasn't reported a positive COVID-19 test since July 24. The program has recorded three total positive tests of the 118 student-athletes tested since players returned to Grounds on July 5.
Be the first to know
Get local news delivered to your inbox!